Working for a small startup can sometimes feel like spending time with family. But, as a startup takes flight and expands into a full-blown organization, it can lose some of that familial charm even as it accomplishes the shared goals of its earliest employees.
Yet, for The Trade Desk, opening offices across the globe and growing its sales and tech teams doesn't mean giving up its tight-knit community. We spoke with a few team members to learn how the company ensures its culture remains strong even as it scales.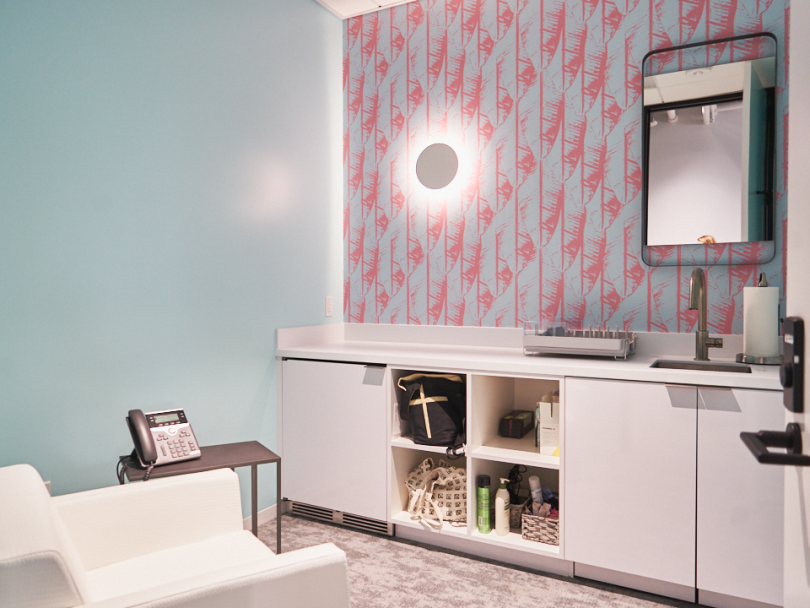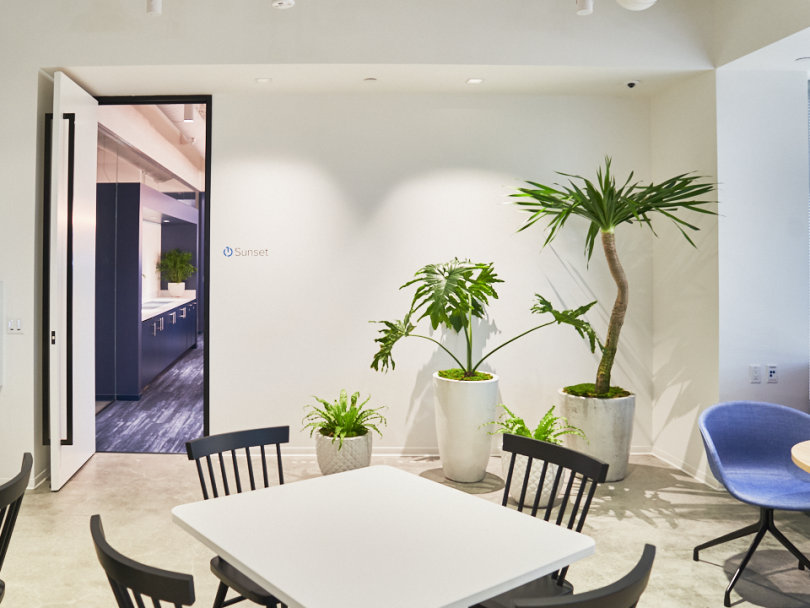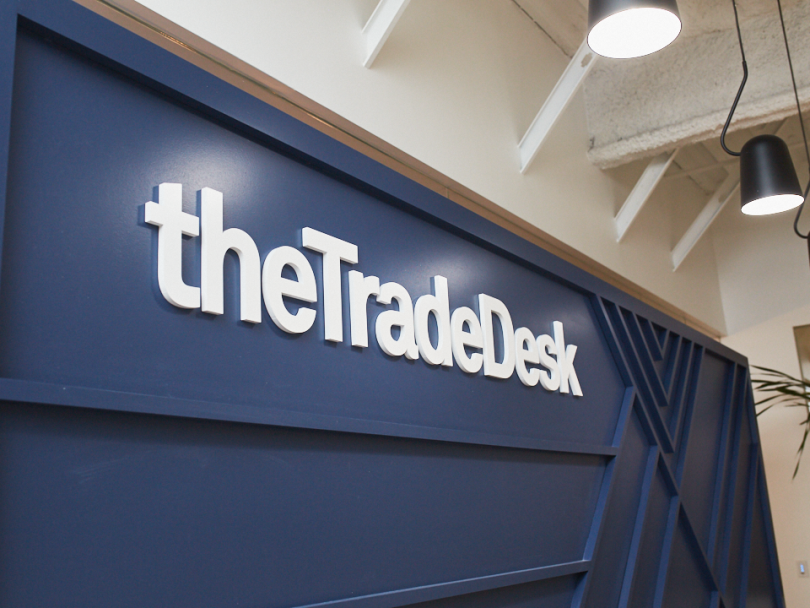 FOUNDED: 2009
EMPLOYEES: 994; 233 locally
WHAT THEY DO: The Trade Desk is a robust technology platform that empowers brands and media buyers to create, manage and optimize data-driven digital advertising campaigns across all formats and devices at scale.
WHERE THEY DO IT: Los Angeles, Irvine and Ventura, with offices in Bellevue, Boulder, Chicago, Denver, Hamburg, Hong Kong, Jakarta, London, Madrid, New York, Paris, San Francisco, San Jose, Seattle, Seoul, Shanghai, Singapore, Sydney, Tokyo and Toronto
STAY HEALTHY: The Trade Desk offers comprehensive healthcare with premiums paid in full for employees and their dependents.
IDEAL EMPLOYEE TRAITS: "We need teammates who thrive in ambiguity and think proactively to develop lasting solutions," says Director of Global Talent Acquisition Operations, Nicole Chavez.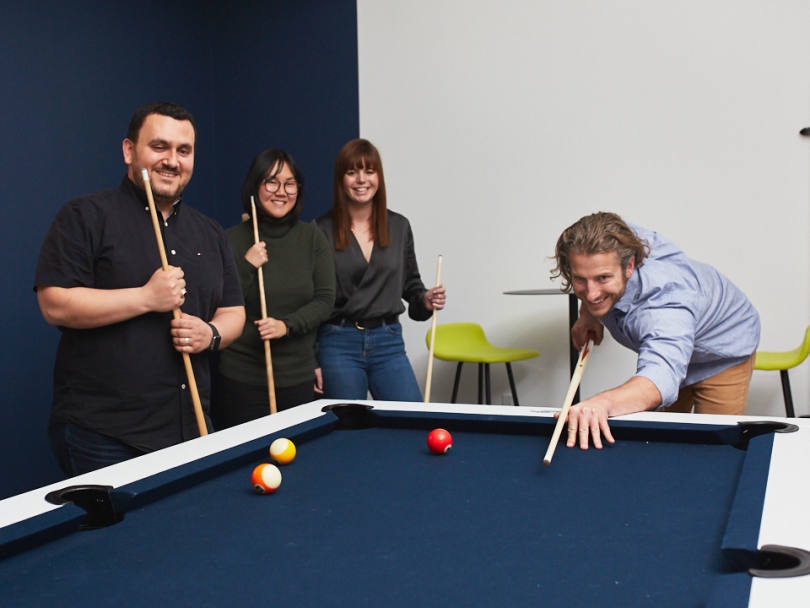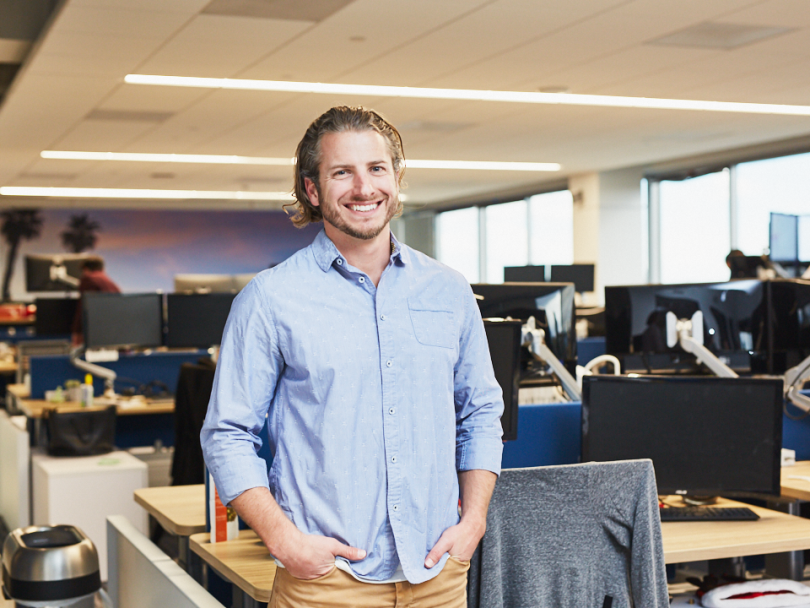 Jared Eckert, Senior Director, Client Services
Jared oversees the account management and trading organizations for Los Angeles, helping his teams maximize client value through service and performance while aligning with larger business goals.
BEYOND WORK: Along with surfing, backgammon and racquetball, Jared loves hitting the gym to do some weight training.
You've been with the company for nearly six years. How has The Trade Desk changed from when you first started?
When I joined, our office had no air conditioning and my desk was an old door on saw horses. What looked like a cool cup holder was really a hole in my desk where a doorknob should have been. That was an amazing time, but now we have scale and structure.
Structure allows us to focus on the things each person or team is really good at. When you do that across 10 different functions in an office, the outcome is creating an industry-leading product with awesome people to work with.
Speaking of awesome people to work with, what's the welcome process like for new employees on the client services team?
We generally welcome new employees with a coffee bar on their first day. They also get a tour of the office and get to meet everyone individually. We assign each new hire a mentor, enroll them into lunch roulette — a program that randomly assigns four colleagues within the same office to grab free lunch together — and encourage them to drive the bar cart on Fridays.
 
I have an amazing team, and I couldn't be where I am without them. They are a huge reason why I love coming to work each day."
You've seen several promotions while at The Trade Desk. How has the company supported your professional growth?
I had the opportunity to relocate to our Sydney office to help build and train a team locally. While based in Australia, I spent time in our Singapore and Tokyo offices helping to train those teams. I was the first person to relocate internationally for The Trade Desk — the company saw a need and helped facilitate the move.
Having international experience really helps me think about our business from a global perspective and enables me to better understand the nuances of different markets. I've been based in Los Angeles for three years now, and my success is completely based on my team's performance. They are doing an awesome job of developing client relationships and using the platform to drive success. I have an amazing team, and I couldn't be where I am without them. They are a huge reason why I love coming to work each day.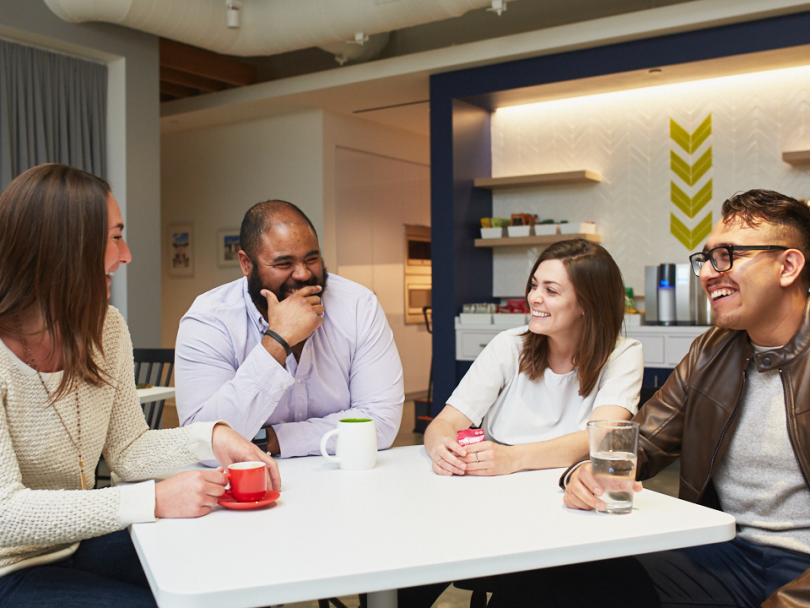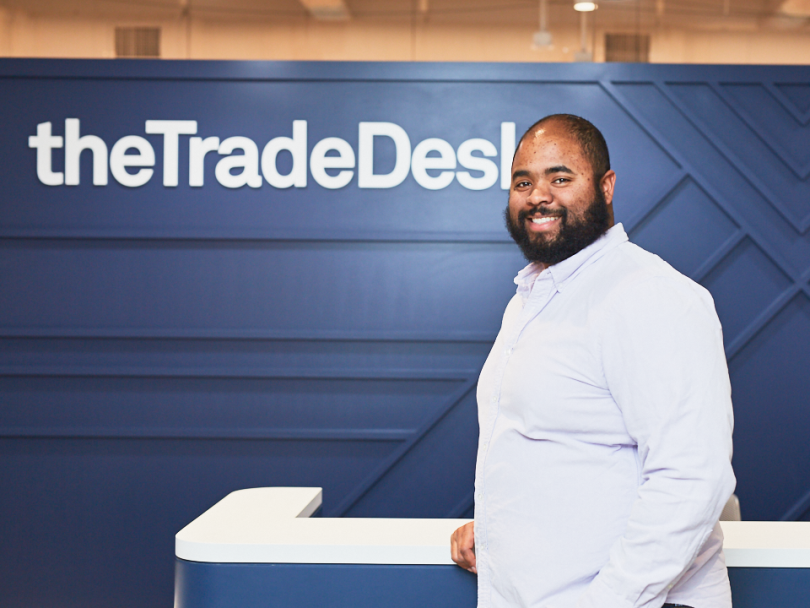 Greg Christine, Account Executive
Greg is responsible for maintaining and growing relationships with enterprise agencies and brands.
BEYOND WORK: Greg is a youth football coach and finds joy watching his team develop into better athletes and people.
What initially drew you to The Trade Desk?
I was working for another tech company and I kept losing business to The Trade Desk, so I applied with the goal of at least getting an interview. I knew the industry was moving more toward consolidation around key platforms, and I wanted to be on the right side of that transition.
How has your company culture evolved — or remained the same — as your team has scaled?
The beautiful thing about culture is that it grows, adapts and morphs daily. Our culture is one built on grit, determination and hustle, which are the main qualities we look for in potential team members. Aside from that, I try to always bring a smile and some perspective to work every day.
I truly believe The Trade Desk is a special place to work and maintaining that perspective is important to our culture. Ensuring we never get complacent and comfortable is the greatest challenge to company culture as special as ours. I think we do a good job of trying to maintain the balance between admiring the workplace, while also understanding that to keep it we must push ourselves daily.
 
Ensuring we never get complacent and comfortable is the greatest challenge to a company culture as special as ours."

On the client side of things at The Trade Desk, what's different than from when you first started? 
One of the biggest ways our product has evolved and changed is that we are working to make things easier for our clients. The Trade Desk is really like a Swiss Army knife for marketers: You can do just about anything within our platform, but getting clients to take advantage of the right tools at the right time required a lot of education.
Our product team took that feedback and streamlined our product to allow clients to use the full breadth of The Trade Desk, instead of using the "knife" for something that needed the "scissors."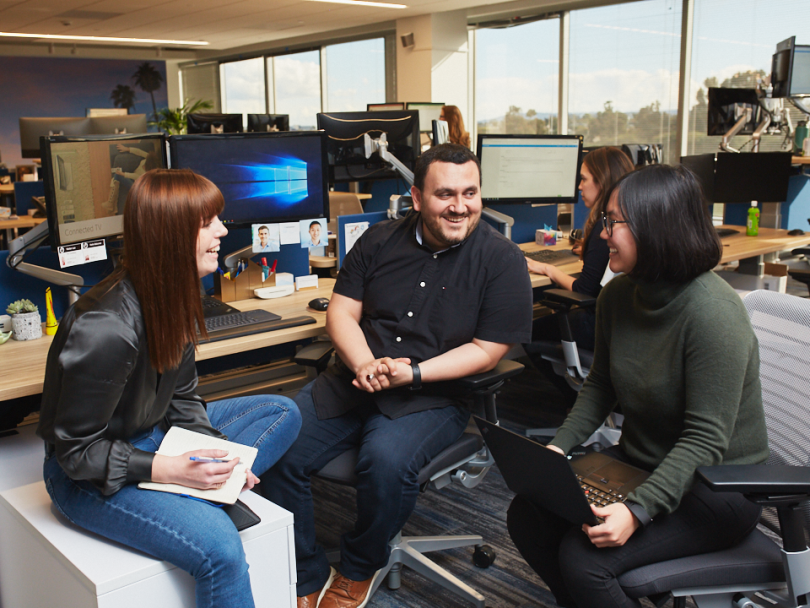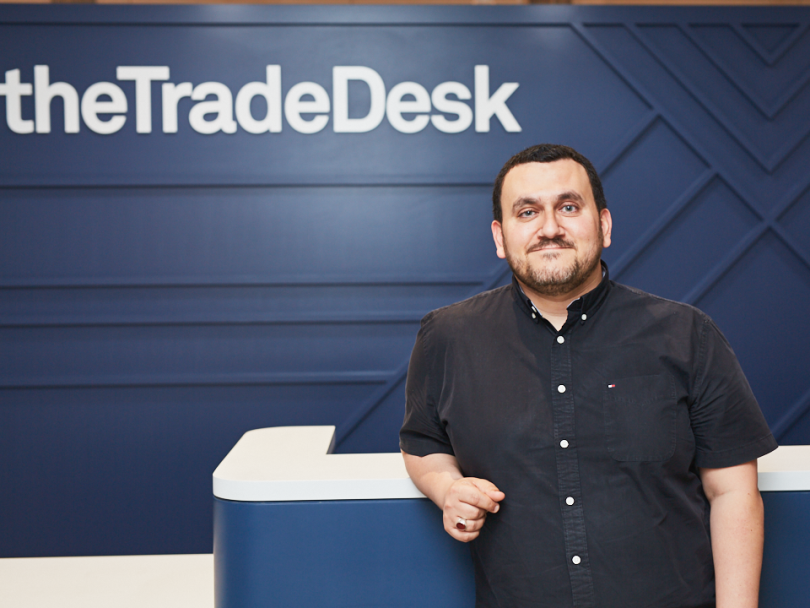 Sadek Noureddine, Engineering Manager
Sadek is responsible for growing the insights developer team. He collaborates with the product team by developing roadmaps, creating execution plans, motivating the team, communicating with stakeholders, and helping with design and code reviews.
BEYOND WORK: Sadek attributes learning patience, and how to nurture development, to his gardening work at home.
Tell us about continuing education at The Trade Desk. What's that look like? Can you rely on your team to teach you things you don't know? 
Every new hire is required to go through The Trading Academy, our video education course, which helps us onboard new hires and quickly brings them up to speed. For engineers, we have a bootcamp where new hires work on small features or bugs in different areas of the platform, and the scope of work gradually increases in size and complexity. We also have access to the Harvard Business School Management Essentials course and certification, and employees regularly volunteer to teach classes on a topic of their choice.
Helping others is an essential part of The Trade Desk's culture, and that enabled me to grow within my role and within the company. If you ask someone a question, they will happily spend a lot of time either answering the question or offering ideas on how to solve the problem.
 
I think that helping others is an essential part of our culture, and that helped me a lot in growing within my role and within the company."

Advertising is a bit of a crossroads currently. What problems are you solving in the advertising arena with technology at The Trade Desk?
Our platform enables advertisers to target specific audiences with the most relevant ads. Our technology looks at more than 9 million ad opportunities every second, selects the best ones for each of our clients, and then buys those ads in real time. We do this by building data-processing pipelines that stream data and AI and uses it to make data-driven decisions on behalf of media buyers.
There are many other systems and frameworks that make all this happen, but at the center of it are people who are having fun and who genuinely enjoy working together.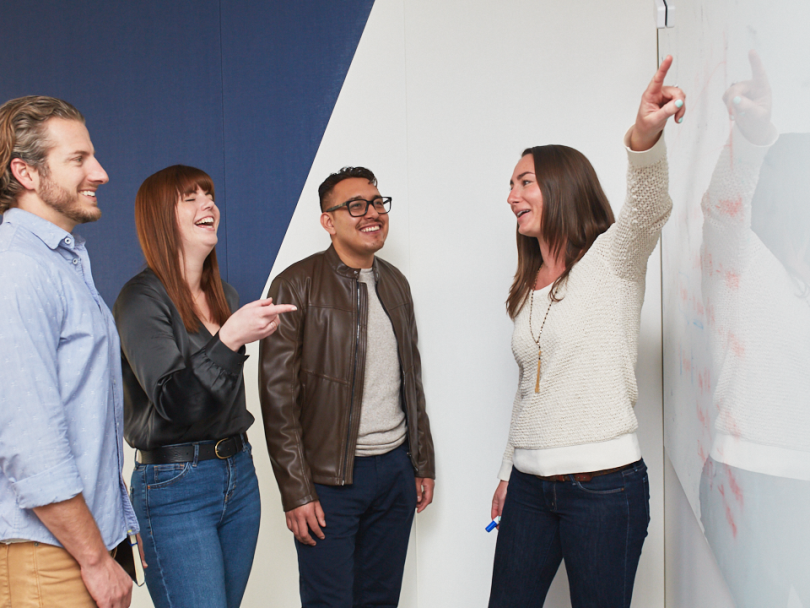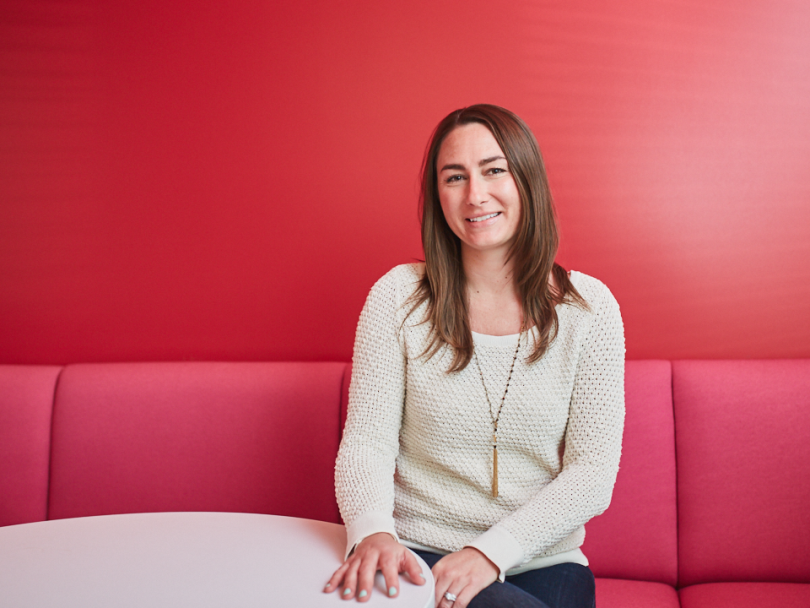 Nicole Chavez, Director, Global Talent Acquisition Operations
Nicole and her team execute all operational aspects of end-to-end talent acquisition, including workforce planning and analytics, interview scheduling, partnerships, recruiting events, and university and intern programs.
BEYOND WORK: Nicole loves to travel to new places. She recently visited an olive growing region of Liguria, Italy and learned all about the olive oil-making process.
You left a job of more than eight years prior to coming to The Trade Desk. Why the switch? Has this job turned out to be what you expected it to be?
The company, culture and people — throughout our Ventura, Irvine and LA offices — are better than I expected. The unknown is always a little scary, and I was departing an eight-year journey at another company to come to The Trade Desk where things seemed a little too good to be true — but it really was true. There is a vibrant, connected, and truly caring culture at The Trade Desk.
It's an incredible company to work for regardless of which office, which team or what level. There are constantly new roles, new needs, and new challenges that push our people to think creatively, step up and grow. I'm humbled to be here and honored to work beside these amazing human beings as a teammate.
You're responsible for bringing in the best talent to work with The Trade Desk. What's something special about how you welcome new employees?
We strive to ensure new employees know we care about them during their transition and that they already have teammates ready to help with questions. One thing we do is match new employees with a buddy through our mentoring program before they even start. This buddy helps them acclimate to the company and provides a perspective outside their regular team.
The company also encourages new employees to send an introduction email to the entire employee population, which helps teammates around the globe discover common passions and hobbies. As we scale, not everyone can meet in person or work together right away, but the intro emails help us bridge that distance.
I'm humbled to be here, honored to work beside these amazing human beings as a teammate and thrilled that I get to help us change the internet's marketplace."

As your team continues to grow, what characteristics are you looking for in candidates?
We are looking for a culture add — someone who aligns with our cultural values but who also brings new perspectives, experiences or ways of thinking to the team. We seek individuals who are adaptable, driven, curious and agile learners. The business needs and challenges that come with this rate of growth mean the team continuously executes while simultaneously implementing changes for the future. We need teammates who thrive in ambiguity and think proactively to develop lasting solutions.