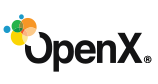 Account Manager
The Account Manager will play an integral role in maximizing revenue and driving partner relationships with publishers and supply aggregators who leverage OpenX ad technology and services.
In the OpenX Partner Services team, we strive to exceed partner expectations through building, supporting and maintaining long-term indispensable relationships. We thrive in fast-paced, team-oriented environments. AOMs must be high achievers who are able to execute business initiatives seamlessly to deliver – if not exceed – the financial objectives for our partners and OpenX.
Key Responsibilities

After initial partnership opportunities are determined, the AOM will partner with a Solutions Architect to program manage all pre-launch activities necessary to integrate a partner's business and ad platform with OpenX technology
Post-launch, the AOM oversees the partner relationship focusing on performance monitoring, such as daily performance fluctuations and proactively implementing optimization recommendations to improve overall yield
Executing quantitative analyses and modeling to translate data into decisions is a key part of this role. One should be confident in preparing and presenting analytical insights and support on both a scheduled and ad-hoc basis
AOMs also forecast and have revenue goals against a set of partners based on maintaining current business and securing upsell opportunities
Proactively identify, develop, and drive revenue growth opportunities while building relationships as a trusted advisor to partners
The AOM also works closely with business development team to identify additional sales opportunities. In some cases, additional internal teams, such as marketplace quality, support, product, and finance teams, will be accountable for delivering in the day-to-day execution. Stakeholders may also be located across various offices and time zones
The AOM should stay apprised of all issues and work quickly to flag, mitigate, and/or resolve any obstacles with partners
The AOM ultimately oversees partnership success, business issue resolution, achieving KPIs, and maintaining high partner satisfaction
 Required Qualifications

Bilingual proficiency; fluent in both Japanese and English (speaking, reading, and written communication)
Ability maintain ownership of revenue performance for assigned partners
Results-driven and is able to identify and execute on new business opportunities
2-3 years of analytical work experience in publisher account management, digital advertising operations, or yield optimization for digital media companies, consulting firms, investment banks or corporate finance/strategic planning departments
Solid Excel, PowerPoint, and Word skills; ability to perform, lookups, pivots, and prepare presentations
Bilingual proficiency; fluent in both Japanese and English (speaking, reading, and written communication)
BA / BS degree, desired but not required in engineering, finance, economics
Desired Characteristics

Strong relationship management skills and/or operational experience in working with multiple cross-functional teams to achieve a business objective
Strong project management skills
Strong analytical and data skills
Strong problem solving and business modeling skills with ability to form key, succinct insights and recommendations from comprehensive analyses
Solid project management skills; able to drive cross-functional stakeholders to achieve a common goal
A self-starter; must be extremely proactive with a strong bias for action; is naturally inquisitive and desires to drive ideas and solutions forward
Organized, detail-oriented, and ability to multi-task and thrive within a fast-paced environment while continuously improving current business practices/processes
Excellent communication, presentation, and demonstrated leadership skills – has a persuasive influence, including ability to build rapport and trust, and can interact with all levels within partners' businesses as well as within OpenX
Company at a Glance
OpenX exists to help publishers grow their businesses by monetizing great content. We do this by creating highly efficient, high-quality programmatic advertising marketplaces that deliver optimal value to all buyers and sellers of digital advertising.
Today, OpenX operates one of the largest, most efficient and highest quality programmatic markets in the world. Our unified system also encompasses a complete supply side platform that optimizes revenue across network and real-time bidding (RTB) demand, and a comprehensive ad server.
At OpenX we have built a team that is uniquely experienced in designing and operating high-scale programmatic ad marketplaces. We are constantly looking for thoughtful, creative executors who are as fascinated as we are about finding new ways to apply a blend of market design, technical innovation, operational excellence, and empathetic partner service to the frontiers of digital advertising.
OpenX Values
We are one
Our customers define us
OpenX is mine
We are an open book
We evolve fast
Read Full Job Description