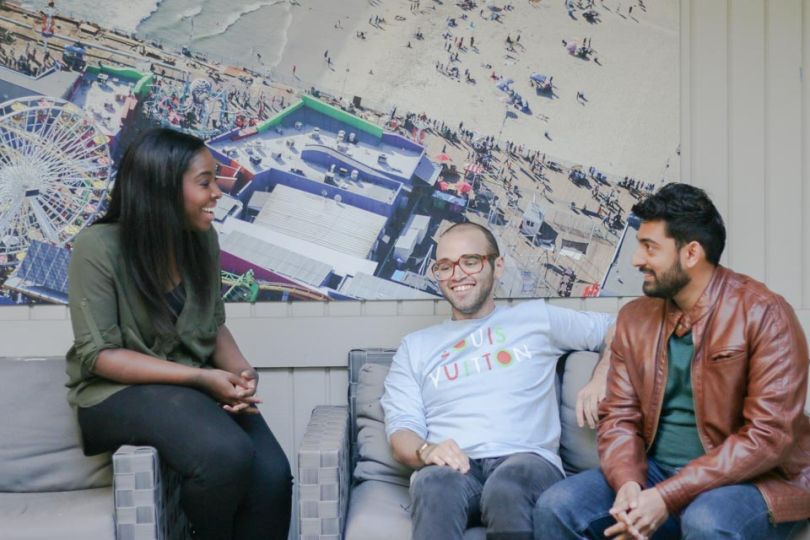 A poster in the offices of Hawke Media in Santa Monica makes a bold declaration about the company's capacity for creative risk taking: "This is the most comfortable place you'll ever be uncomfortable."
Since Hawke launched in 2014, the digital marketing agency has shown that a commitment to being productively uncomfortable — to working outside of your comfort zone — creates results.
In fact, "get sh*t done" is a core value, and the company delivers on that motto: under the leadership of founder Erik Huberman, the company has grown from seven employees to 107 since its 2014 launch.
Even though ambition reigns, it's never at the expense of fun. Whether it's good-natured bantering over the music choices, playing video games at lunch or enjoying biweekly massages, the creative team prides itself on the company's welcoming environment.
We caught up with the creative team to find out more.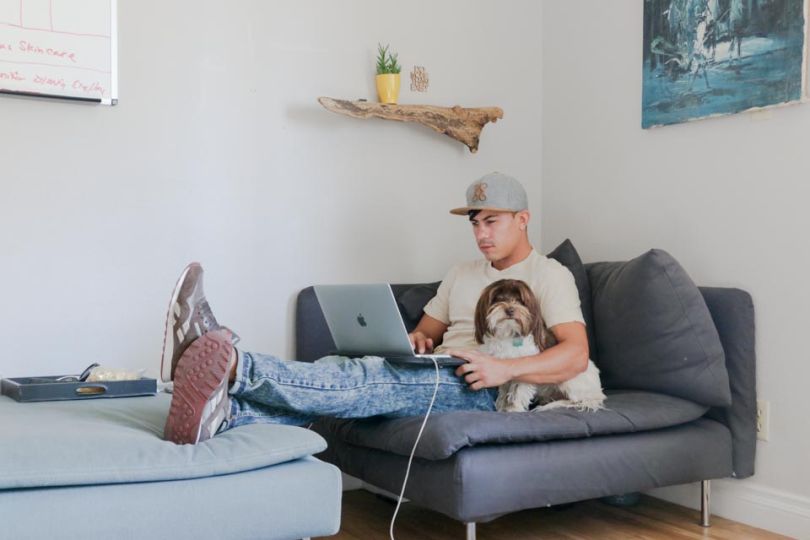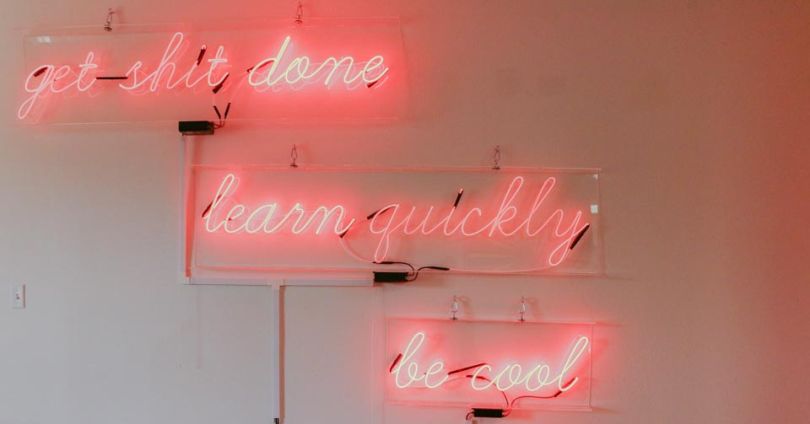 FOUNDED: 2014.
EMPLOYEES: 107.
THE COMPANY: A full-service outsourced CMO and digital marketing agency based in Santa Monica, California.
THE TEAM: Bridging the gap between graphic design and web development, Hawke's creative team builds visually compelling, conversion-friendly websites.
IDEAL CANDIDATES ARE: Great communicators with a passion to learn, teach, innovate and create. Must have sense of humor.
NOTABLE PERKS: Biweekly massages, annual company trip, dog-friendly office.
GROWTH SPURT: Hawke has grown so much that it's taken over five different offices in its building (and is looking to expand still more).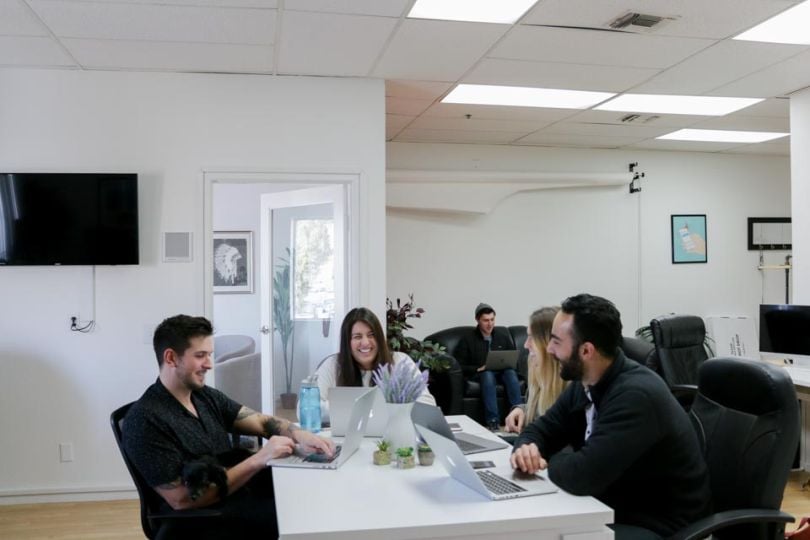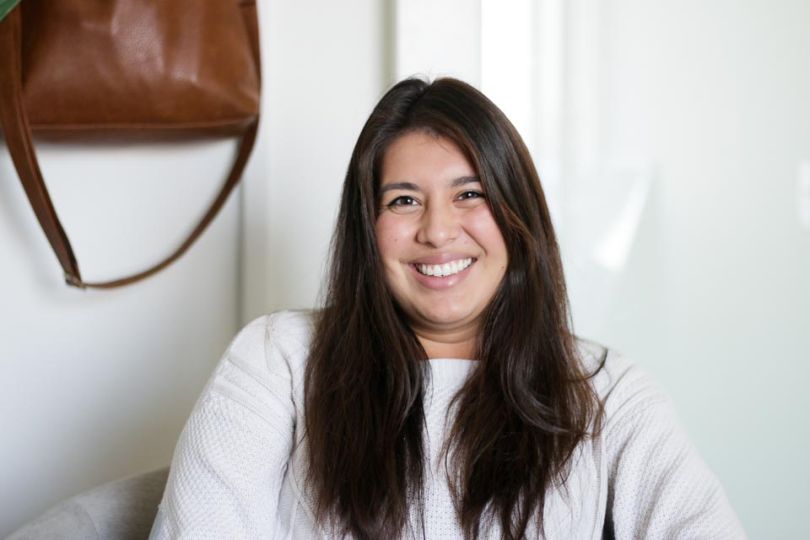 Melissa Portillo, Creative Director
Portillo manages a department that delivers on both creative engagements and website builds. She also oversees and trains designers outside of the department. What she loves about the job is the chance to shape great design collaboratively, while working with a variety of clients across mediums.
BEYOND WORK: Vacations in a different cultural environment at least once a year.
What's the creative philosophy at Hawke?
Portillo: At its core, marketing is simply a form of storytelling, so we set out to tell those stories visually while still getting people to convert in a world that is completely digital. We believe in growing brands through a combination of creative efforts and data-driven decisions. That's when the left-brain and right-brain collide to produce jaw-dropping results.
At its core, marketing is simply a form of storytelling, so we set out to tell those stories visually while still getting people to convert in a world that is completely digital."
What's the team composition?
Portillo: Hawke is very unique in that we have cut out the project or account management layer from our client communication. As a result, each designer, no matter the engagement, is responsible for communication with client, timelines, work and execution. Granted, this is a lot of responsibility, but we feel that it diminishes the potential for miscommunication.
What's your style as a creative director? How do you keep people inspired?
Portillo: Hawke's designers have a lot of autonomy. My creative direction style is to allow each designer to explore and implement their own aesthetic. I believe we are creating stronger work and design iterations, as each designer has the ability to speak their mind and try ideas that we then work through. In the end, we solidify those ideas into the best possible solution for the client's needs.
In terms of inspiration, we always try to show our work to one another. We also look for and share new design trends and features to keep each other informed and in the loop.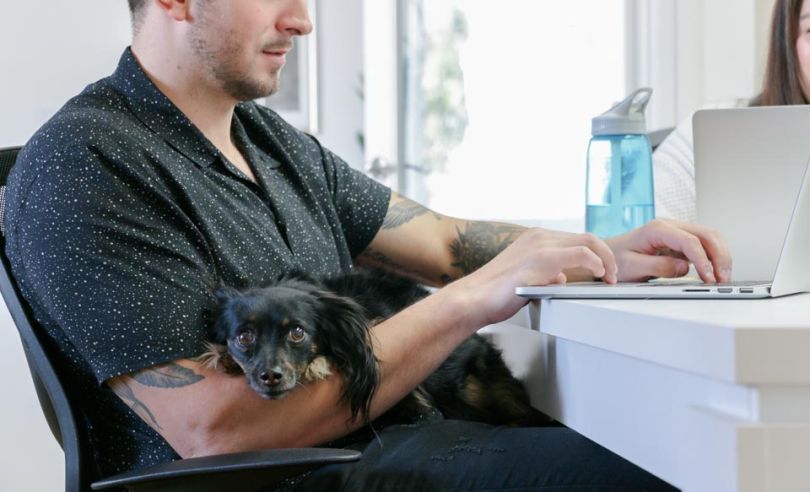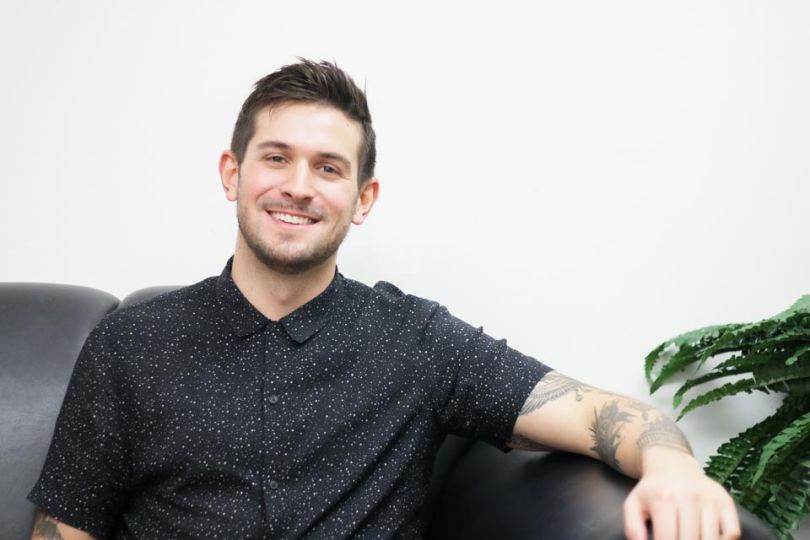 Eric Smejkal, Web Manager
Smejkal is responsible for ensuring that the websites made by the Hawke team meet the company's high standards. He also works to find efficiencies and develop new revenue streams.
BEYOND WORK: Smejkal takes annual road trips with his girlfriend.
We know every day is different. But, generally, what's the breakdown of a typical day?
Smejkal: Since we are all our own project managers and account managers, we spend a lot of time communicating internally. I usually block out the first 30 minutes of my day to respond to emails. I also always make sure to leave an hour or so open each day so that I can remain flexible, and allow my teammates time to meet with me if they have questions.
As web manager, you can influence process a great deal. Have you changed anything in the way of processes or efficiencies?  
Smejkal: It's very easy to get what's known as "scope creep," which is the habit of going over what you agreed to deliver for a project. When I took on the role of web manager, my goal was to figure out what was making our projects take longer than needed. In doing so, I developed a new process we've been using ever since.
It involves an in-depth dive — a week of client discovery. Next, we clearly articulate a direction for the sitemap. We then jump into a "gray-box" wireframe, live on a development site, so that the client can interact with it. From there, we spend two more weeks customizing and fine-tuning.
We always try to answer any request with a yes — or at least offer a secondary solution."
How do you make sure clients get the web features they need?
Smejkal: Since we aren't a full-stack development agency, we are limited in our ability to make certain "custom" functionalities on the CMS platforms we build on. But, even if we can't do it, we have resources that can. So, we always try to answer any request with a yes — or at least offer a secondary solution.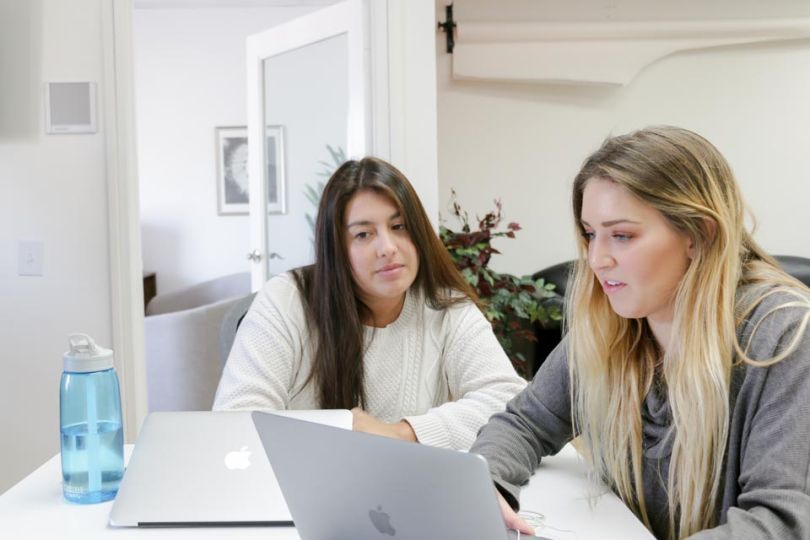 Leah See, Junior Web Designer
New to Hawke, See mostly collaborates with the team to build and optimize websites, but she has also worked on branding and packaging design. She enjoys the variety of her role, but said that "the best part about working at Hawke is 100 percent the people."
BEYOND WORK: See loves photography. In fact, she does her own darkroom developing.
Does Hawke believe marketing is an art or science?
See: A mixture of the two. We have such a talented group of people here, and marketing really does come naturally, so it's like an art in that sense. But then we have the resources to use data and continually learn and improve. In that respect, it's like a science.
Do you ever let clients in on the creative process as you're working?
See: We like to keep our clients pretty involved, while still retaining control over the creative process. I speak to most of my clients weekly to make sure that we're on the same page and that our project is going in the right direction.
It doesn't hurt that, at any given time, you can count four or five dogs in the office."
What does Hawke do for fun? How does the company create a sense of team spirit?
See: HawkeU meetings are definitely the highlight of my weekday mornings. On Fridays, our COO Tony [Delmercado] will give a presentation about what's going on at Hawke or about a given topic for the week. Those meetings are always super entertaining and a great way to meet people I might not interact with daily.
It doesn't hurt that, at any given time, you can count four or five dogs in the office. When it comes to the creative team specifically, our office is such a welcoming, fun-loving environment — even if people might sometimes have mini face-offs over who controls the music.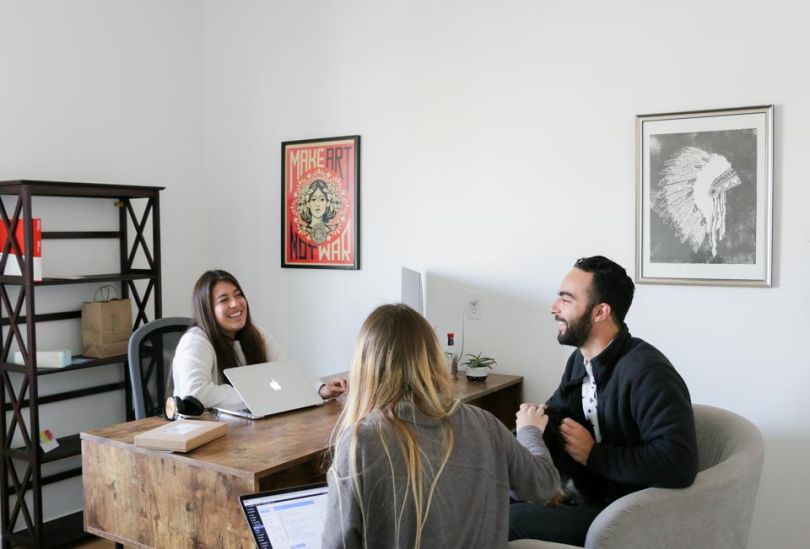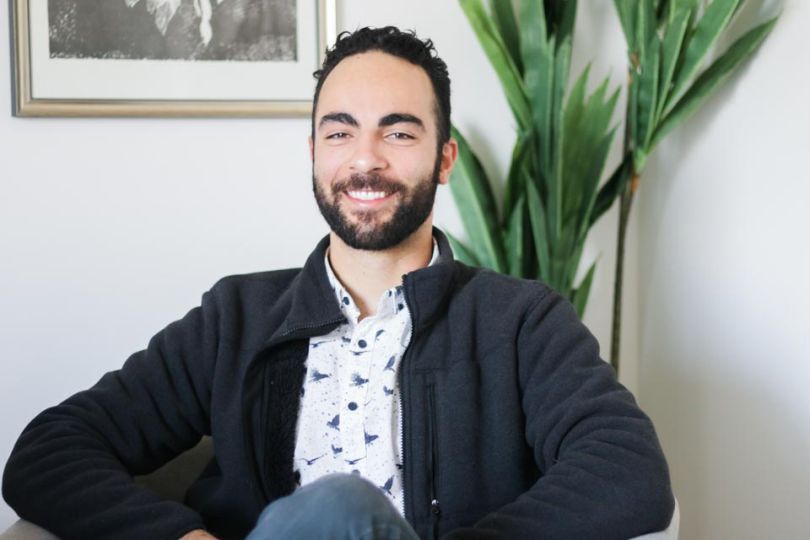 Daniel Hayrapetian, Senior Designer
Hayrapetian works with clients to create websites that communicate brand messaging while optimizing with the best UX UI design practices. "I love working on so many different brands," he said. "It keeps things fresh and gives me the ability to push the envelope on my designs."
BEYOND WORK: Hayrapetian skates and surfs. He's in Santa Monica, after all.
Tell us a story of a client that you won over, and how.
Hayrapetian: One company we ended up working with was initially slightly skeptical about how customized a Shopify site could be. Normally, we wouldn't have much design to show until after the first two weeks. But to relieve his hesitation, I created a quick layout in Shopify and sent a screenshot with a list of plug-ins that would achieve what he needed for the site.
The client said it looked amazing and asked us to go ahead with the web services. Upon completion, he was stoked to have everything he wanted in a brand-centric, mobile-first website.
Do you ever "lift the curtain" to show clients your work in progress?
Hayrapetian: We have weekly calls with clients and communicate via email during the week, so they are always kept in the loop. There is ample opportunity for feedback, tweaks and adjustments to the site. They aren't just given a site they haven't seen before on week eight. Clients enjoy the experience because they see their brand really come to life in our hands.
Clients enjoy the experience because they see their brand really come to life in our hands."
How do you create a sense of team bonding?
Hayrapetian: There are a lot of ways. A group of us plays a game of League of Legends at lunch. This year, just after Thanksgiving, someone put Christmas movies on. They played in the background while we all worked. We also have monthly creative outings and happy hours as well. All this helps fuel the creative juices and build relationships in our team.