Rebranded and Remote, Artera (Formerly WELL Health) Is Redefining the Patient Experience
In transforming itself — a new name, logo and hybrid working model — the Santa Barbara-based company is owning its role in the healthcare industry.
Digital health founder and CEO Guillaume de Zwirek always felt that with healthcare's deep resources, infinite market and mission-driven employee base, it could be the number one industry in customer service. So, when he started a company seven years ago, he selected a common, recognizable company name: WELL Health. 
Yet it soon became clear the company needed a new name.
"The word 'well' is an empty vessel that a lot of people want to own," de Zwirek explained. The irony wasn't lost on him — he originally chose this healthcare term to avoid a future rebrand effort. He soon realized that although a generic name is easy to scale, it faces insurmountable competition. 
The universe confirmed these fears when a Canadian tech company and a Covid-19 building health and safety campaign both used 'Well' in their branding. 
De Zwirek realized a new name would symbolize the role the company could play in transforming healthcare, dovetailing with the company's virtual transition into a hybrid way of working that was kicked off during the pandemic. A new name allowed the company to do something important — select a name that reflected their belief that patient communication is the heart of healthcare. 
Redefining Patient Communications
De Zwirek was a former athlete. After an unnerving personal healthcare experience, the labyrinthian process in receiving referrals and seeking specialists left him wondering why patient outreach wasn't as simple as a text message. For him, the doctors, facilities and front desk staff were never the problem — the communications system in place was. And thus the Artera platform (formerly WELL Health) was born. By enabling conversations between patients and providers through a multichannel, multilingual avenue, the company wants to streamline the process for everyone involved.
In adhering to the company's people-first philosophy, a cross-department "special projects team" was formed to lead the rebranding effort. "It's important to listen to your people and solicit their opinions when you undergo such a significant effort like rebranding your company," de Zwirek said of the process. They opted for the 'pizza team' concept: A decision is made by the same number of people it takes to eat a pizza. 
After deliberations on factors such as authenticity, branding, customer viewpoint and messaging, the small team — in conjunction with a third-party brand agency — brought a short list of branding options to the company. The heart as an organ and as a symbol really mattered to everybody; it was part of the original iconography and represented the communications problem its platform wanted to solve.
"The heart flows blood through your body," the founder said. "It's vital for function and connection — the role we're trying to play in the industry." With a redesigned typeface, the company dressed its new logo in the purple color of compassion, mixing arterial red with venous blue.
And so Artera — which is derived from the word artery — was born. And the brand icon remains a heart created by rotating the letter "A" in Artera. 
The new name is a good start and team members know there is much more to build. It begins with the Artera platform and the ecosystem around it. At the heart of operations is the hospital infrastructure, where Arteta's technology can be deployed across the front office, call center and back office, while integrating with the other hospital software vendors and existing tech stack. 
The Future of Healthcare Communications
De Zwirek envisions an eventual use case for all major players in the industry, from pharmaceutical companies and pharmacies to self-insured employers and insurance companies, with Artera's platform as a common vessel pumping communications to all its connected patients. 
"You should be able to pick up your phone, text your doctor about an insurance issue and be directly connected to your insurance carrier," he said. "That is the level of service that is possible for healthcare if we can get everybody to play nice together."
Though this vision might be a few years out, the Artera team has begun laying the groundwork to support its foundations. 
"A company is its people," de Zwirek noted. To see a team at the forefront of bettering patient care, rallied under the renewed purpose of a new company name, Built In sat down with de Zwirek and two of his colleagues for a comprehensive look at WELL Health's next chapter: Artera.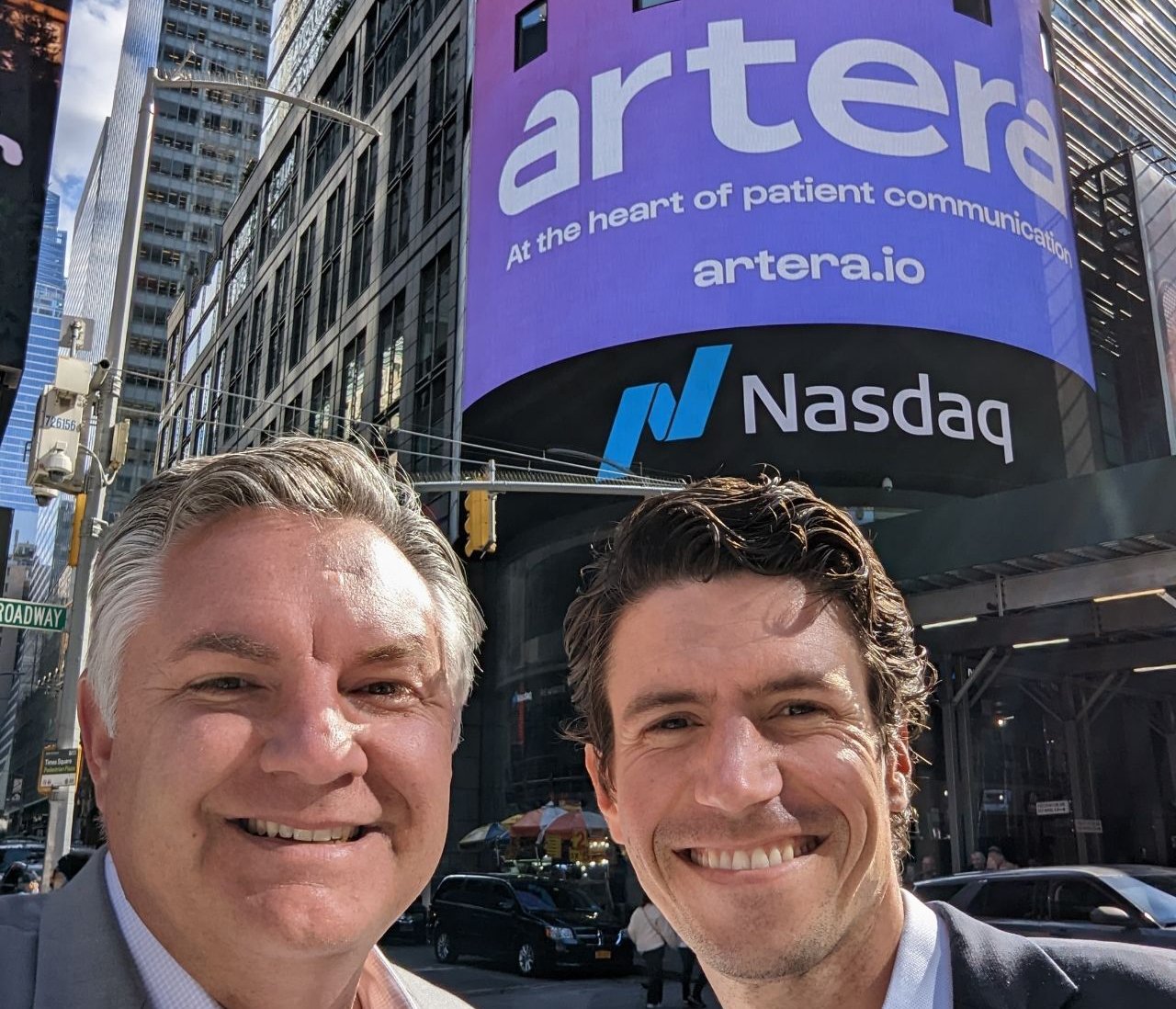 A Rebranded Workplace
While a pandemic raged on outside in 2020, Software Engineer Victoria Lellis was cooking tacos remotely with colleagues and attending a virtual Pride cabaret in June. Artera's flexible nature was apparent to her despite being a new team member at the time.
"I could see right from the start that the company had made a real commitment to accommodate employees," she said. "Even as the workplace began to open up, we continued to offer remote events."
At work, Lellis and her team relied on a democratized approach to navigate a virtual workplace, like when they reduced team meetings to avoid remote burnout. With better focus and more time to work, the meeting structure became more productive.
Outside of work, the time she saved from not commuting translated to more exercise and proper home-cooked meals. The same flexibility afforded at work extended to her own schedule, where she was free to visit family and other cities with her husband without being tied down to a physical office. She traded the infamously gridlocked freeways of Los Angeles for the pristine wilderness of Hawaii and Alaska, an office space for the familiar embrace of her home country of Brazil.
Lellis isn't alone either. "I like having the opportunity to work with teammates who live around the country and have different backgrounds," she said.
Aside from a more unstructured work-life balance for employees, Artera also rolled out new initiatives meant to move the company forward in tandem with its new Artera brand launch. These ranged from a learning and development stipend, enhanced employee benefits and more. to. 
"I recently participated in the GraphQL Summit, which was a great opportunity for the team to get together and be exposed to new tech," Lellis said. "This helps ensure our code base continues to evolve."
I like having the opportunity to work with teammates who live around the country and have different backgrounds."
New Name, New Structure
In the transition to a remote work environment, Ashu Agte, senior vice president of engineering, wanted to reduce "employee FOMO." Without a shared physical office, an inclusive approach was necessary, where a focus on over-communicating ensured no team member fell through the cracks.
"There are no water cooler conversations, no walking with your colleagues for lunch anymore," he said. "If a decision was made, nobody's going to know about it unless it's documented and shared across teams."
Agte attributes Artera's successful remote transition to empowered teams. Employees out of the office enjoy a degree of flexibility, and having ownership over their work schedule and asynchronous team communication make for a more seamless virtual shift. Regional meet-ups and recurring off-sites help keep team members engaged as well.
"The office was a great equalizer," Agte explained. "But now, everybody's life situation becomes the common denominator. I have an 11-year-old at home, and other people are in different phases of life."
The obstacle then becomes how to balance a semblance of unified structure with personal flexibility. 
"We call it the triad model," Agte said enthusiastically. "A group of eight or nine people operate as an autonomous entity with their own roadmap, ownership, work and subculture." This type of democratized team-building, oxygenated by leadership support of their operation and ideation, shields the intimate culture from the pitfalls of scaling. 
The Triad Model
Artera's Innovation Organization (which includes its product and engineering teams) revolves around the triad model. Every small team of engineers is assigned to a triad, along with an engineering manager, a product manager and a designer — three team leaders, hence the term "triad" — who guide the small team. This bespoke form of empowered team ownership allows a tighter coupling between departments, and fosters a closer bond for colleagues working on the same roadmap. 
According to the engineering executive, growth only works if culture is maintained. The rebrand helps in solidifying common stakes, but the glue that holds company values together is still based on individual goals. Aside from quarterly review cycles, a departure from the industry standard, Artera's engineering organization has grown its independent development teams from five to a whopping 14.
"Growth is a multifaceted challenge because it means something different for everybody," Agte said. By aligning employee development with overall company objectives, Artera ensures success on its massive undertakings, from the company rebrand to its platform which delivers a billion patient messages.
As Agte and his team embark on his engineering vision of purposeful innovation — identifying the problem before designing its solution — by leaning into machine learning and data science, they act knowing a solid foundation of culture and logistical support stabilizes their path forward, composed of many collaborative triads. 
Purposeful innovation lies at the heart of Artera's recent series of significant changes, as well. The hybrid way of working and rebrand both illustrate how the company's teams are evolving internally and externally, based on the shifting needs of the healthcare industry, patients and employees. 
"With all the success that we have, we needed to have that strong identity," Agte said. "We needed a unique name that could resonate with us as we are."
And a unique name they got — Artera.