5 LA Tech Companies Hiring Now
From healthtech to edtech, these growing companies are dispensing perks, edifying projects and providing a sense of purpose.
Finding fulfillment inside a certain career path can be challenging. It can take time to hone the skills and locate the opportunities to utilize the breadth of one's talents. Even the most rewarding careers may have trade-offs. The best employers, though, have a knack for giving team members a sense of purpose. 
For Danny Tryon, his career choice involved balancing an aptitude for solving engineering problems with a desire to help improve lives. As product manager for health-tech firm Regard, Tyron is able to take those seemingly disparate goals and bring them together. 
"Many of us here, myself included, had strongly considered becoming a doctor at one point in time, but were pulled into engineering for one reason or another," said Tryon. "Working at Regard provides us with the opportunity to scratch the engineering itch, collaborating to build novel solutions to ease pain points for our users, but we are also afforded another perk. We get to make a direct, positive impact on the world by improving patient care."
From healthtech startups improving patient experience to edtech companies overhauling workforce education, Built In LA spoke with leaders from five hiring companies offering opportunities to make an impact and pursue a purposeful career path. 
What they do: Mothership's local marketplace of on-demand freight providers allows clients to deliver  same-day business-to-business shipping at a high volume and access real-time tracking and paperless documentation through an easy-to-use dashboard. 
Why board the mothership? "Every great company is built by great people, so every company I decide to join starts with the people and ends with solving hard problems. I was excited to work alongside a great team even in the very early days," said Director of Product Marketing Peter Prior. "Once that box was checked, I asked myself if the problem was hard enough, and would our solution have a meaningful impact. Making last-mile logistics seamless and efficient and lowering the cost has proven to be one of the hardest challenges, and I can see the impact we are making on our customers' lives." 
Prior's move from a consumer marketing role to his current business-to-business marketing role has also presented opportunities to learn and develop as a strategist; "Mothership has provided me with so many opportunities to learn, sharpen my skills and continue to grow at the company. I am excited to take on my new role as the director of product marketing and bring new products and features to market that enhance the daily business operations of our carriers and customers."
I can see the impact we are making on our customers' lives."
Tightening up the ship: "In the last few quarters, our team has become hyper-focused on messaging and personalization. We recently onboarded messaging platform Braze, which was a huge undertaking involving almost every team at the company. The project has opened up a whole new range of functionality to our team. We are focused on how timely messaging can help to create and influence our customer or carrier behavior." 
"Recently we've been A/B message testing to send out load confirmations to a subset of carriers, simply reminding them of the time they must arrive and nudging them to ensure they arrive at pick up on time after they accept a load or haul with Mothership. This simple message has influenced a 3 percent increase in on-time percentage for pickups versus the control. We've been able to increase the on-time percentage for carriers and, in turn, create a better experience for our customers. Additionally, carriers who perform better on our platform in the long run are eligible for more loads in their area. It's great to see how one simple message sent at the right time can have an impact on carrier behavior and ultimately benefit both sides of our marketplace."
What they do: Tebra provides independent healthcare practices with digital tools and support. Through its Kareo and PatientPop products, Tebra helps clinicians improve patient experience, streamline billing and take advantage of tools like cloud-based electronic health record handling, a secure patient portal and more. 
Healthtech that cares: "I joined Tebra because of the people I met during my interviews," said Ye Cheng, vice president of engineering. "Tebra's Chief Technology Officer Kyle Ryan reached out to me personally on LinkedIn when we began our conversation. I thought that was a nice personal touch. It signaled to me that this was an important role for the company. I was impressed to see how much Kyle cared about finding the right person for this role. Subsequent conversations during the interview process with other teammates gave me an increasingly complete perspective of how the team operates."
Cheng continued: "Transparency about the challenges we faced and the opportunities for improvement was refreshing to me. This level of authenticity got me pumped about the opportunity. For me, a healthy high-performing team isn't one that only celebrates success and avoids conflicts like a plague. Instead, we lean into conflicts and actively work toward a commitment despite our challenges. I love how we put our teams ahead of ourselves and win together.
I love how we put our teams ahead of ourselves and win together."
Overcoming impasses together: "Recently, we upgraded our multi-terabyte Oracle cluster from 11g to 19c. A few weeks before going live, we ran a pre-mortem to identify what could go wrong when we went live. This gave us the opportunity for some of the team members to surface our biggest worries. Almost immediately, a team member raised a concern about not upgrading all our Oracle drivers. This could have been a huge disaster, but it wasn't because we mitigated it together before going live." 
"This was a massive undertaking because upgrading all our Oracle drivers required a dozen teams to adjust roadmaps and load-test the upgraded driver. Deferring the work would have resulted in another context switch later with the same amount of work. Despite our disappointment with the late discovery, we committed to a tight schedule to roll out the driver upgrade incrementally followed by a cutover. Every team had on-call shifts following the cutover to ensure we could resolve issues promptly."
"The cutover went without a single hiccup. I learned a little more planning up front goes a long way to avoid late surprises, even if the issue is found close to the final stage. Once committed, we execute better together.
What they do: A health-tech startup designed to improve physician workflows, Regard synthesizes historical patient data, automates note-taking and recommends diagnoses, allowing physicians to spend more time with patients and improve care, while increasing revenue for the physician and hospital.
Making an impact: "There are many opportunities in engineering to solve technically challenging problems, but not all of them are as directly impactful as the problems Regard is tackling," said Product Manager Danny Tryon. "We get to work with doctors to alleviate the documentation process so they can spend more time with their patients and improve clinical outcomes."
At Regard, Tryon found the opportunity to both excel as an engineer and to improve the lives of patients — a cause that he found extremely meaningful having considered a career in medicine earlier in his life. 
"Whether it's a chronic condition last documented years ago that the attending physician wasn't aware of until Regard pulled it in or a current medication that is exacerbating an acute diagnosis that Regard brought to the user's attention, we directly affect patient outcomes. Our impact is palpable, and it's the primary reason I love working at Regard."
It's been hugely gratifying to work on such a technically challenging project."
Livening up healthcare: "Regard works by running our suite of diagnostic algorithms over patient data to suggest new diagnoses and add supplemental information to existing diagnoses in the form of a progress note. However, if the user wishes to add a new diagnosis while writing their current note, they have to go through the painstaking process of documenting it by hand. This might include digging through specialist notes, identifying trends in lab data or reviewing medication history — all of which Regard can do." 
"This is where the Live DX — or live diagnosing — feature comes into play. The feature will allow Regard to dynamically support diagnoses entered into the current note, adding relevant labs, medications and other supporting information on the spot. Loading this data instantly introduced a number of engineering challenges. It required cross-team collaboration over a number of months, which was a level of coordination that I hadn't had to manage previously." 
"It's been hugely gratifying to work on such a technically challenging project, and we're so excited for our users to get their hands on it this month."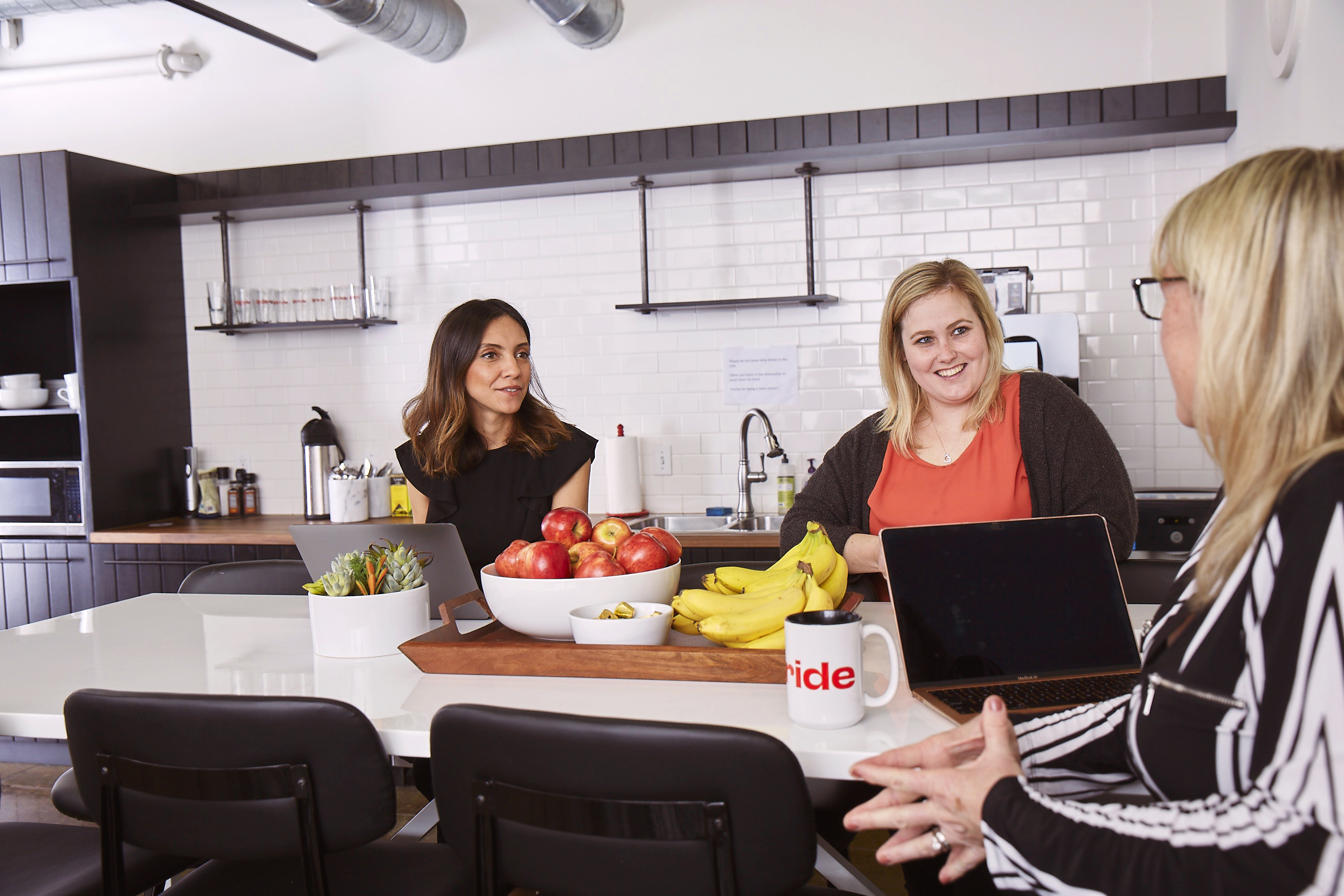 What they do: InStride's expert team creates industry- and role-driven workforce education programs that help client companies attract and retain employees and advance those employee's careers.
Breaking down barriers: For Senior Manager, Talent Morgan Randrup, joining and staying with the team at InStride involved two major factors. 
"The first reason is that the people are amazing. I'm a little bit biased because I've recruited many of them, but InStriders are very mission-oriented, hardworking and smart," said Randrup. "They create a warm and welcoming environment. When you have good people, the rest works itself out."
Randrup's second reason was that the company created "career boosters instead of barriers." In working in workforce education, Randrup found a team and a calling that was interested in giving team members a leg up — not pulling the ladder up behind them. 
"I have a ton of family members who work in education, and they'll all say the system needs amending because equitable access to quality education doesn't exist," Randrup said. "Higher education provides opportunities for people, and InStride helps companies create educational opportunities for their people. The mission inspires me to do my job better, and my colleagues help me do my job better every day."
The mission inspires me to do my job better."
Opportunities for betterment: "In terms of a favorite perk or benefit, I would say that having no internal meetings on Friday afternoons has the biggest effect for me. It enables me to get my work done without having to sacrifice my personal time to do so. It's something small but incredibly thoughtful and impactful for me on a weekly basis." 
"I appreciate that InStride thinks of ways to help us feel better and do better in addition to providing things like great medical insurance options. As part of our benefits package, InStride subsidizes back-up care for caregivers. We host regular fitness sessions for everyone. InStride even covers tuition for us to take courses online. InStride's Step Forward program allows employees to sign up for any of the courses offered by our academic network. You can learn things that apply to your job, or you can pursue a degree in whatever interests you without restrictions."
What they do: Servicing millions of customers through its cable, satellite TV and streaming services, DIRECTV provides live and on-demand offerings including news, sports, entertainment and more. 
Direct to customers' hearts: For Lead Software Engineer Fidencio Garrido Trejo, working with DIRECTV means providing customers with a service that they love.
"Personally, I've stayed at DIRECTV because I love working with a service that people use, not because they need to but because they enjoy making it part of their lives," said Garrido Trejo. 
Staying limber: "I enjoy the constant challenges that we face in the market and, more importantly, how we respond to the needs of our customers. I can't remember a time when we weren't going through transformation. My favorite project was working on building DIRECTV's high-quality streaming platform."