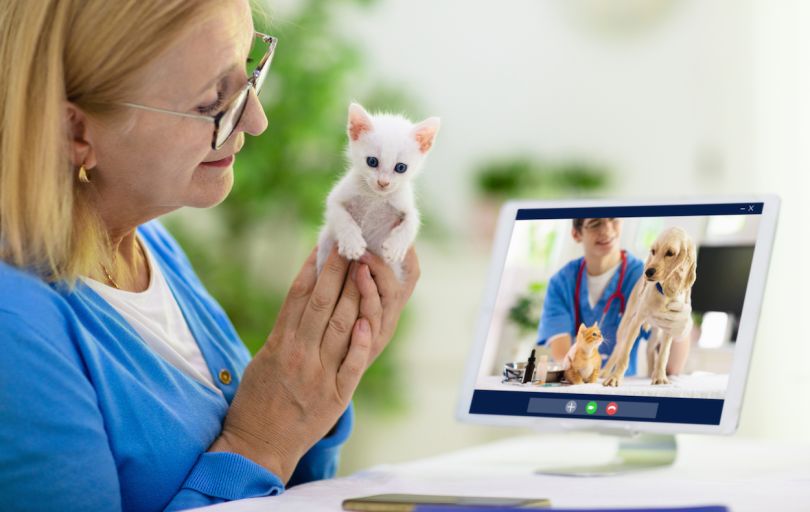 Airvet, a Los Angeles startup that offers a telemedicine platform for veterinary care, announced Friday it closed on a $14 million Series A funding round led by Canvas Ventures.
Founded in 2018, Airvet is meant to be a place where pet parents can have quick and easy access to veterinarians either over live video, phone or chat 24 hours a day, seven days a week.
"There is no 911 for pets, and when your pet is sick or injured, you want to talk to someone immediately," Canvas Ventures' general partner Rebecca Lynn said in a statement. "I have a number of pets — a dog, a cat, chickens, peahens, horses, parakeets and a cow — Airvet has already helped me on a number of occasions, saved me office visits and house calls, and helped me sleep better at night."
Airvet is by no means the only telemedicine veterinary platform out there. Companies like Bellevue's Petriage and Austin's TeleVet (which also recently got some new funding) are providing virtual care for pets around the country. However, Airvet claims to be the most downloaded app on the App Store, a success founder and CEO Brandon Werber largely attributes to the platform's accessibility to all pet parents, not just a subset.
"If your veterinarian uses Airvet (as thousands do) you can schedule virtual visits with your own veterinarian and connect with him/her to do actual 'telemedicine,' i.e. get prescriptions, diagnoses, treatment, etc. all virtually," Werber told Built In in an email. "For those pet parents who either don't have a veterinarian or their veterinarian doesn't yet use Airvet, we also support general telehealth, which means that every pet owner in the country can use Airvet 24/7 to connect with the thousands of veterinarians in our network with live video, phone and chat."
The pandemic has brought renewed interest and success to Airvet and similar apps due to their socially distant model. Werber believes this new reliance on telemedicine for both humans and pets isn't going away anytime soon, even post-pandemic.
"I think what COVID-19 did was illuminate how critical it is for people to have better access to care, both human and pet alike," Werber said. "What we're experiencing now is a rapid adoption of the 'new normal,' and, if anything, I foresee it growing even more as it becomes a primary pet care channel for pet parents, veterinarians, hospitals and everyone else involved in that ongoing relationship."
To keep up with this growing demand, Werber says Airvet is planning to grow its team, hiring mainly in its engineering, marketing and product departments. The company also plans to further develop its product, adding new features to help both pet parents and practitioners.