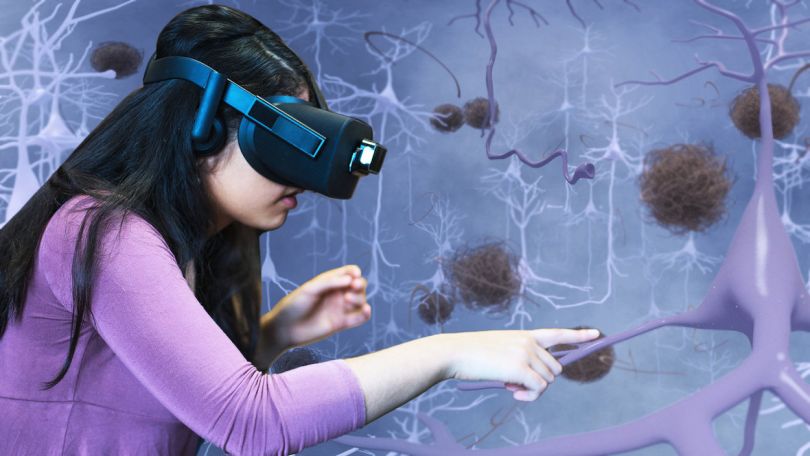 Embodied Labs, a platform that uses virtual reality to simulate the experience of living with specific health issues, announced today it closed on a $3.2 million seed funding round co-led by Ziegler Link·Age Fund and the Venture Reality Fund, which specialize in startups helping serve aging populations.
The interactive, 360-degree videos that play on the headset are meant to allow the users to experience life from someone else's perspective, adjusting what the wearer can see or hear depending on the simulation. The company's mission is to enhance person-centered care through intellectual and instinctual behavior change and help care providers recruit and retain quality caregivers. 
Embodied Labs was founded in 2016 by Carrie Shaw after she spent several years caring for her mother with Alzheimer's. One of the company's first labs, We are Alfred, transformed users into a 74-year-old man with macular degeneration and high-frequency hearing loss.
"Students would put on the headset, and even though they would read in their introduction that they were about to embody Alfred, they would immediately say, 'There's something broken, I can't see.' Or, 'Turn up the volume, I can't hear,' and then realize [that was the point]," Shaw told Built In last October.
Since then, Embodied Labs has developed simulations for Alzheimer's, age-related vision and hearing loss and neurodegenerative diseases like Parkinson's and Lewy body dementia.
Marco DeMiroz, co-founder and general partner of The Venture Reality Fund, said in a statement that his firm decided to invest in Embodied Labs due to its "unique focus in VR to deliver transformative training in a turnkey, tech-sophisticated package," adding that the company is already seeing "significant adoption" within an industry that is generally reluctant to adopt new technologies.
The company will be showcasing its immersive technology at the Health 2.0 VentureConnect Event During J.P. Morgan Healthcare Conference today.