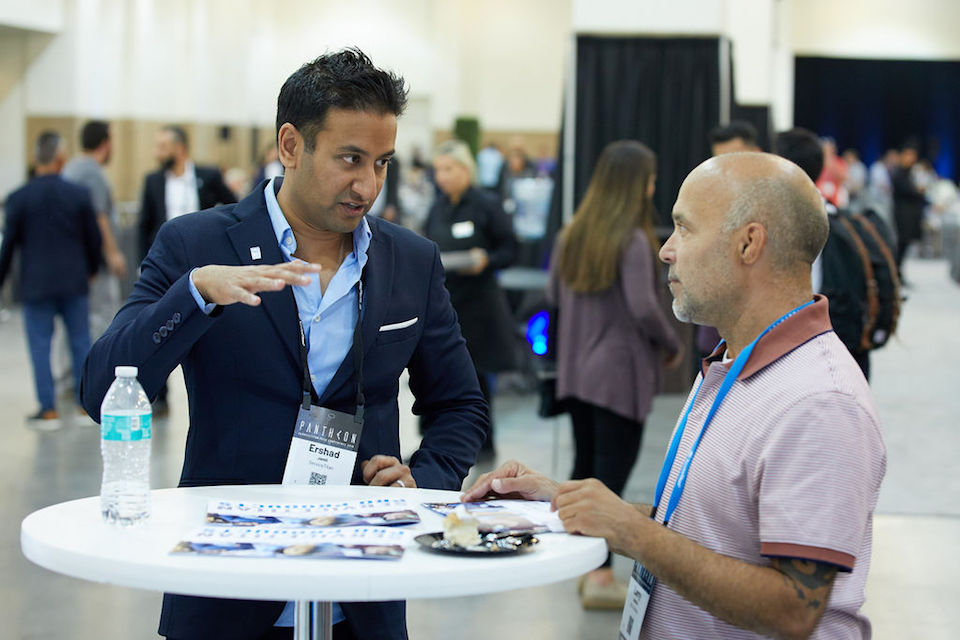 In the annals of LA startup history, ServiceTitan's story is already well-known: Ara Mahdessian and Vahe Kuzoyan began by building software to help their fathers — both home services contractors and Armenian immigrants — run their businesses more effectively. The company they built around that software has since raised more than $300 million in funding, achieved unicorn status and now dominates the $400 billion home services industry.
Throughout its momentous growth, ServiceTitan has never forgotten its roots, maintaining a strong focus on the home services industry instead of chasing the broader appeal sought by most platform-based SaaS companies. It has also resisted the allure of flashier startup hubs like Venice and Santa Monica, preferring to stay in Kuzoyan and Mahdessian's home city of Glendale.
While ServiceTitan's famous origin story is key to the company's mission and culture, we wanted to learn more about their future — the challenges they face, the technology they're using and their approach to creating and launching new products. For this, we turned to Vice President of Growth Ershad Jamil, who leads teams charged with creating, optimizing and going to market with new business lines designed to diversify ServiceTitan's offerings. Jamil said his team is currently focused on solutions in fintech, IoT, marketing and telecommunications, and is seeking ambitious engineers and product managers to take on those challenges.
Tell us about one of the new products your team has delivered recently. What is unique about your team's process for creating and executing on a product roadmap?
ServiceTitan's product roadmap begins and ends with our customers. By being so attuned with our customer's pain points, we're able to build product solutions that can create the most value and impact. One of our most recent product launches is ServiceTitan Marketing Pro, which helps our customers launch and track targeted email marketing campaigns utilizing information in their ServiceTitan database. The ideation of Marketing Pro stemmed from our customers' need for a better way to engage their existing customer base, and within one year of development, our team was able to launch a solution that has never existed in the home services industry before.
Describe a particularly vexing technical challenge your team has faced, and how you were able to overcome it.
ServiceTitan partners closely with more than 50 vendors — GreenSky and QuickBooks are two examples — in which we utilize their APIs within our software. As we continue to grow, this proves to be a challenge as we rely on other technologies to sustain components within our own software. Our engineers are able to successfully navigate through these challenges by collaborating and communicating with the product development teams at our partner companies. This transference of knowledge allows each side to partner more effectively and understand how to best build and enhance the integration. 
What are your key ingredients for a successful go-to-market strategy?
There are three primary ingredients which have made a success out of every go-to-market strategy at ServiceTitan. The first is understanding priorities, which means everyone on the team needs to understand business priorities for the quarter (or year) and use this as their North Star. This way, from daily stand-ups to weekly meetings, everyone is in tune with the goal.
The second is the need for an amazing project plan. This involves creating a tight playbook where everyone knows exactly what they are accountable for, along with deadlines. While any project naturally has a tendency to change throughout the execution process, having a plan allows for more efficiency and less confusion when navigating through these changes.
And lastly, teamwork really does make the dream work. In order to launch any go-to-market strategy quickly and efficiently, there is a tribe of team members across all parts of the organization who work cross-functionally together to ensure the launch is successful.
...there is no limit to the opportunities and scope of work..."
What are ServiceTitan's main business challenges heading into 2020 and beyond, and what types of technology will your team leverage to answer them? 
As ServiceTitan continues to scale, new technological challenges will continue to arise. We are our customer's life line — so if ServiceTitan goes down, our customers' businesses will as well. To ensure this doesn't happen, our focus this upcoming year is to strengthen and stabilize our infrastructure, which has proven to be a large but fun challenge to unlock.
IoT is currently cementing itself into our future. With smart thermostats proliferating in households nationwide, we want to leverage this technological shift to help our customers more proactively serve homeowners. If your smart thermostat can detect that your HVAC unit will go out in approximately a week with an estimated 100-degree temperature around that time, imagine if a notification could be sent to your local contractor. They could then perform a check-up and proactively mitigate a meltdown in the house. In short, leveraging current technology trends and revolutionizing them for the home services industry in an entirely new manner is what ServiceTitan is all about. 
Talented tech professionals in the LA area have a lot of employment options. Why should an ambitious engineer or product manager want to join your team?
In mid-2015, we had approximately 50 "titans," and four years later we're more than 800-strong. We have accelerated growth so far by focusing on three trades — plumbing, electrical and HVAC — however this only represents a fraction of the home services industry and what we're looking to accomplish.
As an engineer, you'll be able to see a product that you've built from scratch, deployed and utilized by our customers. From there you can choose to continue enhancing that portion of the product — or segue into something completely different. For product managers, we have a roadmap of more than 100 opportunities waiting to be owned and executed. No idea is too big or small, as you are both the visionary and the driver of each solution proposed.
At the end of the day, as ServiceTitan continues to scale there is no limit to the opportunities and scope of work that an engineer or product manager could do.