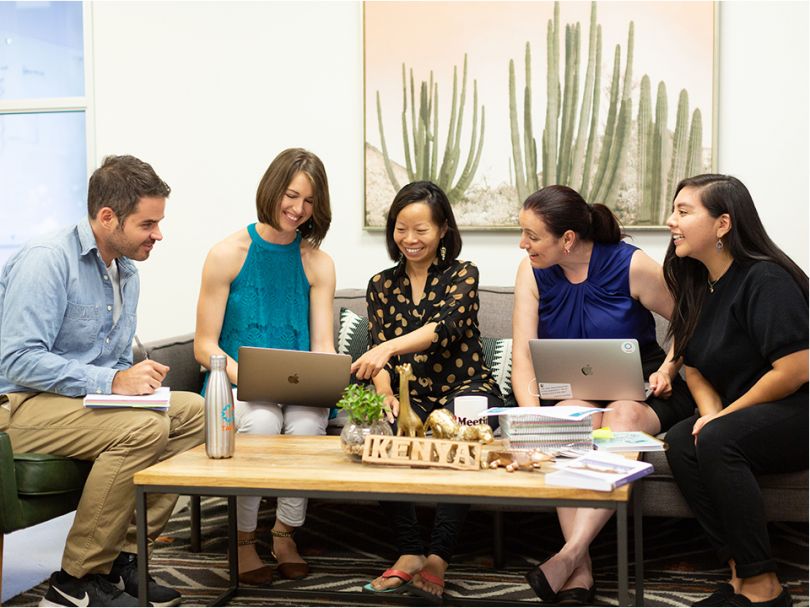 In 2018, just 32 percent of the world's population had access to credit bureaus, according to The World Bank, leaving approximately 2.4 billion people without the funds they needed to start new businesses, expand their current operations and invest in their children's future. 
Tala, a Los Angeles-based financial technology firm offering unsecured lending via smartphone, aims to change that. Its mobile application offers individuals in Mexico, Tanzania, the Philippines, Kenya and India loans ranging from $10 to $500, simply by analyzing their cell phone data to determine their creditworthiness. 
And on Wednesday, the company raised a $110 million Series D to expand further into India, as well as pilot financial education, community and microinsurance products globally.
RPS Ventures led Tala's Series D, with participation from GGV Capital, IVP, Revolution Growth, Lowercase Capital, Data Collective VC, ThomVest Ventures and PayPal. The new round brings total investment in Tala to $219.4 million. 
CEO and founder Shivani Siroya said investors were excited about the opportunity presented by emerging markets, as well as the company's mission of providing loans to entrepreneurs who may operate outside the traditional banking system and rely on loan sharks — both of which Siroya considers Tala's main competitors.
"We think this is not just a milestone for our company, team and customers, but also for the ecosystem in the fintech landscape," she told Built In. "We're really the only company focused on the underserved emerging markets that's received this kind of support and, in that sense, we're really excited to have the ability to keep pushing forward, really furthering all of the players in the ecosystem." 
The company is investing in India, since the country's growing digital financial infrastructure and cellphone use allows the firm to "enter the market more rapidly than we previously could," Siroya said. The market also presents a massive opportunity, she added.  
The expansion represents somewhat of a homecoming for Tala.
These individuals felt stuck in their inability to actually grow their business and improve the quality of life for themselves and their families."
Back around 2007, when Siroya was working at the United Nations Population Fund, casual conversations she had with fruit stand vendors and other small business owners in India and across west Africa inspired her to start Tala.
"These individuals felt stuck in their inability to actually grow their business and improve the quality of life for themselves and their families," Siroya said. 
She added: "They felt either they didn't have access to traditional financial structures, [or] felt traditional financial structures were not actually customized to the need for their business or daily life. In a sense, they felt they were not actually a part of the formal marketplace." 
After about three and a half years, and an estimated 3,500 conversations with small business owners, Tala was born. Its name a reflection of its global perspective, with translations including "heart center and touchstone" in Swahili, "rising star" in Tagalog, "money" in Hindi and more. 
The firm claims to have now provided $1 billion in loans to 4 million people across the globe, and boasts a 90 percent repayment rate, along with a repeat customer rate of 95 percent. 
To apply for a loan through Tala, users start by downloading the free mobile app. Tala then uses machine-learning technology to scan such cell phone data as individuals' device type, year of operating system and other apps installed, along with behavioral data like how customers move through the Tala app, location services and number of contacts — excluding factors like gender, race, nationality and more, so as to avoid algorithmic bias in lending.
"We hear firsthand from customers that they are more comfortable being scored by a machine, since it means that the in-person biases of bank lending officials will not come into play," reads a disclaimer on the company website.
Siroya said 85 percent of customers receive money in less than 10 minutes. The company charges customers a service fee, along with an extension fee if they do not pay back their loans on time. 
In addition to growing Tala's presence in India, the cash infusion will be used to expand its financial education, community and microinsurance products. The company hopes to add at least 30 people to its 582-person team by the end of the year to support product development. Siroya said the financial education and microinsurance products will help customers protect their funds, track how they are spending their money and offer advice on growing their capital. 
"Our customer base comes from very strong communities, very closely knit. The use of tech in some ways creates a more individualistic society. What we wanted to do is give our customers that same sense of community but in a digital realm," Siroya said, adding: "With this community product it is woven into our financial coaching product. Customers can actually talk to each other about business ... learn from each other."