When Kinuyo Fujikawa tells people she works in telecommunications marketing, their eyes tend to glaze over — but it doesn't take long to shake them out of it. All she has to do is share what it's like working at EZ Texting. 
The messaging tech company helps companies reach their customers through text messages — like your dentist following up to confirm your appointment or your favorite coffee shop offering a discount on a cup of joe. Kinuyo shepherds those projects through production as a senior project manager, but it's not all work at EZ Texting's offices. Stay awhile and you might meet some rescue dogs during a happy hour, play a round of darts with the CEO or gear up for a laser tag outing. 
We spoke with Kinuyo and two other EZ Texting team members to learn more about the team.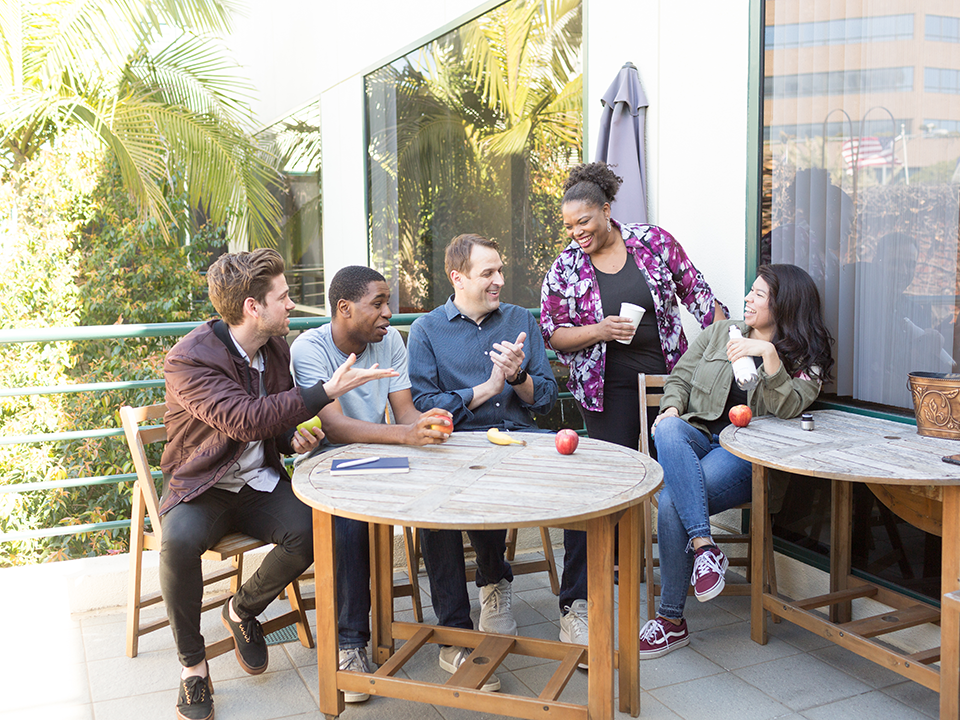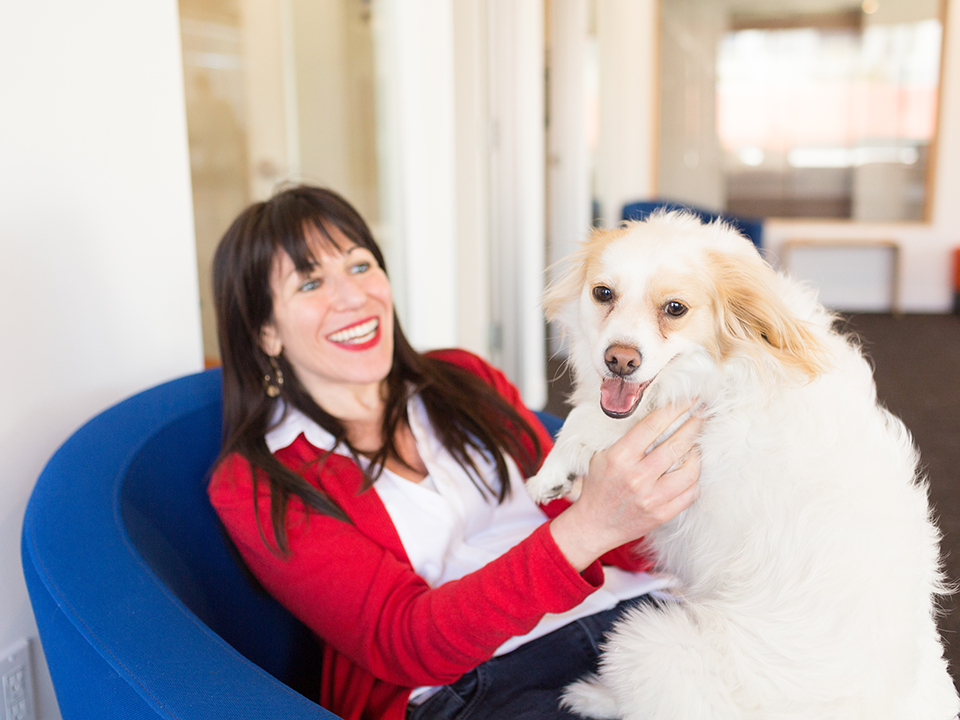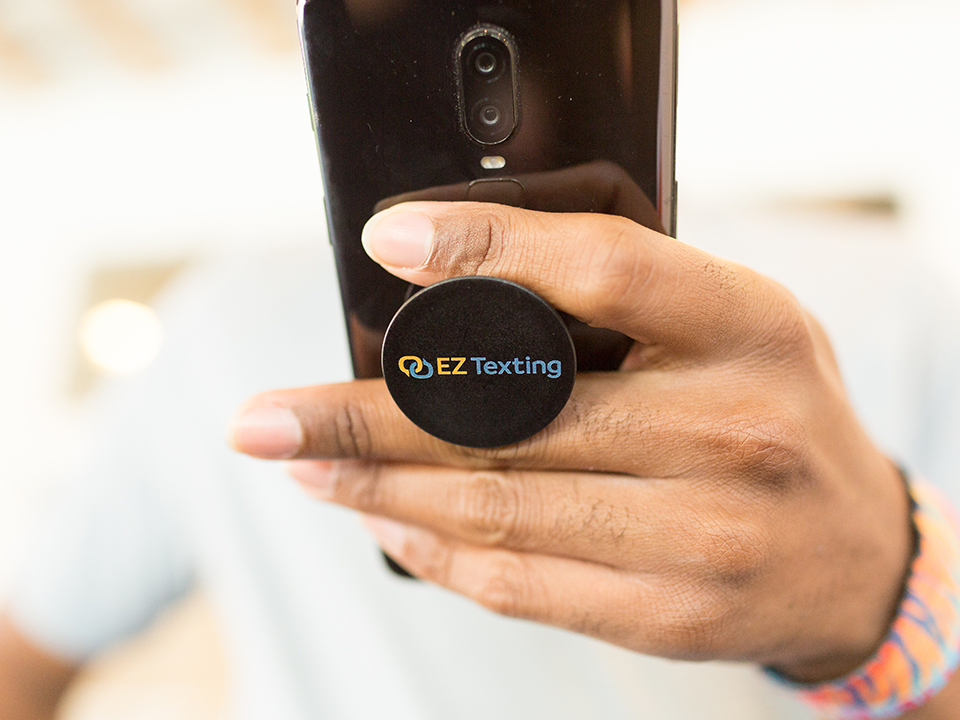 FOUNDED: 2004
EMPLOYEES: 180 (75 local)
WHAT THEY DO: EZ Texting is a mobile marketing platform for business, revolutionizing how businesses personally connect with consumers.
WHERE THEY DO IT: Near the sandy beaches of Santa Monica.
DOGGIE TREATS: When EZ Texting says they're a dog-friendly office, they aren't joking. During one happy hour, the marketing team arranged for rescue dogs to visit the office and helped the dogs find homes.
"DROP AND GIVE ME 20": Happy hours, team laser tag outings and rock climbing expeditions are frequent at EZ Texting. But at any moment, be prepared for some pushups as part of a recurring pushup challenge.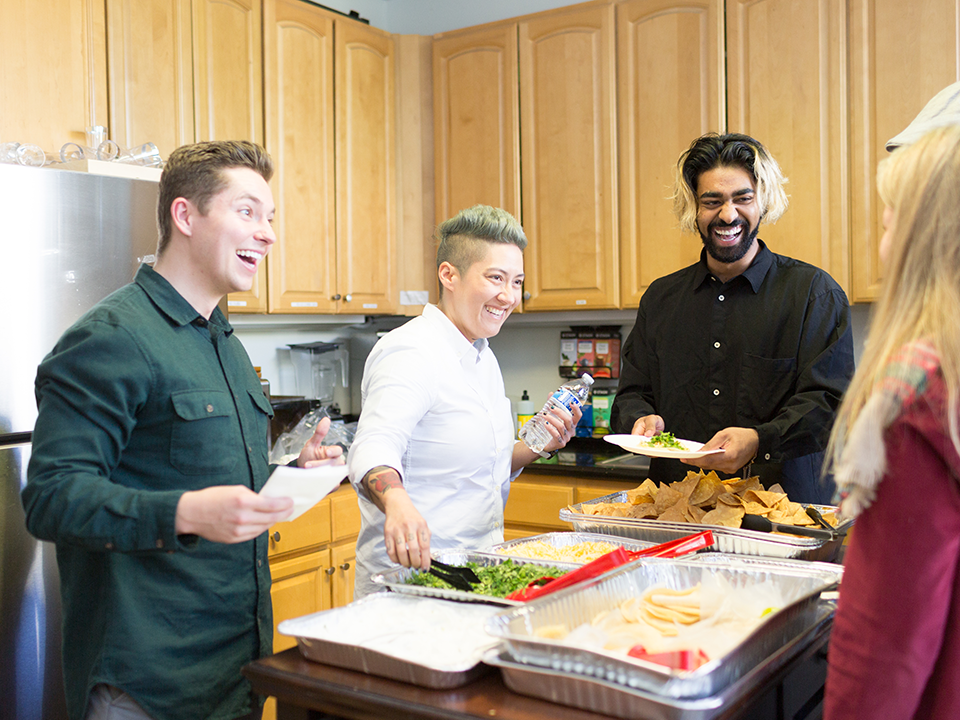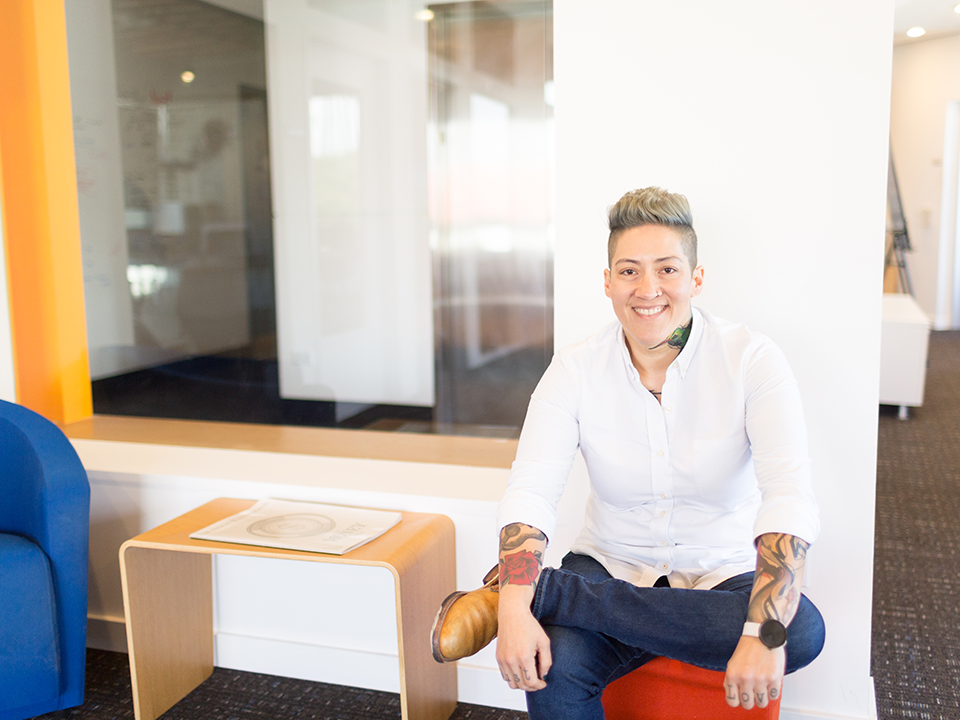 Kinuyo Fujikawa, Senior Project Manager
Kinuyo shepherds EZ Texting's development projects from idea to reality using Scrum and Agile methods. She works with eight development squads across the U.S. and Kyiv, Ukraine. 
BEYOND WORK: It might be easier to ask what Kinuyo doesn't do outside of work. She boxes, lifts weights, plays guitar for a band she's starting, competes in kickball and is taking Spanish lessons. 
How is EZ Texting's culture different than previous companies where you've worked?
It boils down to leadership style. I've worked under more authoritarian leadership before and it ends up being stifling. On any given day here, you'll find founders, C-level executives, directors and everyone else milling about the building. This makes it easy to catch someone's eye and chat or request time with them later in the day to grab a game of darts, get coffee or go for a wellness shot from The Hive. There are many opportunities to connect with other departments.
Whether it's being a block from the beach and Santa Monica pier or the type of folks we hire — or a combination of both — the atmosphere here is relaxed and fits with my native Southern California vibe.      
How are employees empowered to help shape or participate in the office culture?
We have a Pursuit of Happiness committee that does a lot of the heavy lifting on planning fun things. We had a rotating host department for our weekly Friday happy hour for a while, and that was neat to be able to bring your own flair to the table. I hosted one for the engineering team and did a Hawaiian theme with food, leis and tropical music. 
At one happy hour, our marketing department showed everyone up by bringing in a dog rescue organization — actual rescue dogs were here — to their happy hour and tried to pair available dogs for adoption with some of our employees.  
On any given day here, you'll find founders, C-level executives, directors and everyone else milling about the building."
What kind of traditions, activities or rituals exist in the office?
We have pushup challenges in the office, compete for personal records in laser tag, go rock climbing and host happy hours. I go out to our Pasadena location once a week, and they come here to connect with everyone. We have a yearly holiday party where our remote employees can come to the Santa Monica office, too. 
We have a very lighthearted and respectful culture and like to have fun. We'll make silly videos and share them on our internal communication channels, and we have Slack channels dedicated to things like movies and motorcycles. We had ongoing volunteer opportunities at the Midnight Mission last year, and you can take covered time off to participate in volunteer work of your choice.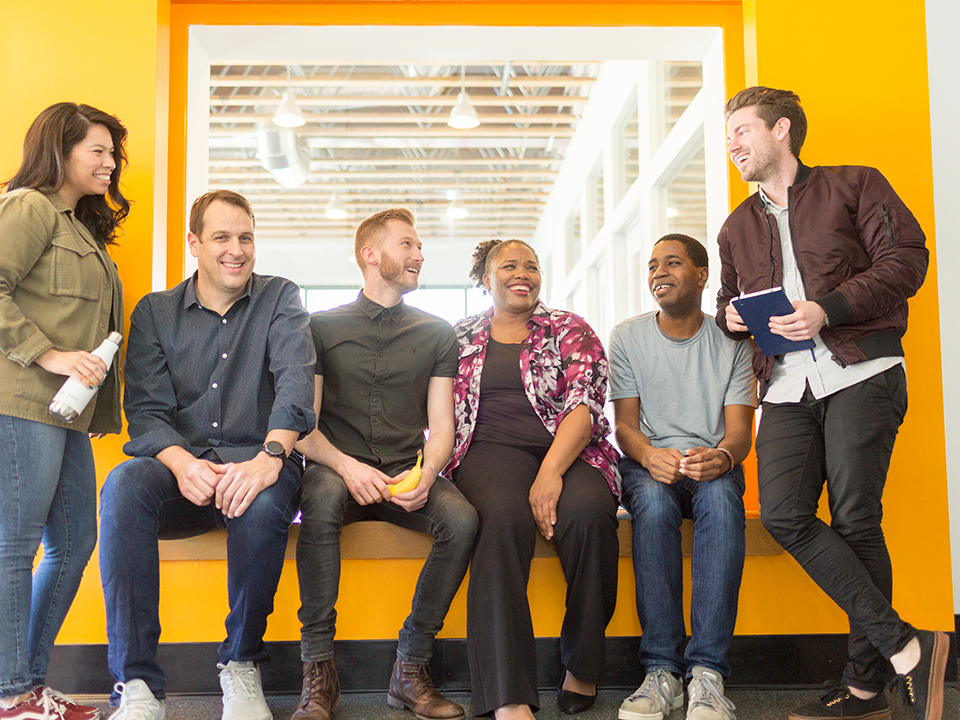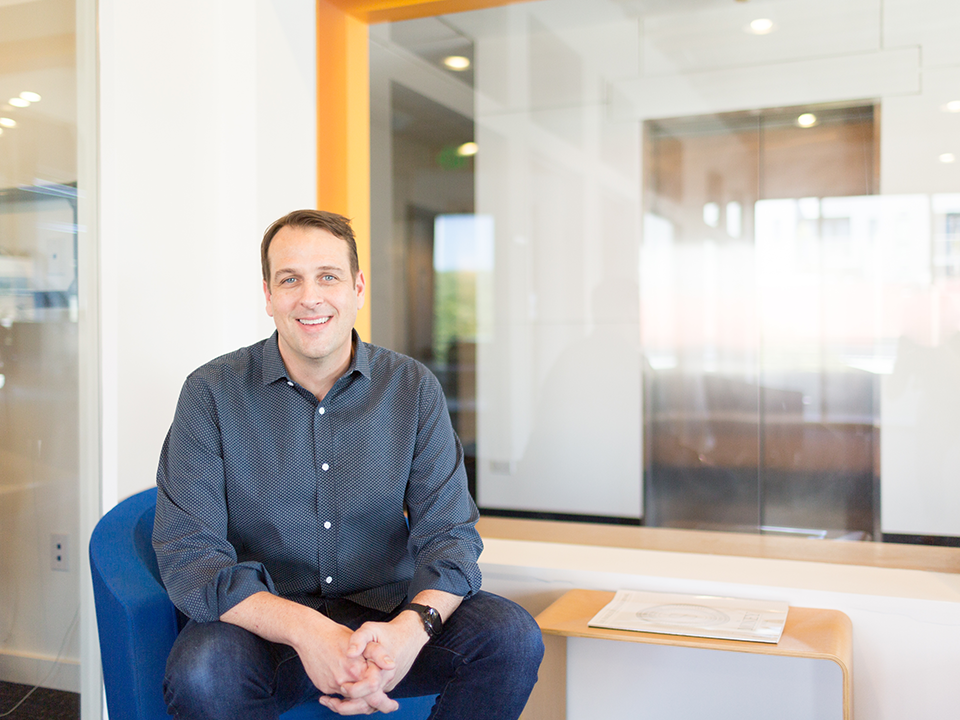 Jonathan Petrovich, Customer Success Operations Manager
Jonathan oversees the customer success team, which is responsible for retaining customers. He also oversees his team's monthly spend and helps to develop and grow team members. 
BEYOND WORK: Jonathan is EZ Texting's resident hoop head. He loves to lace up his sneakers and get a game of five-on-five going.  
How does EZ Texting's values the work your team does?
Ownership is key at EZ Texting — it's stressed on every level. For my team, we're always incorporating different and new processes to reach our team's goals. Owning these processes and providing actionable feedback is essential.
We're currently working on a project to help with retention. We had a slow start but, with feedback and a few adjustments, we have since righted the ship and learned a great deal about our customers.
What are some times when your team has acted in a way that reflected EZ Texting's culture?
EZ Texting has a culture of collaboration from the top to the bottom. We've had discussions of the daily challenges team members struggle with, including a team member sharing prospecting secrets and another team member who rewrote our entire pitch and mindset on "save" calls. Seriously, I'm implementing his pitch into our playbook because it's that good.
And, every Wednesday afternoon, the Austin and Santa Monica client success teams meet via video conferencing to discuss best practices and engage in role play. At the end of 2018, I decided to completely change the meeting's format to liven it up. I gave control to the team and required that one person be responsible for facilitating a discussion on any given week. I've loved the results, the knowledge sharing and the personality each member has injected into their discussion.
Ownership is key at EZ Texting — it's stressed on every level. For my team, we're always incorporating different and new processes to reach our team's goals."
How does that collaboration play out with other teams? 
The client success team works on a minute-by-minute basis with our client operations team. We also work closely with our carrier relations team. The client operations team ensures that we're playing nicely with wireless carriers, and we ensure that our customers are following the rules and regulations in a highly regulated field.
Both teams have the same exact goal despite bearing different responsibilities. It's been a great opportunity to learn a completely different side of our business and how our team affects our day-to-day business.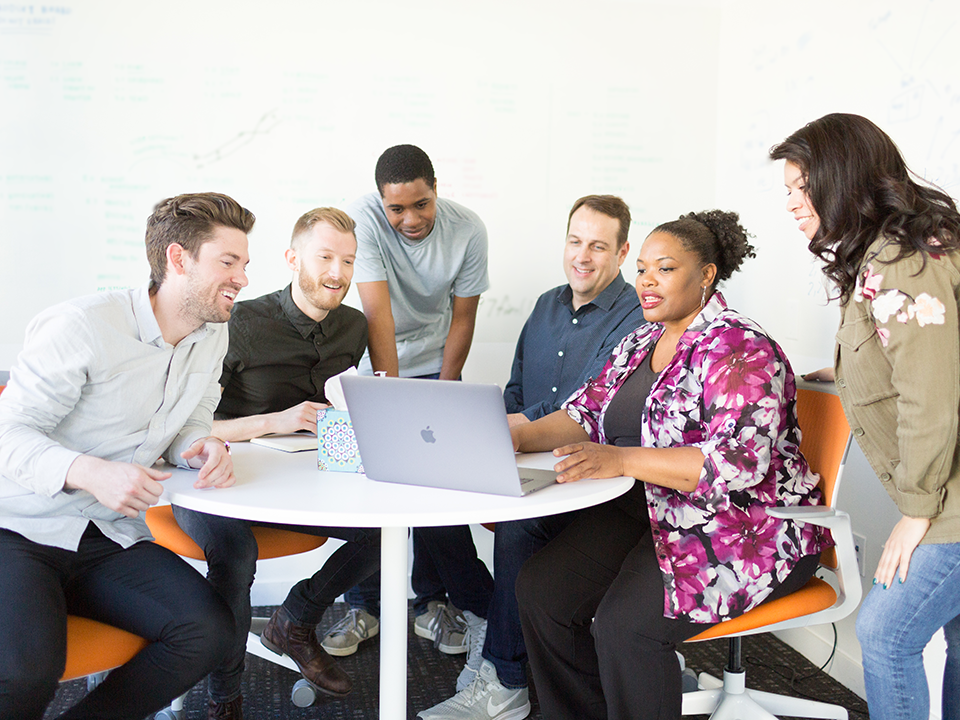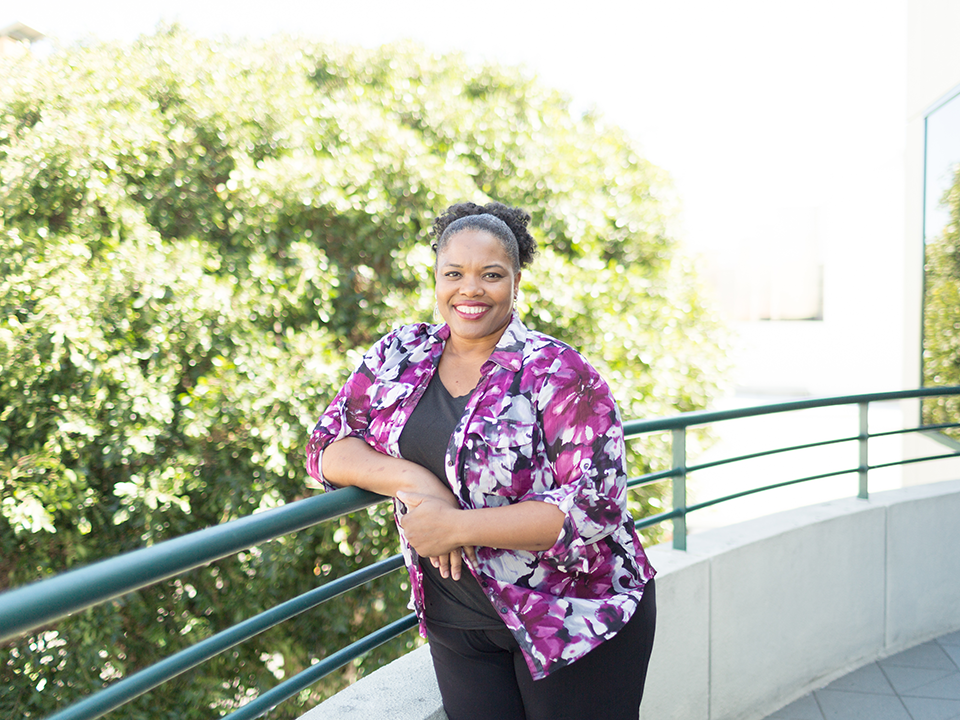 Victoria Smith, Director of People Operations
Like a chorus director, Victoria makes sure everyone is singing the same tune at EZ Texting. She does this by working with the HR operations team to provide a supportive benefits package and create a fun, collaborative environment.
BEYOND WORK: It doesn't take much to get Victoria on stage for karaoke night. She loves to sing with her friends and family. 
How do you help foster a positive culture at EZ Texting? 
To foster culture at EZ Texting, we formed a core value committee: The Tiger Squad. This committee reviews employee survey data and crafts values based on the feedback.
Our employees are our cultural touchstones and, as such, they hold the organization accountable to its core values. At EZ Texting, we track our progress toward culture by measuring employee engagement, and we encourage employees to provide candid feedback. 
One thing that sets us apart from every other organization is our culture — we like to refer to it as our secret sauce."
As EZ Texting continues to scale, what process do you use to evaluate your company's culture and keep it fresh?
The culture at EZ Texting is evolving gradually, and that slow pace is intentional. One thing that sets us apart from every other organization is our culture — we like to refer to it as our secret sauce. As we continue to rapidly grow, the challenge is in preserving what makes us special, unique and awesome. We evaluate how well we're doing with semi-annual employee surveys, and we continue to encourage our employees to be cultural ambassadors.