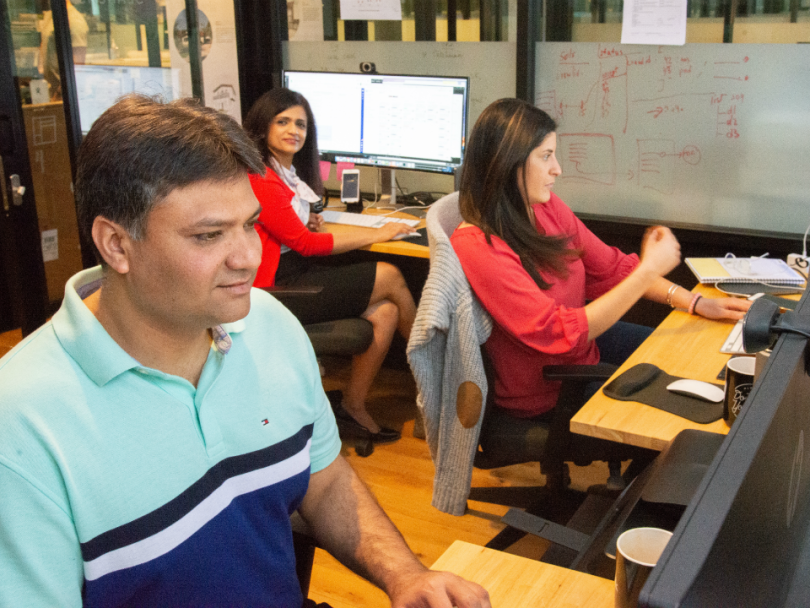 Think of the last time you used a search tool on the internet. Maybe it was looking up today's weather, maybe it was digging up a guilty pleasure on your favorite music streaming service, or maybe you even happened upon this article via search. While we may not stop to think about the sheer force of tech power behind search tools, there is beauty in the number of complex processes that go in to creating such seemingly simple, rapid and responsive tools.
The team at SearchStax is a big part of the reason why that experience continues to be so seamless. Major players like Ticketmaster and Samsung rely on SearchStax to manage, maintain and monitor their Solr-based search applications, allowing them to focus their time on creating the best sites possible.
SearchStax Founder and CEO Sameer Maggon sat down with Built In LA to share his perspective on this unique niche of tech, the inspiration behind it and how the Los Angeles tech ecosystem inspires this increasingly important work.
Tell me a bit about your professional and personal background.
I grew up in India, did my undergrad in computer science at Pune University then received my master's in computer science from the University of Southern California here in Los Angeles. I started my career building search solutions within a document management system and writing software for a semantic enterprise search company where I got early exposure to Amazon Web Services and SaaS. I later helped AT&T build a local search engine based on open source, and helped them build a search and operations team to scale that to their entire customer base. Before starting SearchStax, I consulted with Fortune 500 companies on how to build and scale search solutions using open source and co-founded a mobile search company.
Where did the idea for SearchStax come from?
During my career, companies hired me to build search platforms, manage them and optimize them. It costs a lot of money to do that, not to mention the lack of readily available talent. As an industry trend, I saw two things: the emergence of cloud technologies and the maturity of open source search software. I got really excited that these can be combined to allow every company in the world to create powerful search-based applications without having to spend time on building, managing and scaling their search infrastructure and operations.
How have things changed since your launch?
It's been a tremendous journey. We went from me, my Mac and my advisors in a garage to a company with more than 25 people involved across three different geographic regions. We have grown our subscription revenue more than 150 percent year over year. Our customer base includes more than 150 companies that span the Americas, EMEA and APAC.
Cloud and SaaS are here to stay and will be a fundamental building block for almost every company out there. Companies will increasingly move their existing applications and services to an "as-a-service" model and focus their resources on hyper-targeted areas where they can derive maximum enterprise value. That provides tremendous opportunity for SearchStax.
How tapped is the potential in the search market?  
Search is everywhere: When you open Uber, go to Netflix, or talk to Siri, a search is performed. Almost every application that wants to deliver relevant experience to its customers needs search. We're only starting to explore search beyond the obvious applications. And now, with the advances in cloud-based technologies and analytics, the flood of data, and the open source movement, companies that harness these forces, often with some sort of search-based technology, can build very powerful experiences
You've been bootstrapped to date. What has that enabled you to do?
What bootstrapping has enabled us to do is think hard and build around not only what the customer needs, but to also be ruthless about doing things that the customer would be readily willing to pay for. This enables us to reduce fat and internally be very honest about the value each one of us are bringing to the table, plus the value that SearchStax as a whole delivers to its customers.
In your opinion, what is special about the LA tech scene?
I love the LA tech scene. Compared to the same crowd in San Francisco, for instance, I find the gathering to be more laid-back with a focus on creating a sustainable business rather than a vehicle to attract VC funding. Plus, recruitment is easier, costs are lower and employees have a better work-life balance. At this stage, our presence is still small in LA, and our involvement with the community is modest. I attend LA CTO Slackers and we're part of the Digirati. As we grow, I look forward to scaling up our participation in the local tech scene.