When Jonathan Ripper took the SVP technology position at Playa Vista-based tech company Core Digital Media, he did so knowing that the fact that he lacked a computer science background might turn a few heads.
Ripper knew he was up for the challenge, with nearly 20 years of experience handling everything from project management to optimization. By leaning on the tech expertise of his team, Ripper offers a different type of management style to a company that is consistently growing.
Built In LA had a conversation recently with Ripper about his team's expected growth in 2018, how his unique skills impact his managerial style and why he always asks job candidates about how they made the best of a bad situation.
As the company has grown, how have you built your team to meet new opportunities?
Over the last year, we've focused on beefing up our architecture team at Core Digital Media. We look to the architecture team to lead in three critical areas: Surveying the landscape of emerging technologies and having a vision for applying them internally;  executing POCs that apply new solutions to business challenges, and having the perspective to improve and optimize our current platforms. We've taken the steps to properly align the architecture team with the rest of the application development team so they're working collaboratively to exchange ideas on new tech and implementation.
Historically, our ops team has been broken down into a few different functions: the DB operations team, the network operations team and the build team. Over the last year, we've focused on integrating all of these functions into a larger, unified team, which gives us the ability to cross-train, increase productivity and improve engagement by giving team members exposure to a broader cross-section of technology.
How did your background in project management influence the way the company planned for 2018?
Last fall, we set the framework for what we wanted to accomplish at the 30,000-foot-level. Instead of having a one-year horizon, we took a look at a two-year view because — as a technology organization — we're trying to tackle some big platform initiatives that take more than a single year. We really wanted to move to a continuous integration and development mindset. We want to bring the QA team and application development teams closer together so that we're doing test-driven development. And we want to begin leveraging the Cloud more fully. Having a plan in place that empowers the whole organization to contribute toward these goals gives the technology team something to rally around.
Describe your team's culture.
Our open floor plan at Core Digital Media really reflects how we're structured — people feel free to speak their minds, regardless of their title. Although we're not what you would call a flat organization, we don't have any hierarchy in place that prevents the most junior developer from interacting with the most senior executive. There's plenty of opportunities to engage in new ideas and to be heard.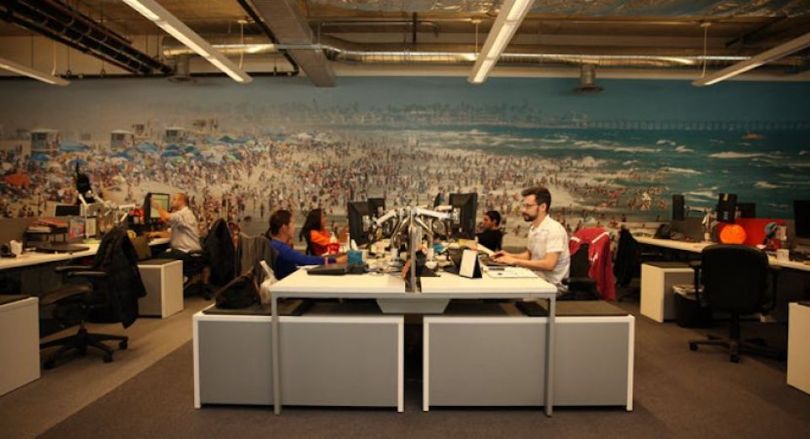 As someone in charge of a team with many different functions, how do you keep everything organized?
In a project management role, you have to be able to balance the needs of the business against the needs of the technology organization. There's always a compromise to be made in terms of how quickly you deliver — or the way that things are executed — to make them sustainable for the long term.
I don't come from a computer science background, so when I was coming into this role, it was more as a technology enthusiast than a technologist. I approached the position as a leadership role that demands an understanding of technology, an appreciation for it, and ultimately, the ability to make informed decisions.
How would you describe your leadership style?
I think good decision-making comes from good listening. One of the things I did coming into this position was to sit with all 50-odd members of the team to understand where they stood. It's my job as a leader to take the time to go out and interact directly with the team because they're not always going to be the first to engage.
What qualities do you look for in a new hire?
Obviously, we're looking for technical strength at Core Digital Media, but there are three big things I want in a candidate: honesty, creativity and commitment.
For creativity, as it applies to technology, it's the combination of curiosity and execution. Innovation is really driven by curiosity. Commitment is identifying when you're in for the long haul and being able to see it through.
Honesty speaks for itself. Everyone is presented with a chance to make a bad decision in their career. One of the most important things to me is being able to understand that — in the software development world — we will all make mistakes, and while there are repercussions for making mistakes, there shouldn't be penalties.
We want people who stand in front of their good work who are also willing to stand in front of the work that wasn't as successful. I want to hear how candidates turned mistakes or weaknesses into positives because it says a lot about how honest, creative and committed they are as professionals.