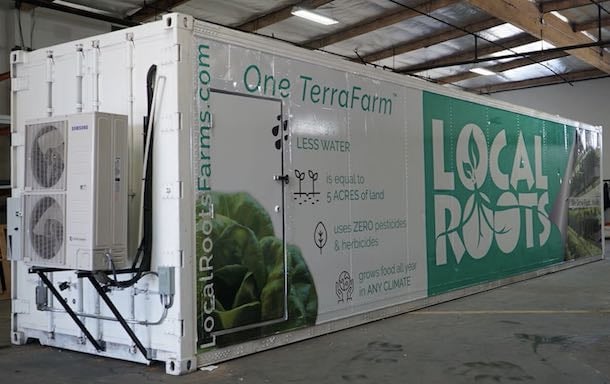 California is one of the largest agricultural producers in America, but while the farms of the Central Valley churn out roughly two-thirds of the country's fruits and nuts using methods perfected over centuries, one local startup is using technology to turn a small community south of downtown Los Angeles into an unlikely agricultural powerhouse.
Vernon, Calif. is best known for two things: a history of widespread municipal corruption, and warehouses, the latter of which — as unlikely as it might seem — provides Local Roots with the perfect setting to develop its hardware-software food technology pods, each of which is capable of providing the equivalence of five acres of farmland, all from a repurposed shipping container.
"Our mission is to improve global health by building a better food system. It's something that we hold dear to our hearts," said Eric Ellestad, co-founder and CEO. "We do that by feeding people in a more responsible way, and I think that's something we can be proud to tell our kids about."
Today, the company announced it had achieved price parity with traditional farming, an industry first, and announced plans to hire 150 local employees in 2018 — 50 of which will be for tech roles. The founders also revealed that they had recently signed the lease for a new 165,000-square-foot headquarters, roughly 15 times the size of the company's current office. For Matt Vail, Ellestead's co-founder and COO, the company's rapid growth, while exciting, provides the founders a way to positively impact people on a much larger scale than before.
It's great to be part of a mission to improve global health and to do that through something as innately human as food."
For Vail, the ability to apply his background to help drive a positive impact in the world is rewarding. "As an engineer and a technologist, coming from neuroscience and academic research, having the opportunity to use your technical acumen for something that is bigger and broader than an app — and more heartfelt than something in the pharmaceutical industry — is an incredible opportunity," he said. "It's great to be part of a mission to improve global health and to do that through something as innately human as food."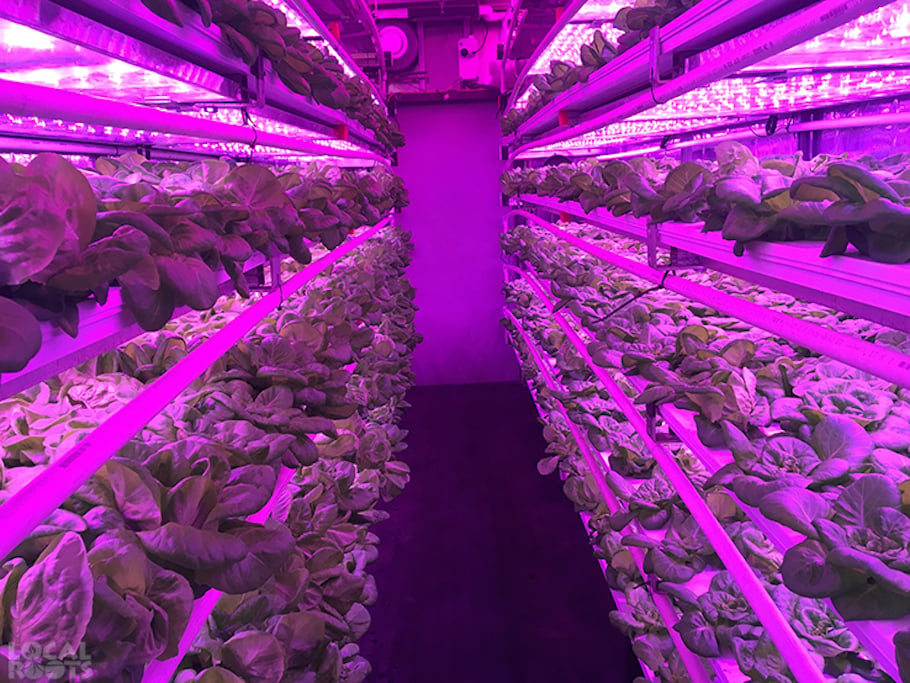 After first meeting as undergrads and going their separate ways, Ellestad and Vail, an academic researcher in biomedical engineering, started the company after Ellestad witnessed firsthand the inefficiencies in the production and distribution of crops while working for his family's refrigerated trailer manufacturing company.
"Over half the produce grown in North America doesn't make it to a person, becoming spoiled or damaged in transit. That kind of loss gets factored into cost and spoilage rates and incentivizes farmers to focus their efforts on growing crops that can survive a less-than-ideal distribution system. Additionally, farmers look to raise crops that provide a good shelf life for retailers and restaurants," he said. "That means farmers don't focus on flavor and nutrition as much as durability. I saw an opportunity to create an alternative in a way that was scalable and cost competitive with a very rigorous scientific and technical approach."
Each mobile TerraFarm — which is capable of producing 600 times more produce than an outdoor farm of equivalent size — is powered by a cloud platform called LocalX, which turns the farm into an IoT node capable of relaying data from dozens of sensors to the team managing the farm.
"LocalX is a mission control for our distributed network of high-tech, vertical, indoor farms that allows us to monitor and operate each farm remotely, ultimately enabling us to grow the most exceptional produce in the world," said Vail, who serves as Local Roots' COO. "LocalX talks to each of those nodes in order to stay apprised of what's going on in each farm, and it uses that information to run computer vision and machine-learning algorithms, allowing users — the on-site production manager, for example — to monitor and adjust what is happening in the farm."