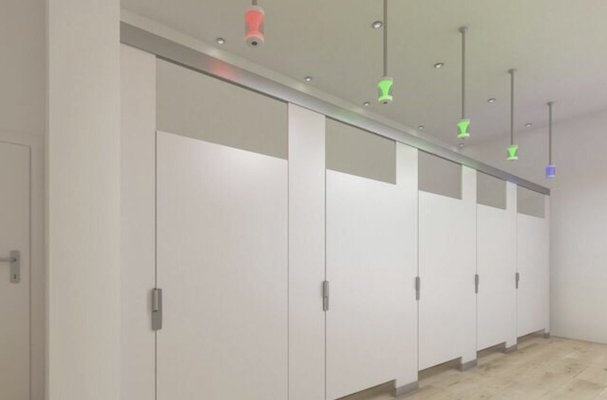 When you gotta go, you gotta go.
Whether it's at work, a restaurant or even your neighborhood dive bar, making a trip to the restroom is something most of us try to avoid. Marred by broken utilities, open stalls or plain filth, public restrooms aren't just gross — they're ruining the customer experience.
Instead of addressing the problem with a mop, some Comet cleanser and a mask, LA-based Tooshlights is taking a different route to remedy those restroom woes: technology.
Today, Modus Systems, the parent company behind what might be LA's first ever toilet tech company, announced it had closed a $3 million Series A to bring its smart restroom technology to the world. Led by Buc-ee's, LTD., a division of the Texas-based regional convenience store chain known for its pristine potties, the round will help the company ramp up its product development to meet what we can all agree is a high customer demand.
"Tooshlights is addressing one of the biggest pain points in the public restroom experience: long lines and the awkward experience of having to peek under stalls to see if they are free," Allen Klevens, president and chief executive officer of Modus Systems LLC, told Built In LA. "Our technology also harnesses the critical data that allows managers to make smarter decisions that will ultimately improve the guest experience and improve profit margins."
Consisting of a smart latch and indicator light, the units are able to communicate wirelessly, eliminating the unenviable need to investigate whether someone really is in that stall.
According to Klevens, the technology isn't just being developed in LA — it was conceived at one of LA's most recognizable establishments.
"The idea came from a friend that worked at the Hollywood Bowl who was searching for a solution to the long restroom lines that guests encounter during intermission," he said. "Not long after that intelligence, I visited a nearby mall and saw a lighting system in the parking structure letting drivers know what spaces were available. It was a no-brainer."
Back in 2014, the team actually used the Bowl as its first beta tester, installing a prototype and receiving feedback Klevens said has been invaluable his team.
"The feedback was phenomenal, with the Hollywood Bowl confirming that wait times have been decreased and that guests love the better experience it presents," said Klevens. "Since then, we've received a massive number of requests to install from venues across the U.S. Today, we launched our new product design and technology and will be working to fulfill those requests within the year."
Images via Tooshlights.
Have a news tip for us or know of a company that deserves coverage? Let us know and follow us on Twitter @builtinla.