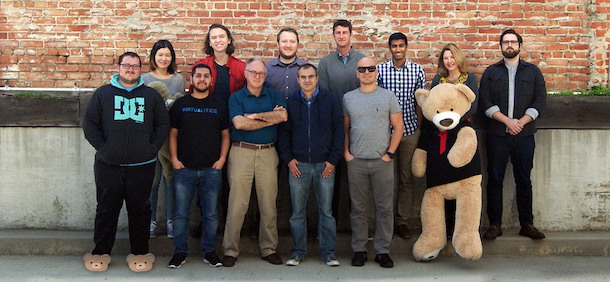 With startups all over LA hiring data scientists to make sense of the vast quantities of data they have accrued, it's clear that they understand the competitive advantages hidden among all of those spreadsheets. 
The problem is finding them.
One Pasadena startup thinks it might have a solution: virtual reality.
Founded by an all-star cast of professionals with experience at NASA's Jet Propulsion Laboratory, Caltech and Deutsche Bank, Virtualitics has developed a platform that not only helps businesses visualize their stores of data in virtual reality, but also provides machine learning tools to help find patterns quickly. 
Co-founder and CEO Michael Amori explains the model with a car analogy, befitting LA:
"If you wanted to get a good understanding of all the details in a car, and someone showed you a 2D photo, it will help, but if someone showed you a 3D model, it's even better," he said. "If someone allows you to step inside the car and look around, that's the best. VR simulates the real life, so it lets you step inside the car. The same concept applies for data as it does for the car." 
The platform started as a collaboration between renowned astrophysicist George Djorgovski, director of Caltech's Center for Data-Driven Discovery, and Dr. Ciro Donalek, a computational staff scientist at Caltech. They were eventually joined by human-computer interaction researcher Scott Davidoff, a manager of NASA's Jet Propulsion Lab. 
They initially set out to create a way to better visualize the massive stores of data collected on the stars — the ones in the sky — but when they were joined by Amori in 2016, the project started to change. Having managed a 25-person data science team for Deutsche Bank, Amori saw their work having broader applications.
"We actually started out just wanting to do data visualization, so there was no machine learning or artificial intelligence," Amori said. "As we were testing it out with the two initial alpha testers, we realized that people were drowning in data, and couldn't even make sense of an initial way to visualize complicated data. So we decided to add some tools to help people come up with the best visualization initially."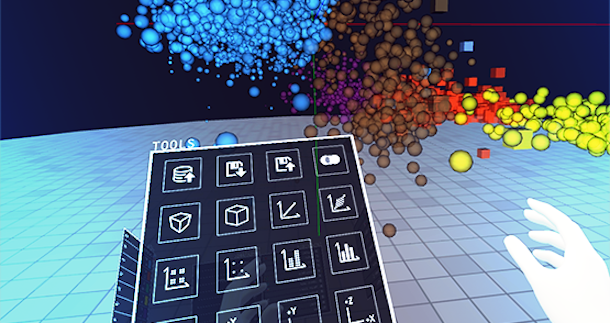 To show the capabilities of the platform, Amori points to the 1990 Census, whose metrics included the amount of violent crime per 100,000 people. One of Virtualitics' machine-learning algorithms would ask what you're interested in understanding in that data, then it would find the metrics that really matter, for example, in determining the high-crime versus low-crime communities.
"It ranks all of those metrics in order of importance. So now, you have a list of the most important things that determine crime. Then it maps each of the communities against the most important metrics," Amori said. "When you do it that way, you see some striking patterns." 
In just under a year, the company has raised $4.4 million and hired 11 full-time employees in the Pasadena office. In the next few months, it plans on partnering with two corporations — global consulting firm Accenture and semiconductor company Efficient Power Conversion — in a closed beta program to continue to improve the platform. 
Virtualitics' focus is on providing a B2B service, for now.
"But we have among our initial beta testers two universities," Amori said. "I think it's going to be used in academia as well, and we're definitely going to service that vertical."
Images via Virtualitics.
Have a tip for us or know of a company that deserves coverage? Let us know and like us on Facebook.