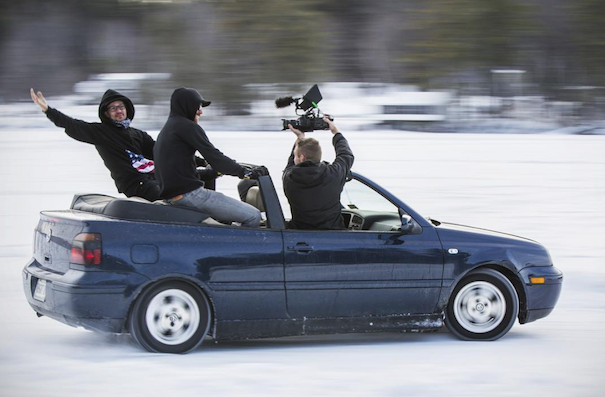 The automobile is one of the most important inventions of the 20th century. But we're almost a score into the 21st century, and consumer interests have changed. For whatever reason, today's young adults seem to care less about owning a car — and the automotive industry is struggling to adopt the right technologies to win over the millennial set.
Through its unique collection of videos, Donut Media is trying to change that. The West LA-based startup aims to help car brands reach a more engaged audience and create more car enthusiasts along the way.
"We've all heard about how millennials have a hard time engaging with cars, but at the same time, there's been a real lack of attention given to how these people want to consume content, where they want to consume content and what kind of content they like to consume," said co-founder and CEO Matt Levin. "We're creating content across social platforms to get young people into cars — and help advertisers reach that millennial demographic."
Creating content that at once captivates an audience of car aficionados, regular consumers, motorphobes and automotive manufacturers is no small feat, but the creative team at Donut Media has it down to a science. By merging data analytics with their collective experience creating stellar content, Donut Media has created a following that includes nearly 70,000 subscribers on YouTube and almost 40,000 on Instagram.
"The way that you solve problems in the digital age is using data," said Levin. "For us, we've got an awesome team of creatives and we empower them by giving them the tools and technology to be really iterative and agile." 
Actually attracting those of us who don't know — and don't care — about the difference between a straight-six and a V6 is a little trickier. To explain his approach, Levin drew some parallels between the automotive enthusiast vertical and the world of gaming. 
"A couple of years ago, gaming was a very insular community with a strong stereotype, but media helped to show the diversity of gamers out there, and has really changed the face of gaming," said Levin. "If you look at who's gaming today and its role in society, it shifted in large part because of what's happening on YouTube. To us, automotive is the next niche interest that has the opportunity to become mainstream."
Gaming boasts a crossover appeal thanks in part to how easy it is to find an enjoyable game, as well as content creators like Rooster Teeth and Burbank-base Machinima. On their end, car enthusiasts still largely consume media via channels tailor-made for hardcore gearheads.
But there is plenty of opportunity to appeal to the masses. Take the wildly popular British television show, "Top Gear." By combining entertaining journeys through remote locations, celebrity interviews and reviews of some of the most expensive (and least expensive) cars around, "Top Gear" became one of the most popular and accessible television shows on the planet.
Though they don't aim to replicate the show — or its spinoff, "The Grand Tour" — in any way, Donut does replicate the show's unique spin on presenting cars, just for a different audience.
"A large part of our approach is thinking about the things that 'Top Gear' did: make things more accessible, make it about personalities and make it relatable, and figure out a way to do that on YouTube," said Levin. "You can't take a TV approach, chop it down to 30 seconds and expect it to work online; you have to rethink from the ground up."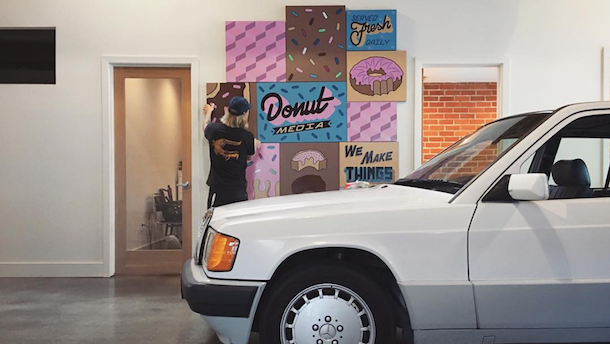 Headquartered just off the 405 in West LA (with an INDYCAR in the lobby), the 10-person team took part in Techstars Mobility last year in Detroit. Aside from the money they received from Techstars, the company has been completely bootstrapped to this point. 
As the company continues to refine their content creation processes and onboard new clients, Levin believes the startup's location is as important to the company's success as anything.
"We're kind of at this very special time in Los Angeles right now," said Levin. "You see companies like TasteMade and Mitú tackling different verticals and just exploding. We're sort of a product of our environment: we're all LA guys who saw this opportunity in other verticals."
Images via Donut Media.
Have a news tip for us or know of a company that deserves coverage? Let us know and like us on Facebook.