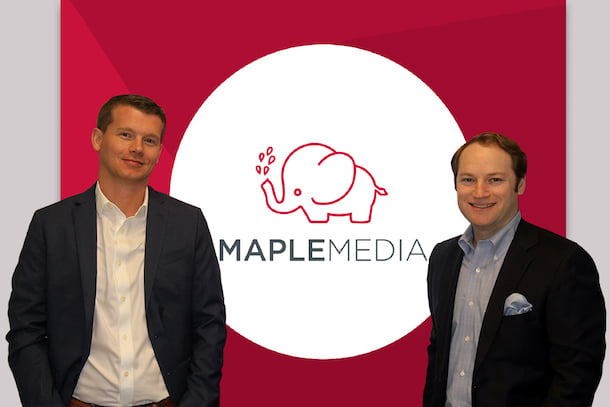 Maple Media is here, and they're coming for your apps.
The Century City-based startup officially launched today, while also announcing a $30M fundraising round from local private equity firm Shamrock Capital Advisors.
The funds will go toward acquiring mobile apps in a number of verticals, including mobile payments, productivity and mobile games.
"We have found that many app developers want to focus on what they are good at and love to do — creating great apps for mobile users. Focusing on the day to day management and monetization of apps is a different skill set and is a full-time effort," Ritter said in a statement. "We felt that Shamrock Capital was an ideal partner for us in executing on our plan. They shared our vision for this opportunity and have an unparalleled reputation as dynamic, high integrity investors in the media and entertainment industries."
The idea for Maple Media came to Ritter while he oversaw corporate and business development at Jam City. Working closely with founder Chris DeWolfe, Ritter started to see a number of trends he thought he could fix.
"I noticed when I was evaluating the companies we were looking to acquire that their ad revenue wasn't going up in line with our spend," Ritter told Built In LA. "The other thing I noticed was that it really took a number of skill sets for a studio to create, operate and manage their user base and the live product. I started thinking about a way of combining these two things, and whenever Clark and I would meet for lunch or coffee, we started talking about the opportunity."
Maple Media will be Landry's first foray into the startup world since his last company, SHIFT, was acquired in 2015. The next year-and-a-half were a de facto stealth mode for the veteran investor, whose portfolio includes The Trade Desk and Scopely. It was during this time that his discussions with Ritter started to become more meaningful.
"It makes it sound like I was fighting it, but Michael had been telling me about his idea for some time, and I actually loved it," Landry told Built In LA. "The timing really worked out well because I was taking some time to figure out my next step."
When the duo began discussing plans to raise capital for their venture, Landry's connections to LA's burgeoning community of venture capitalists came in handy.
"Over the years I've gotten to know the majority of venture capitalists in Los Angeles, and I spoke to a few about the concept for Maple Media, and they told me it wasn't a VC type deal and that we should be talking to private equity guys," said Landry. "I had a conversation with Alan Resnikoff [of Shamrock] about what he thought about our business, and it kind of snowballed from there." 
The team of six will continue to scale both its roster and its portfolio in the next year.
Images via Maple Media
Got a story to tell? Let us know and follow us on Twitter @BuiltInLA