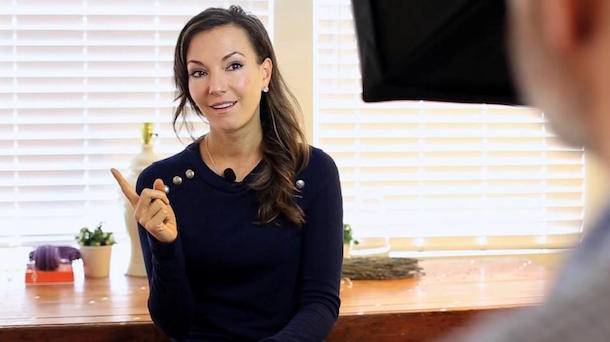 If you had asked Cooper Harris what her professional plans were a few years ago, she would have told you they involved acting. But as she started getting more work in Hollywood, something peculiar happened to the up and coming actress — she got bored.
But Harris didn't turn to Netflix or a book to cure her boredom, she started attending hackathons. 
"At first it was really the community that I found fascinating," said Harris. "It's the opposite of entertainment in that it doesn't really matter if you're pretty or not. You're judged completely on your ability to build cool and impactful technology, and that was a skill I knew I needed to develop."
Harris said that at the outset there was skepticism from her fellow developers, but that started to change when she began winning. In 2013, she became one of the first women to win the Los Angeles AT&T Hackathon, and later that year she took home the "Best Overall App" award at Silicon Beach Fest Hackathon. As her chops as a coder grew, her skeptics become allies.
"I would walk in and the guys probably thought, 'what the hell is she doing here,' so I definitely had to prove myself because I was very much in their territory," said Harris. "I feel that I was very receptive and learned very quickly, and when I started winning hackathons, that earned me some credibility and a team of folks who I still work with."
Soon after, she started creating her own hackathons, working with the likes of SXSW, Sundance, PBS and even the British government to organize events focused on using tech to find solutions to problems we all face from time to time.
Finally, Harris decided to take the plunge herself. In 2013, she founded Klickly, a software company that develops a smart buy button brands can place in an ad that allows consumers to make a purchase without having to navigate to a new page or fill out a profile. 
Klickly marries the technology consumers might know from Amazon's "1-Click" button, which allows users to purchase something with a simple click, with intelligent remarketing that knows what consumers have looked at and what they've bought in the past. But instead of searching for a specific product, consumers are presented with the product in the form of a banner ad or an email.
"Klickly is technically a B2B company, but there's very much this B2B2C element to it because the consumer is interacting with our software," said Harris. "Something we did a lot of research on was the paradox of choice. Contrary to the Android methodology where you get to pick and customize everything about your phone, there is something about a streamlined UI that is incredibly compelling to consumers. They don't want choice, necessarily, and if they do, they want it couched in a way that's very visually appealing and easy."
In July, Google and R/GA invited Klickly to participate in Cannes Lions International Festival of Creativity's Start-Up Academy, an event designed to help exceptional startups position pitch value propositions to some of the world's biggest brands.
Since then, the company's business has quadrupled, Harris said. Currently, the team of 10 is working to finalize a round of funding and is searching for new offices to accommodate a rapidly growing roster. On the technical side, however, Harris sees Klickly growing to service a new, more virtual channel.
"Down the road we see ourselves as a payment protocol for VR," said Harris. "The idea is to create a one-touch buy button that actually knows you as a consumer. The potential for a brand to reach a consumer within a virtual setting is huge, but there are a ton of factors that need to be taken into consideration, and that's what we're working on now."
Though she still dabbles with acting occasionally, Harris said she's focused solely on the growth and development of her startup.  
"Klickly started because I started sneaking off to hackathons and taught myself to code," said Harris. "When you no longer have to conform to these superficial qualities, you can do all these cool, creative, rewarding things that you wouldn't be able to do otherwise."
Images via Klickly.
Have a news tip for us or know of a company that deserves coverage? Let us know and follow us on Facebook.