"How much do you make?"
You may hear it from your father-in-law, but otherwise it's normally a question that's socially unacceptable to ask. 
But LA-based 
WageSpot
, launched last month, seeks to answer this lingering societal curiosity through their location and data driven app. 
Upon entering their own occupation and salary, users are able to anonymously view and share the yearly earnings of their neighbors or workers in the same industry.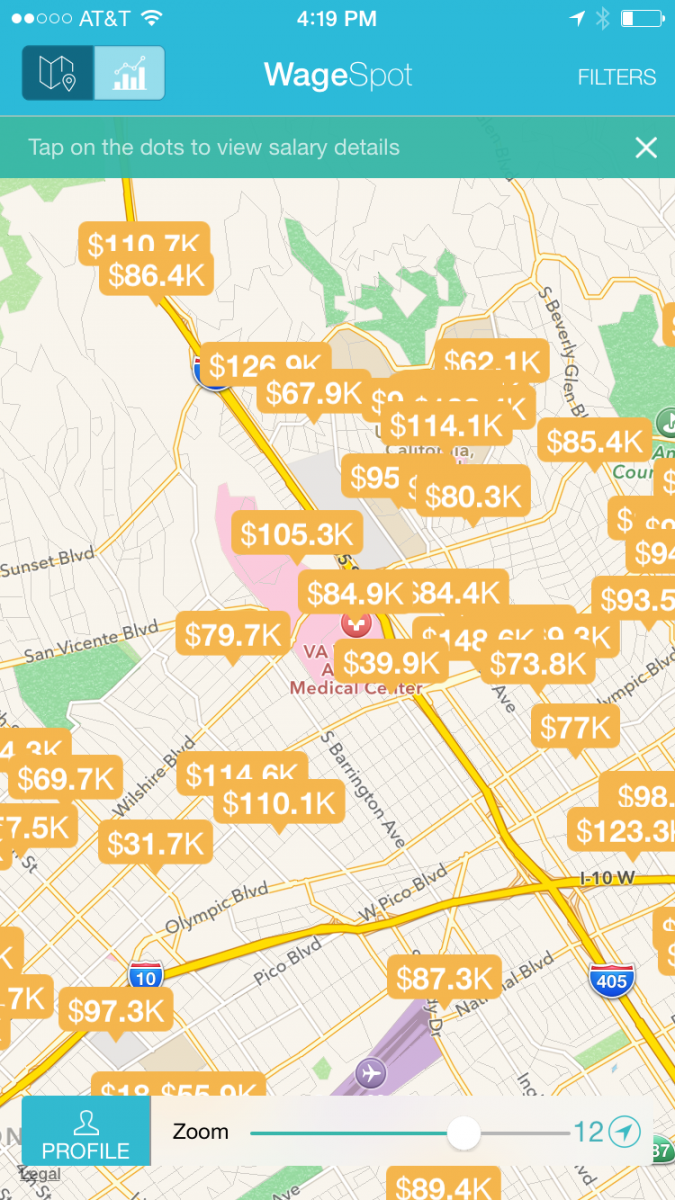 The company, founded by Marat Halperin and Raph Morozov, views itself as a Zillow for salaries, allowing users to look at trends, areas, occupations, and even the discrepancy between male and female salaries. 
"I'm one of these people that — I don't know if it's a complete lack of tact — but I don't mind asking people how much they bought their car for, how much their house is worth, or whatever it might be," said Morozov. "My wife is constantly mortified at me for being like this. We love browsing Zillow and looking at houses that we would probably never be able to afford... and I think it is so natural to do that. People want to know."
Since its launch on October 6, WageSpot has over 30,000 downloads in Los Angeles. In order to keep early users engaged on the app, Halperin and Morozov populated the map with any available public employee salaries — totaling nearly 2 million data points across the nation. 
And although they also inputted the ludicrous salaries of famous athletes and public figures, Morozov believes the real purpose of the app is to measure oneself to their peers.
"I think, traditionally, people have been afraid to talk about this and afraid to ask," Morozov said. "There are some conspiracy theories as to why. We were speaking to this professor of employment at UCLA and he thinks that in the early 20th century corporations decided to start hiding how much people made from one another so they could keep the wages down. I think the world is ready to have this conversation. This is a topic that is always out there yet we are afraid to talk about it because there is no good way to start that conversation."
In order to increase retention, the app will be adding push notifications for when a comparable salary is added as well as incorporating a recruiting options for job seekers.