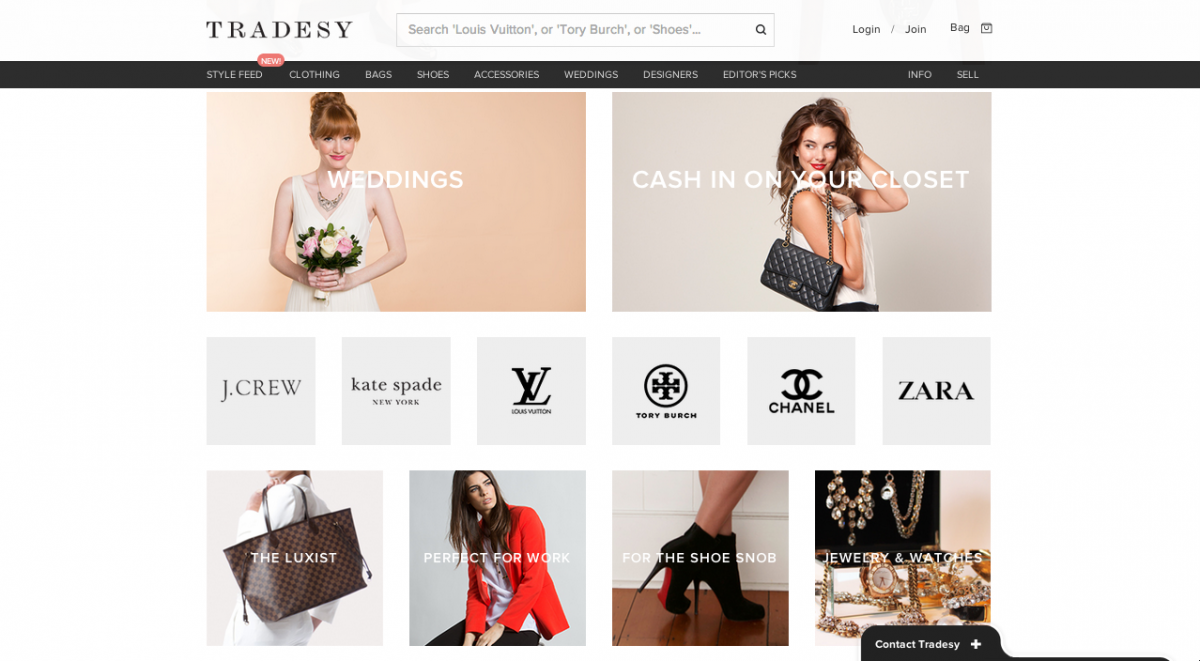 There are many peer-to-peer clothing reselling websites, but none with a founder quite like Tracy Dinunzio. To launch Tradesy she put her apartment's guest room on Airbnb, sold her car and borrowed $5,000 from her parents three times. She also built her Internet company without a technical background, learning all her skills using free resources.
"I scraped it together as I went," said Dinunzio. "And took it one day at a time. You have to do it in bite-sized portions."
That bite-sized strategy is beginning to grow into something significant. Tradesy, a peer-to-peer e-commerce site that allows women to sell their clothes directly to each other, now has 19 employees and has raised $3.5 million in funding. However, Tradesy is not built on ambition and gall alone: behind the company's growth is a keen business understanding of women's fashion.
"The velocity of the fashion category has increased so much over the last 10 years," said Dinunzio. "Today 35 percent more is spent than 10 years ago."
Because the "flash site sales trend seems to bulk up women's closet, as well as the fast fashion trend," women on average own more than 350 pieces of apparel, she said.
Those full closets have meant a huge potential inventory opportunity for Tradesy. Dinunzio said the website has close to 1 million items listed, the equivalent of around $97.5 million in inventory. 
But excess clothing doesn't just create supply for Tradesy it also spurs demand. More fashion spending has meant, "closet size and wallet size are maxed out," said Dinunzio. So much so that within a woman's closet "only 20 percent (of clothing) was worn in the last year on average." With so much cash tied up in past clothing purchases, consumers have run out of ways to finance next season's fashion.
Peer-to-peer sales help to make clothing a more liquid asset and, for Tradesy, that has meant, "more than 80 percent of sales are being made to finance purchases in a same retail category."
This is "increasing value and variety of what they can get for their dollar," said Dinunzio. Clothing purchases on Tradesy can be up to 90 percent off retail. Ultimately, peer-to-peer's ability to match consumer tastes and resources with the latest fashion trends means greater fashion efficiency.
Such efficiency would be quickly choked if it weren't for a prevailing sense of peer-to-peer trust. Preventing fraud by hand verification of the close to 1 million items listed on Tradesy is far too difficult: "if I wanted to post a real photo for a fake item I could," Dinunzio said.
So the company has set about stopping fraud by tracking the behavior of its users: "We don't authenticate items, we authenticate people," Dinunzio said. Tradesy looks for the behavior patterns of sellers who commit fraud. Using a sophisticated algorithm Dinunzio said the site has achieved a 99.8 percent accuracy rate.
Tradesy has 1.5 million customers per month, but is yet to be profitable. However Dinunzio said the company is cash flow positive and revenue is increasing 20 percent month over month. Increasingly, sales are coming from Tradesy's recently revamped mobile app, so much so that the app represents 40 percent of sales.
In the near-term, Dinunzio said the company's goal is to "become the market leader in women's resale." They have established competition, like peer-to-peer sites Poshmark and Threadflip, who will contest that goal, but Dinunzio said she believes Tradesy is "on track to doing that."
In the long-term, Dinunzio sees potential opportunities in other verticals like men's or children's clothing. The company may also expand internationally, but Dinunzio said the company's mantra is "don't get distracted by far-off opportunity." And so Tradesy is focused on the near-term because "just owning women's resale fashion is a huge goal."