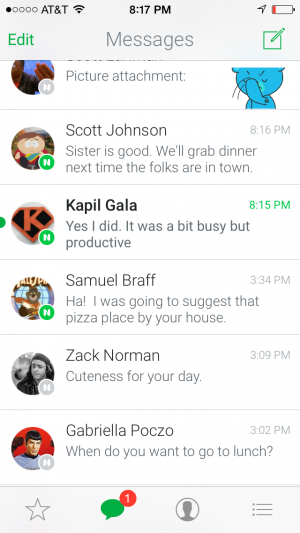 textPlus
, a Marina Del Ray-based messaging app company with over 70 million users, is launching a new app:
NextPlus
. The company believes NextPlus will exemplify the future of messaging apps. Continuing textPlus' focus on building cloud phone apps, NextPlus app users get real phone numbers they can use to call and message traditional phones, no carrier contract required. The app also comes pre-stocked with GIFs, stickers and an online status feature.
Because NextPlus does not require a cellphone carrier, users will pay for calls to real phone lines, but pay nothing for calls or messages to each other. All messaging is supported by advertising revenue and the company charges around 2 cents per minute for most phone calls. The app works on cellular and Wi-Fi networks but can also work without a 3G or 4G mobile plan. It can be loaded onto any connected device, including smartphones, tablets and iPods.
NextPlus represents the slow convergence of messaging apps and traditional phone lines. Much like Skype, which also issues phone numbers and enables calls to traditional phones, NextPlus is merging itself with the legacy telecommunications network. Many of textPlus's users operate the app not just as a digital messaging service but also as a primary phone number.
"We're their primary phone company; an upwards of 60 percent of our users do this," said CEO Scott Lahman to Built In Los Angeles in an earlier interview. Presumably, large numbers of NextPlus users will also use the app as a primary phone number.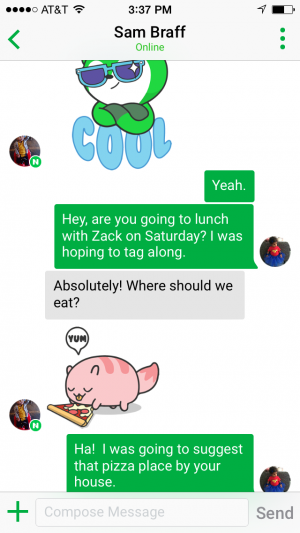 So far textPlus had mainly operated in North America. The NextPlus app expands the company's dominion overseas to the U.K. To get phone numbers, the company has partnerships with three telecommunications firms: Level 3 in the U.S., Iristel in Canada, and Three Wholesale in the U.K..
Cell phone contracts typically come with rigid, long-term and expensive contracts. By contrast, the NextPlus setup is an app download and is free. Usage costs, especially across international borders, are very competitive.
NextPlus "offers our customers the ultimate flexibility and freedom to build their own communications stack, free from contracts and delivered over the Internet. Everyone in the world is now 30 seconds and a free download away from having a new mobile number," said Lahman in a statement.
In addition to being a cloud phone, NextPlus is a feature rich messaging app. As such, it is fully embracing demand for more playfull ways to communicate. The app comes fully stocked with stickers and GIFS.
"Messaging should be fun, fast and easy. We have created an original library of stickers, which, combined with our popular GIFs, make it possible for people to have entire conversations without typing a single line of text," said Lahman. "Through this first texting app release of NextPlus and our accessible approach to mobile, we are ushering in the next generation of communication."
Have a tip for us or know of a company that deserves coverage? Email us via

[email protected]