This month, Built in Los Angeles will be featuring some "hot" startups across the various neighborhoods that, although may feel like different worlds at times, make up LA's budding digital ecosystem. To recommend a startup or district of LA that deserves some love, email [email protected].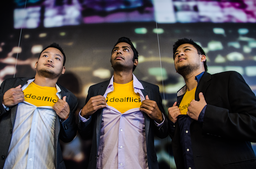 After realizing that movie theatres were "a huge market with a big problem" of too many empty seats, co-founder Sean Wycliffe launched Dealflicks with his team in July 2012 to become the "Priceline for movie tickets." That fall, Dealflicks went through 500 Startups and started fundraising.
But the LA side of the story really began when Lin Miao, managing partner at Be Great Partners, invested. A few Dealflicks team members were already working in the area through Warner Bros. Media Camp program, but after meeting with Miao and seeing the Be Great Partners space, the entire team relocated to LA. Though they still have an office up in San Francisco (couldn't quite say goodbye to their neighboring spot with Twitter!), Dealflicks plans on staying in LA "forever," Wycliffe said.
Why LA: "It made a lot of sense" as an entertainment company, Wycliffe said, because "everyone here, if not in entertainment themselves, is very familiar with entertainment." Now, Wycliffe said Dealflicks has relationships with multiple people in every LA studio.
Their stats: 10 full-time employees, 40,000 users. As far as funding, the team might raise another round in early 2014, but Wycliffe said they don't feel any pressure to because they are expected to break even and officially become a profitable small business by next summer.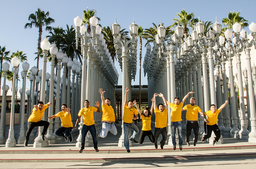 Their big 2014 plans: Dealflicks is planning to fill more empty theatre seats than ever by partnering with theatres such as Bow Tie Cinemas and "are in talks with some of the bigger guys as well," Wycliffe said. Their goal is to partner with over 1,000 theatre locations by end of next year. Their development team also recently released their API so that other companies can sell Dealflicks tickets natively and other ticket-selling apps can use Dealflicks as a white-label going into 2014.
Why they don't want to leave their Miracle Mile office: "Whenever we bring people to meetings, they'll wonder if they entered a nightclub," Wycliffe said of the Be Great Partners space. Enplug and Scambook also frequent Be Great Partners to enjoy it's 360 view of LA: "On one side, you can see Santa Monica, on the other side you can see the Hollywood sign and on the other you can see Downtown and South LA." No wonder Wycliffe said Dealflicks wants to stick around the office until Miao pushes them out of the nest himself!