You Don't Need to Be a Rocket Scientist to Terraform Mars
The additive manufacturing team at Relativity Space is building what it calls the Factory of the Future, and growing quickly at the same time.
Inside the factory building a rocket ship destined for Mars, the music switches genres from '80s new wave to heavy metal as a different team member takes over DJ duty. The crew in the industrial facility is lean due to the AI-driven additive manufacturing, also known as 3D printing. 
As a weld begins, a halo of light flashes around the edges of the printing cell door. Inside, a towering 3D printer known as Stargate begins welding a 30-foot-tall section of the ship from a proprietary alloy, in a manner akin to a ceramic pot being thrown on the wheel. As the air in the facility heats up, the additive manufacturing team reminds each other to stay hydrated and take breaks in the air-conditioned office lounge.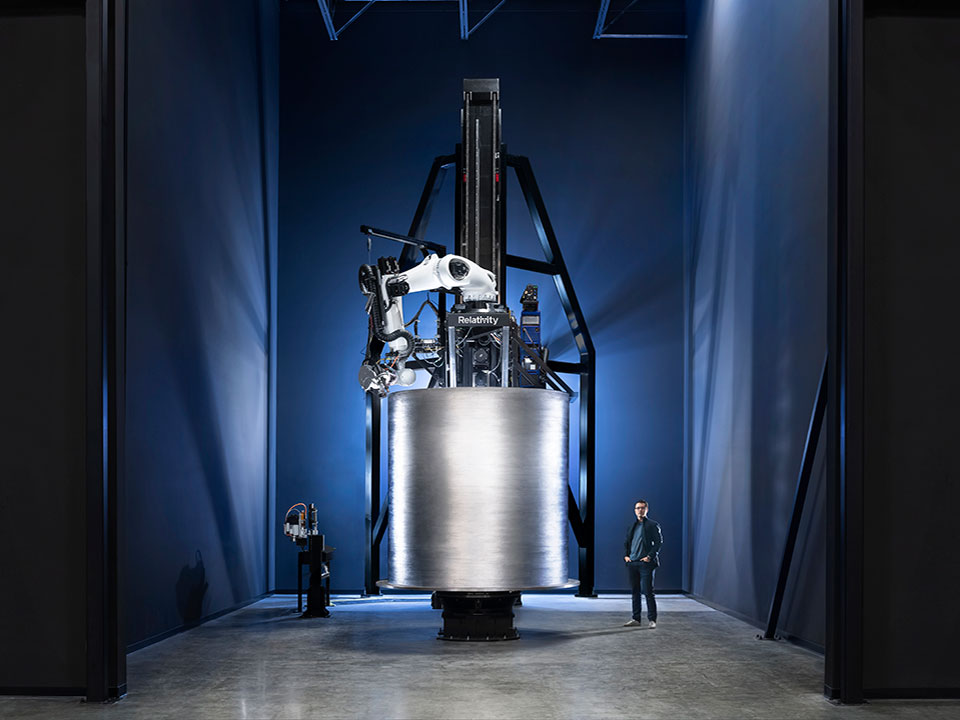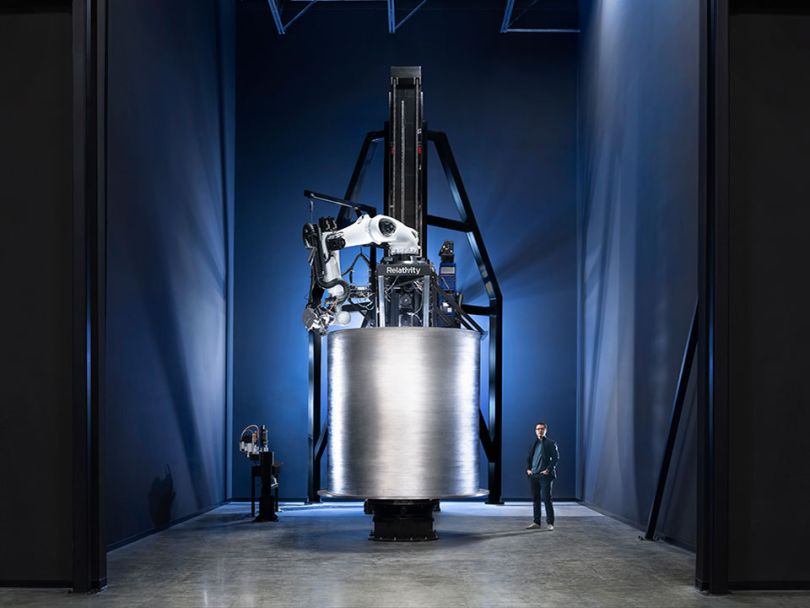 "You're in a different world as soon as you step into the building. There's always movement, motion and energy," said Relativity Space Lead 3D Printing Technician Diana Mercado Gruber. "It feels cool because something is happening in every part of the building to build a rocket from nothing. It's exciting to be part of that." 
The software and additive manufacturing team is helping to build a tech stack that's entirely new to the industry through a proprietary process that Relativity calls its "Factory of the Future." The company is not only printing a rocket ship destined for Mars, but it plans to send its Stargate metal 3D printer along with it to establish a manufacturing supply chain for humanity's multiplanetary future. This strategy represents the company effectively taking the first few steps in terraforming the planet to support human life. According to the team, models that use data-driven 3D printers and AI to continuously optimize and automate production don't exist anywhere else. 
Relativity Space Key Facts
Founded in 2016
Recently secured its new 1-million-square-foot factory headquarters in Long Beach with capacity for over 2,000 employees to further scale manufacturing.
The first rocket model is called Terran 1, launching at the end of 2021. A larger, fully reusable, entirely 3D-printed rocket, Terran R, is scheduled to launch in 2024.
The company built its proprietary Stargate metal 3D printer in-house.
Relativity Space is shrinking the footprint of Stargate so it can ride to Mars in one launch to establish a multiplanetary manufacturing chain.
"Our footprint is really small. We don't require large tooling or fixed pieces of equipment," said Additive Operations Lead Edwin Ohanian. 
By comparison, a traditional composite rocket manufacturer might need to create a massive mold to manufacture one piece of the ship. Once they test that piece, they might find that one of the features of the design is too heavy or causing drag. Then it's back to the drawing board. "You might have to toss out a half-million-dollar piece of tooling just to adjust the angle of a curve. We don't have that problem. We just tell the robot to print something else," said Ohanian. 
According to Ohanian, Stargate just needs the metal alloy and the software program. "We're able to iterate on our designs so much faster and more economically because we're not spending time and money on tooling, equipment and specific processes," he said. "The differentiator here is our ability to innovate quickly through iteration at a much lower cost."
Financial Figures
Closed $650M Series E funding in June 2021, following its $500M Series D funding in November 2020
Investors include Baillie Gifford, Blackrock, BOND, Coatue, Fidelity, General Catalyst, ICONIQ Capital, K5 Global, Mark Cuban, Jared Leto, Playground Global, Social Capital, Tiger Global, Tribe Capital, Y Combinator and 3L
Relativity believes that space is for everybody. That's why the company taps into the potential of people with unique backgrounds, not just rocket scientists, to contribute a diversity of thought that will help move all of humanity forward. That pool of perspective is expanding quickly, with 300 percent growth in staff over the past year and plans to hire more than 200 new employees by the end of 2021. Built In connected with key members of the additive manufacturing team to learn about how their unique journeys landed them at this Factory of the Future.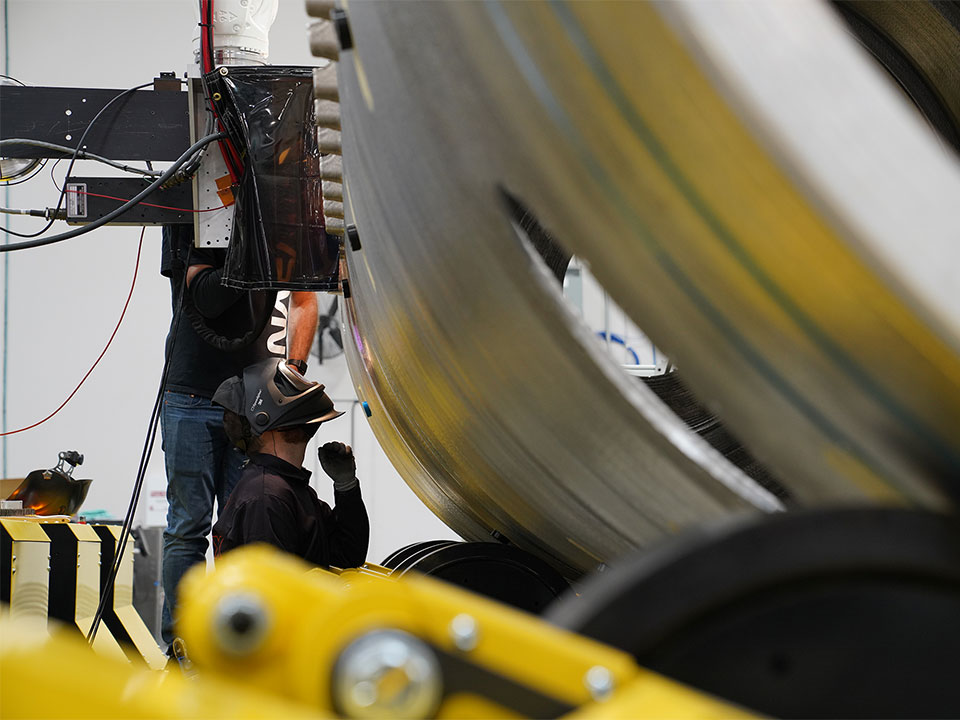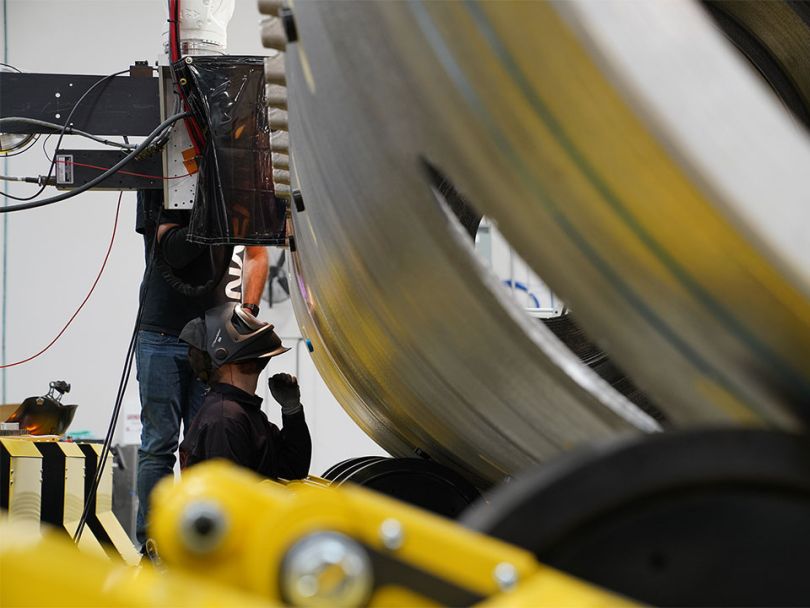 Diana Mercado Gruber never set out to build rocket ships. She enjoyed working with her hands as a child, trying to help her dad fix cars, which then drew her into a career that spanned construction, welding and custom metalwork.
"I wanted to keep working with my hands and doing things that are not the norm for a female in male-dominated industries," said Gruber.  
Gruber started at Relativity Space in May 2020 as a Stargate operator, though she wasn't sure if she would be a good fit for the company at first. But now she's feeling more comfortable than she ever thought she would as the shift leader of her team. "I've always second-guessed myself, but this company has helped push me past those hesitations to show that I can do these things, and I can do them well," she said. "I never saw that as something I was capable of until I was pushed to do it, and I'm very appreciative of that."
The company hires candidates based on values such as open communication and outside-of-the-box thinking, which includes people with nonlinear paths such as Gruber. Fit is one of the most important qualities for joining the team.
"Everybody is able to interact and support each other and lift the team up rather than drag it down," said Gruber. "We have this sense of camaraderie that some other companies just don't have." 
Gruber guides Stargate through preprogrammed paths, "holding a remote control just like a video game." Gruber thinks it's thrilling to interact with the robot and know that a piece of her will be embedded in a rocket bound for Mars.
Working with robots building spaceships stirs the sci-fi fan in Gruber. "I'm not an engineer, but I'm still touching parts that are creating those things I saw as a kid," she said. She never imagined that working with her hands might someday lead to becoming a technician who works with robots.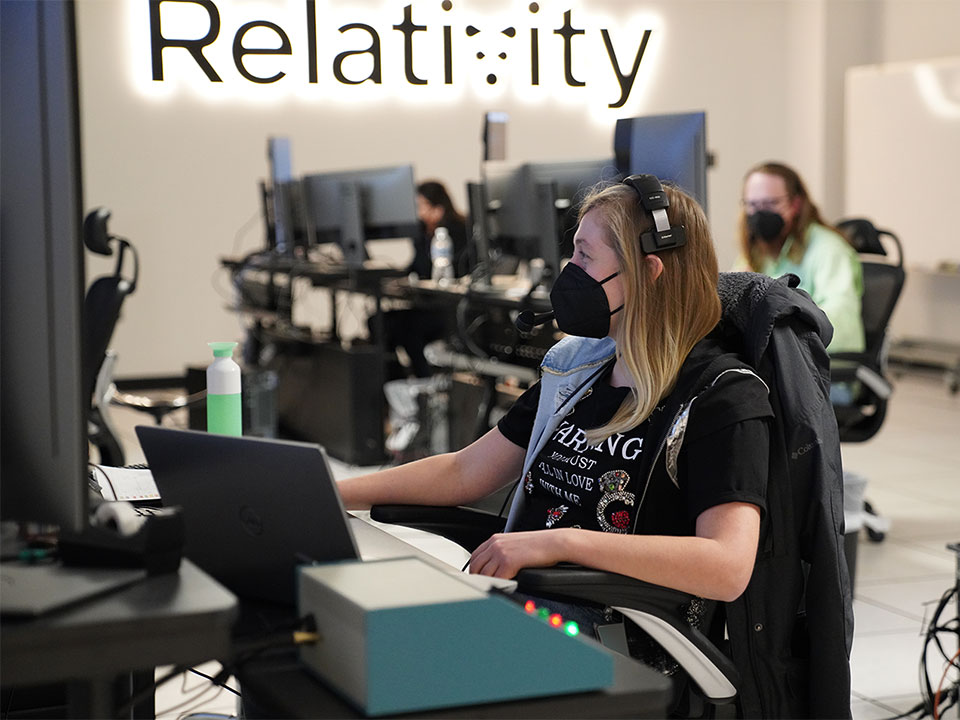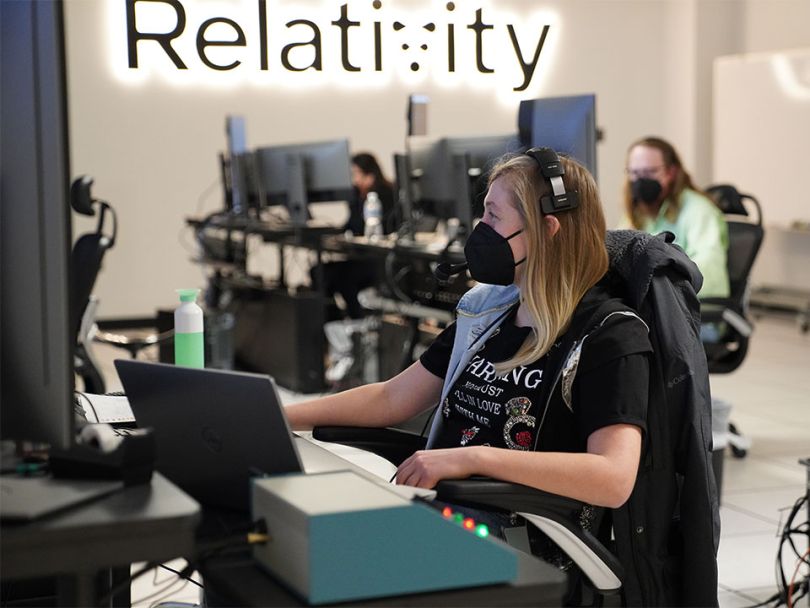 For a long time, Jasmine Moreno wasn't exactly sure what an engineer did. She thought it might have something to do with trains until she learned more about the profession from her brother-in-law, who worked as an engineer, and got her interested in the career. 
Moreno joined Relativity Space as an intern in June 2018, when there were just 25 people in the company. She began working as a computer vision software engineer, installing sensors to give "eyes" to the robot, in July 2019. 
"Being one of the female engineers and a person of color was kind of intimidating," said Moreno. She initially felt nervous about speaking up. "But Relativity was so inclusive; everybody wanted to hear my opinions, even though I was just an intern at the time. They gave me ownership of my project and respected what I had to say."
The team has helped Moreno gain confidence in herself by giving her the autonomy to chart her own course each day. She still fondly recalls one of her early contributions to the team, helping the robot with spatial awareness, which has been folded into the process permanently. 
"I feel like that really prepares me to have a leadership role in the future," said Moreno. "Right now you have to talk to so many people from different departments and come together around the best direction. You get to present ideas to your team members and defend that choice. I've gotten so much technical and personal growth here."
Moreno uses feedback from technicians such as Gruber, who are on the floor working directly with the robots, to help solve problems. 
Moreno gets a kick out of working on projects that have rarely, if ever, been done before. There is a sense of uncapped thinking in designing new components and integrating improvements, and it's awe-inspiring to behold just one fully printed component of the rocket. 
"We are tackling new problems every day. You can't go on Google and ask, 'Why is my printer not working?' You have to figure it out yourself," said Moreno.
Beyond the technical aspects of the work, Moreno is moved by the closeness of the team at Relativity Space. 
"My coworkers are also my friends. We're able to talk to each other, and if we see something isn't right we can call it out without anyone being hurt or feeling attacked," said Moreno. "We are able to communicate and give each other feedback in such a healthy way."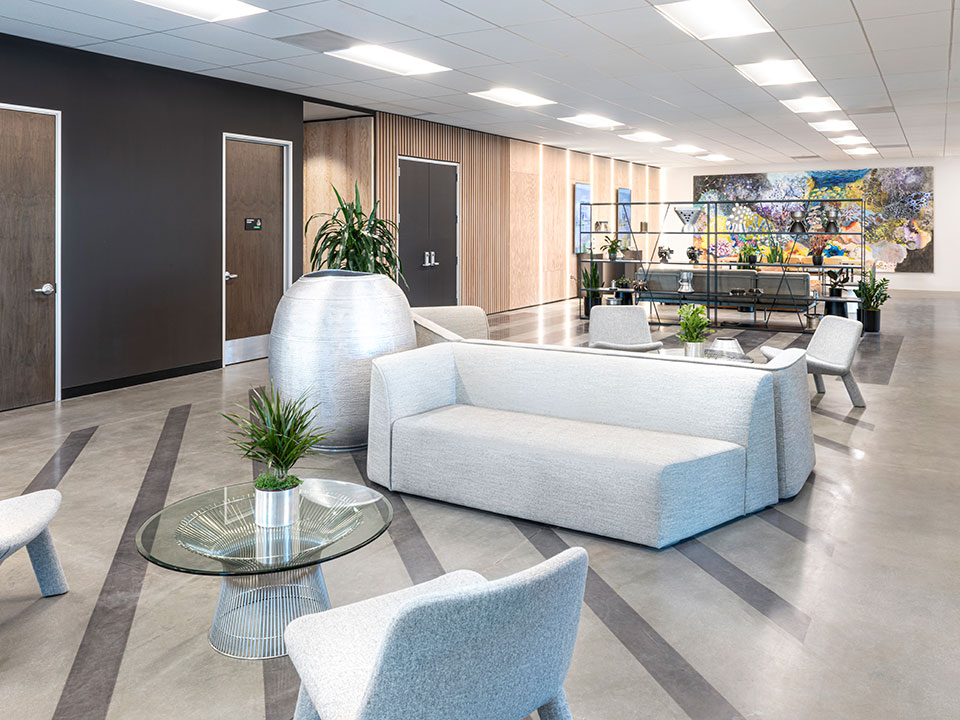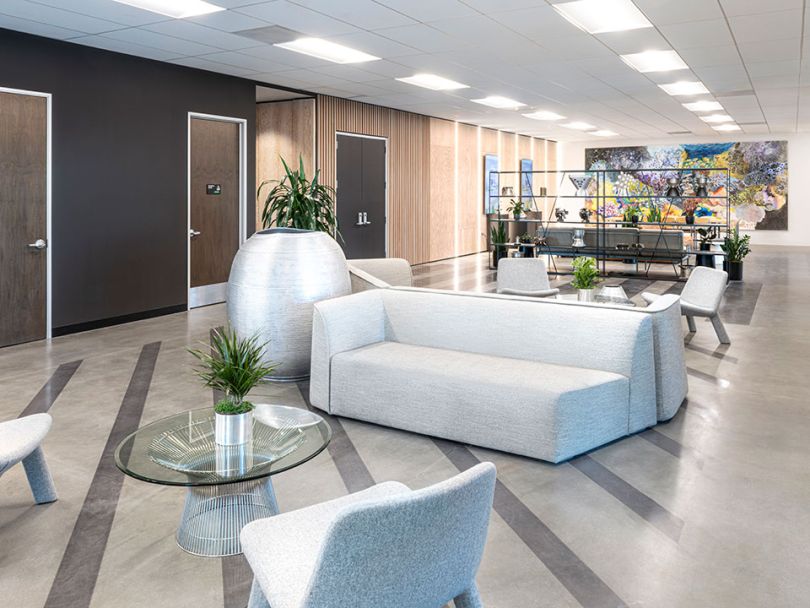 Leading a purpose-driven life is what led Edwin Ohanian to the military as a young adult. When he left the Marines, he sought a larger-than-life cause to dive into.
"There are a lot of smart people working on short-term problems, but when I look at the long-term for our species, it comes down to becoming multiplanetary," said Ohanian. In an effort to be part of the solution, he looked for innovative companies in aerospace, which led him to SpaceX and ultimately, Relativity Space. He joined the team as additive operations lead in January 2021 and spends his time coordinating with the team to accomplish the mission each day.
"What we are doing has never been done before. The fields that we're developing have never been thought through," said Ohanian. 
Ohanian was attracted to the disruptive model at Relativity Space, and sees a stark contrast between its manufacturing process and the more traditional methods he's seen at other companies. By going all-in on intelligent, automated 3D printing, the factory floor is a lot less cluttered. Employees aren't bumping into each other on crowded floors, and there isn't a need for storing components such as nuts and bolts. 
The minimalism at Relativity Space also frees up capacity for tackling new intellectual challenges beyond one's job description. "If you want to learn something new, or take on additional challenges or responsibilities, no one is going to stop you," said Ohanian. "If anything, they are going to help you. In the areas where you want to learn more, people are willing to sit down and take the time to show you so you can be a force multiplier."
Searching for purpose may have been his first reason for joining Relativity Space, but the company culture was a strong second. "It's something I've never experienced before outside of the military," said Ohanian.
Ohanian added that the team strives to do better every day and is extremely inclusive of ideas, methods and people. "There's something very special about how the culture is built and maintained here that I haven't seen anywhere else. So many people with such diverse backgrounds, heritage, ethnicity and education have come together. It takes so many different complex skills to build a rocket. It's pretty special," he said.
Reinforcing that diversity of perspective is a priority at the company. "One of the things our people team does really well is inclusion meetings and informative lunch-and-learns," said Ohanian. "Speakers talk about diversity, or speakers from different ethnic backgrounds talk about their challenges and struggles and how we can do better." 
Anybody with a willingness to learn has something to offer to the team forging a path to Mars. Ohanian's advice to curious candidates is to focus less on specific qualifications and more on cultural fit. "We're learning, and we'll teach you, too," he said. "What we're looking for is passion, energy, motivation, high emotional intelligence, openness to thought and the ability to work with others."