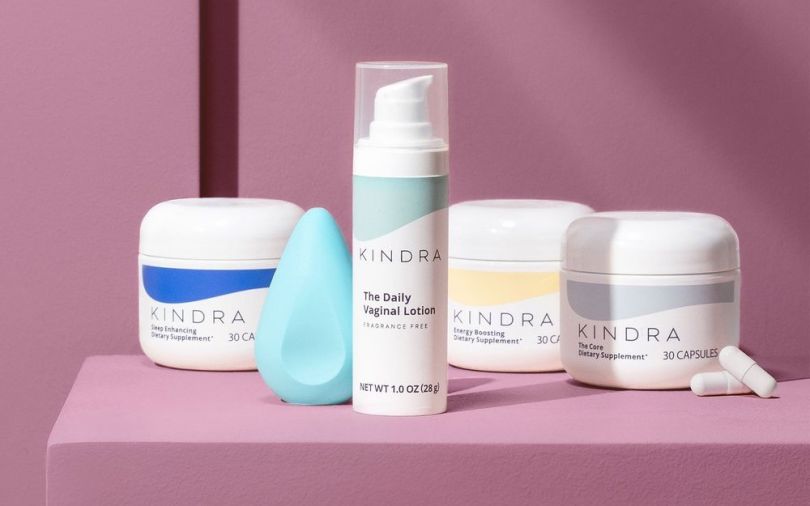 Santa Monica-based wellness platform Kindra announced Tuesday that it raised $4.5 million in seed financing led by the Female Founders Fund. The raise, which also features an investment from Katie Couric Media, will be used to drive the continued growth and development of the company's core product line.
Kindra's vaginal lotion and natural supplements were created to address some of the most common symptoms of menopause. Symptoms of menopause can include night sweats, trouble sleeping, increased irritability or anxiety, hot flashes and more. Kindra's vaginal products are all plant-powered and estrogen-free, according to the company. 
"The investor community is now drawn to the menopause category because they recognize the needs of this important demographic that is demanding attention and innovative solutions," Catherine Balsam-Schwaber, CEO of Kindra, said in a statement. 
Kindra offers its customers a range of dietary supplements in addition to its vaginal lotion. Its core supplement was created with the intent to support healthy circulation and mental clarity. In addition to its core supplement, the company also provides an energy supplement and sleep enhancing supplement.
The average age menopause hits for women in the U.S. is 51 but perimenopausal symptoms can begin to appear several years earlier. By 2030, there will be more women between the ages of 40 and 64 than women under the age of 18, according to Abby Levy, co-founder and managing partner of Primetime Partners, another investor in the round.
"This demographic shift is fueling innovation focused on improving our quality of life as we age," Levy said in a statement. "Kindra has the edge we are constantly looking for in emergent brands and new platforms to help deliver high-quality, clinically proven products that are directly available to consumers and actually relieve women and improve their overall experiences."
Only 36 percent of women in the U.S. feel moderately or very prepared for menopause, according to research by the Female Founders Fund. 
"With Kindra, we're working to change this and reshape this mainstream sector for the benefit of its stakeholders," Anu Duggal, founding partner at the Female Founders Fund, said in a statement.
Additional investors Anne and Susan Wojcicki and The Community Fund and H Ventures also participated in the round.