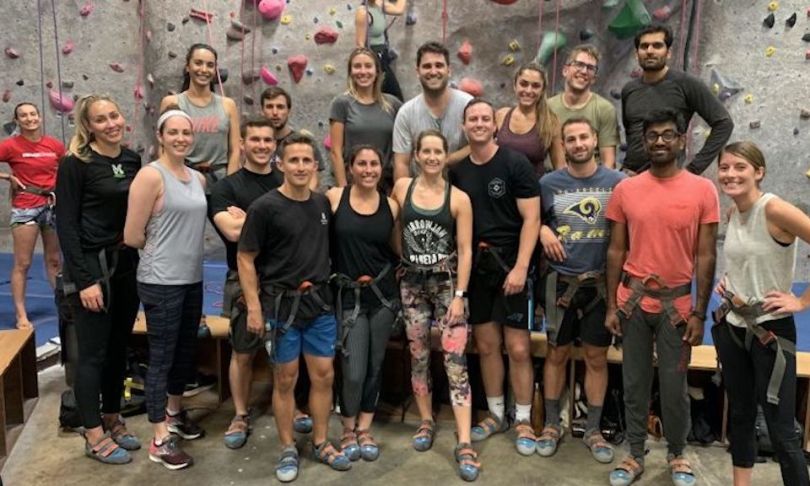 "A lot of CEOs feel that they should be less vulnerable or transparent than everyone else at the company, but we're not superhuman."
Too often, CEO Phil Schraeder said leaders are perceived as invulnerable to stress and anxiety. But this notion is simply untrue. Leaders are normal people and like everyone else, they require time for self-care, and shouldn't be afraid to express that need to their teammates.
As the CEO of an AI-driven marketing intelligence company called GumGum, Schraeder is no stranger to the pressures of leadership during normal times. However, stress gets compounded during periods of crisis like the current pandemic. In fact, 40 percent of leaders report a decrease in their mental health since the onset of the coronavirus, according to HBR. 
To prevent burnout and boost productivity, Schraeder encourages leaders to consistently and openly take steps to maintain their mental and physical health by incorporating self-care into their daily schedules. Leaders should communicate with their teams that work-life balance is vital to doing good work, then prove it. 
What self-care looks like for Phil Schraeder: Self-care for me means periodically steering attention away from the things that matter most in order to give them the best attention. It's a little counterintuitive, but I don't see mental self-care as shutting down the mind. Rather, it's about redirecting mental energy to challenges in areas outside a person's industry. That way, when they return to their primary area of focus, they come back with a slightly different perspective, which keeps them fresh.
For mental self-care, I'm currently using a few different outlets. I have an adult coloring book with detailed outlines that I use for mental decompression and creative expression. I also find gardening to be effective. There's a clear, one-to-one relationship between the care I put in and the growth I see, and that consistency is soothing. 
The physical side of self-care is important too. I try to get 30 minutes of physical exercise every day. And this aspect of care also extends to skincare. I follow a morning routine that gets me ready for the day. That's always been important for me, but now that we spend so much time in Zoom meetings, where we see ourselves constantly, I think it's especially important that we look the way we want to look.
Leaders should recognize that they're experiencing stresses like everyone else."
Balancing self-care and work at GumGum: I put self-care into my schedule like I do everything else. Scheduling self-care ensures that we take that time. And leaders should recognize that they're experiencing stresses like everyone else. If there are situations where a leader needs to take time for themselves, they should communicate that to their team. This practice will benefit everyone: it reduces a leader's stress and makes team members feel more comfortable taking time when they need it. When everyone actively communicates, it creates an environment that is more flexible, healthier and productive during times of stress like these. 
Talking to peers, teammates, partners and friends about experiences facing the current uncertainties in the world builds a sense of communal support that becomes its own form of self-care everyone can share in. 
Advice for other leaders: Leaders are under pressure to never take their foot off of the gas, which becomes its own stressor. By alleviating that pressure and taking little breaks, it reduces the need for a true vacation in the long run and increases overall productivity.
A lot of CEOs feel that they should be less vulnerable or transparent than everyone else at the company, but we're not superhuman. I'm just like everyone else. Especially in these times, being able to vocalize our humanity and share it with the team can be a powerful way to show true leadership. By acknowledging our own stress and taking time for ourselves when we need it, we set an example. It's not enough to tell a team, "Make time for self-care." Without practicing what we preach, people won't feel comfortable taking time, and the whole company suffers.