Looking for your next job? That's a full-time commitment. Or at least it used to be.
Finding a company primed for growth and with a product and mission you can get behind requires extensive research. Lucky for you, we reached out to seven of Los Angeles' fastest-growing tech companies and asked them about their best perks and benefits along with what makes them unique. Continue reading to learn more about them.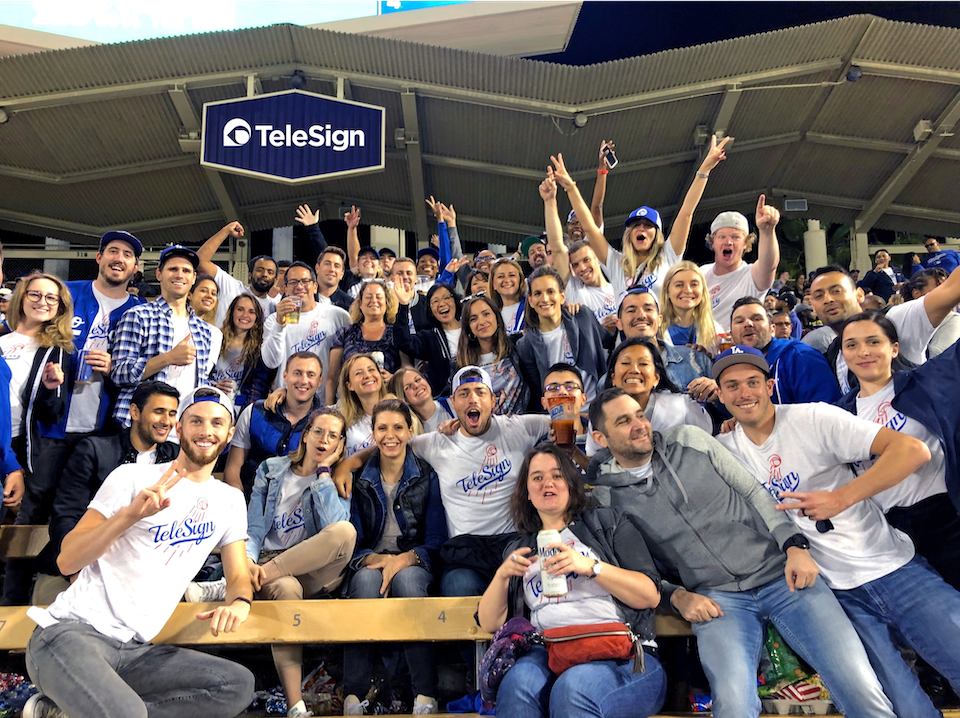 What they do: TeleSign's security software is used by companies to better protect and engage with their customers around the world. Its customer identity and engagement solutions are used to keep user accounts safe from hackers, detect and block the creation of spam accounts, communicate with customers and more.
Their coolest perks: TeleSign offers gym subsidies and hosts step challenges to help employees stay healthy — as well as professional chair massages to soothe sore muscles. Other standout perks and benefits include a quarterly innovation week where employees can present new ideas to the company, quarterly bonuses and a peer-driven employee recognition program where praise and recognition can be exchanged for gift cards and swag. Last but not least, its kitchen reportedly rivals the Kwik-E-Mart (their words) in terms of its offerings.
What's one thing about your company that would surprise a lot of people?
"We have a great company-sponsored maternity leave program in Marina del Rey [where headquarters is located]," said Global People VP Ashley Lundquist. "We wanted to make sure that our global workforce was able to participate in parental leave, and as a result, we were one of the very first companies in Belgrade to implement a company-supplemented maternity program."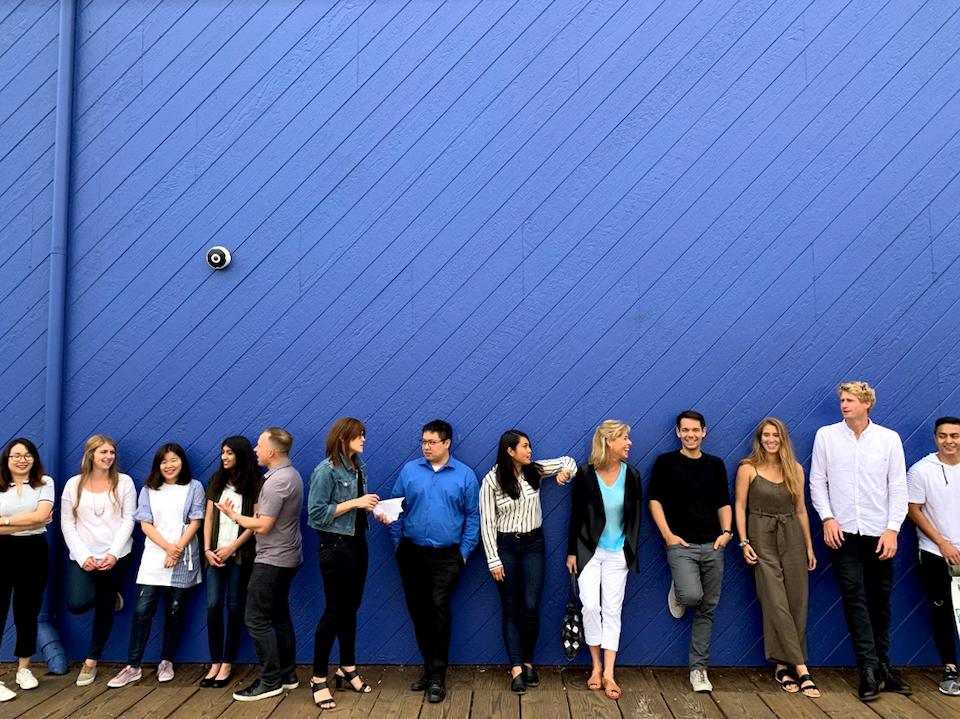 What they do: Quantgene's goal is to save lives by detecting cancer and starting treatment as early as possible. The company's "QUANTUM ARRAY" tech stack combines deep genomic data, machine learning processes and lab chemistry into one system to detect multiple cancers from a single blood draw.
Their coolest perks: Quantgene invests in the health of its employees and offers bi-weekly catered lunches and group personal training sessions. The community-minded company also hosts regular meetups for those interested in biotechnology and hacking genomic data sets. Speaking of the office, it's dog-friendly, features a full-size professional kitchen and multiple Nespresso machines. Oh, and it's inside of what used to be a horse barn, so there are high ceilings and sliding doors galore.
What's one thing about your company that would surprise a lot of people?
"At Quantgene, we don't have red tape," said CEO Jo Bhakdi. "We have a startup mentality, and that's absolutely fundamental to what we do. We make sure that a good idea — no matter where it comes from — moves forward. We hire talented, passionate, self-starters who drive our success. We have an open culture that's focused on learning and bringing the best people together."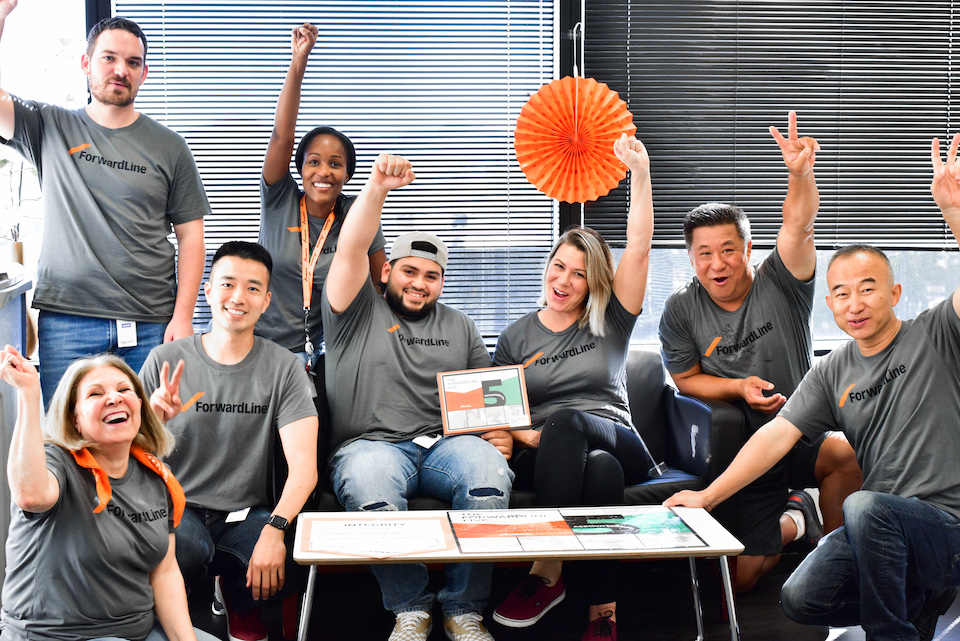 What they do: ForwardLine Financial is a fintech company that offers loans to small businesses who have trouble accessing credit from traditional lending institutions.
Their coolest perks: In addition to team-building events at Dodger games and Dave & Buster's, catered lunches and in-office Starbucks coffee, ForwardLine also knows people still value traditional benefits. That's why the company offers both a generous healthcare benefits and vacation package. Those who like to compete will be happy to hear that monthly incentives and competitions are also a part of the fabric of ForwardLine.
What's one thing about your company that would surprise a lot of people?
"Our monthly all-hands meeting is unique to our culture," said People Operations Manager  Benjamin Rivera. "This is an opportunity for the entire company to align on our goals and celebrate successes. During each one, we invite a different member of our team to host the meeting and share a bit about themselves. It is an incredible way for all employees to get to know each other, plus demonstrate leadership."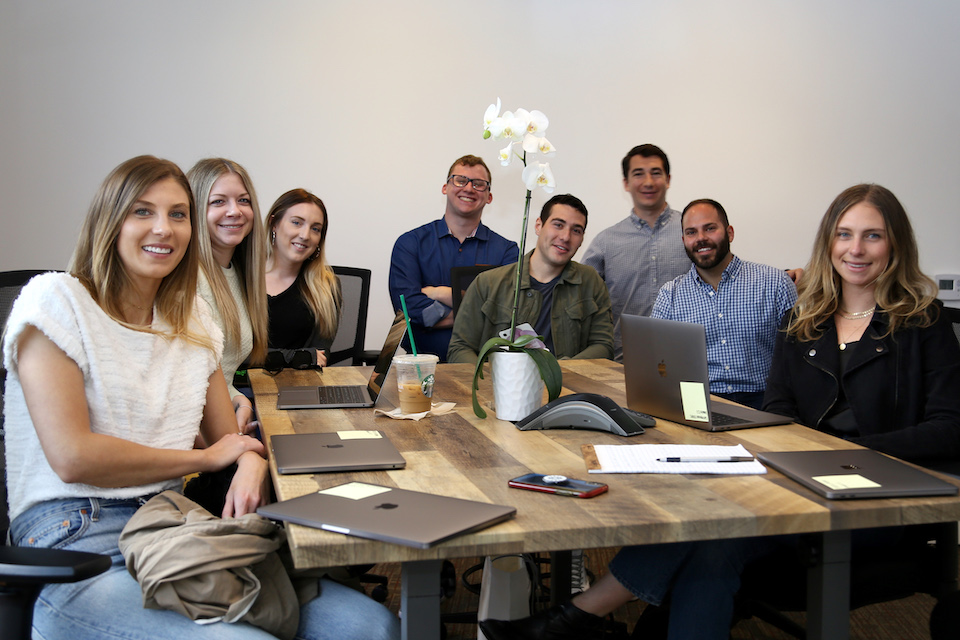 What they do: Hawke Media is a full-service marketing consultancy that acts as an outsourced CMO for its clients, providing data-driven solutions to help companies of all sizes and types grow their businesses. 
Their coolest perks: Hawke Media recently joined Toastmasters to help employees improve their public speaking, presentation and leadership skills. Other standout perks include cold brew and kombucha on tap, company ping pong tournaments and sponsored sports teams. The company's beach volleyball team took gold in its league, not that it's a big deal or anything.
What's one thing about your company that would surprise a lot of people?
"Everyone knows that we're dog friendly, but did you know that we provide doggy training," said Social Media Manager Steven Blutstein. "On top of that, we have meditation, mindfulness seminars and massages on Fridays."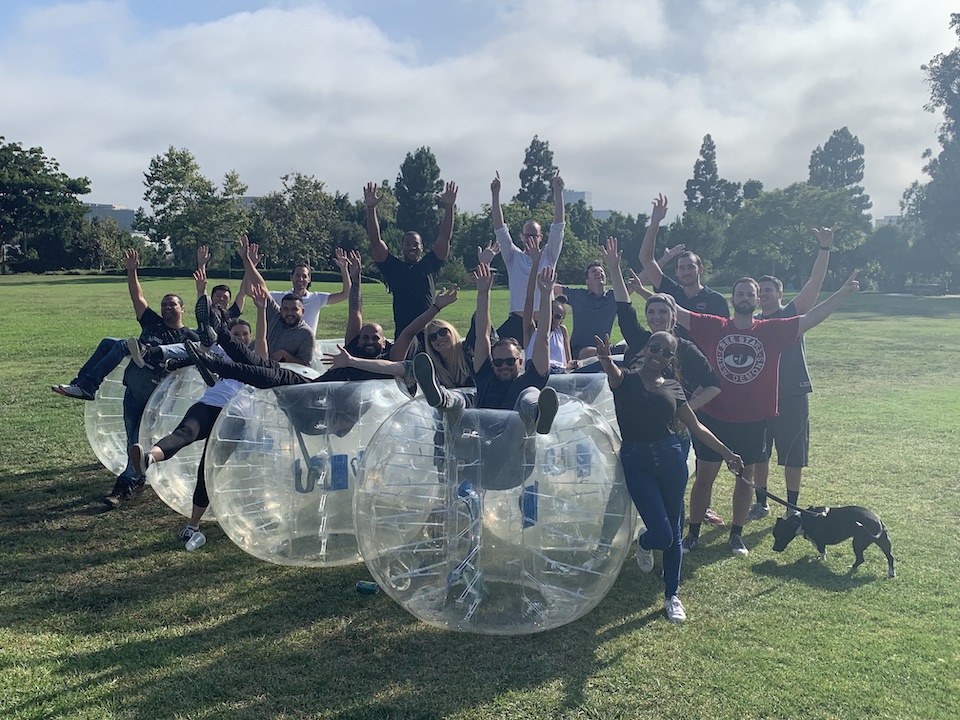 What they do: One- and two-day shipping are awesome, but not all e-commerce companies have the ability to offer such speedy delivery. Enter Flowspace, whose on-demand warehousing and fulfillment network enables businesses of all sizes across the country to offer speedy delivery.
Their coolest perks: Flowspace helps employees strike a work-life balance by offering gym credits, wellness activities, volunteer events and work-from-home Fridays. The company's office is dog-friendly and hosts catered lunches and themed happy hours (more on those below).
What's one thing about your company that would surprise a lot of people?
"We love spending time together," said Office Manager Bree Milner. "Flowspace has a great culture of open communication and we have midweek happy hours twice a month to relax and reset. Some of our happy hour themes have included tiki bar, a blind wine tasting competition, margaritas and most recently, bubble tea drinks with a bubble soccer game."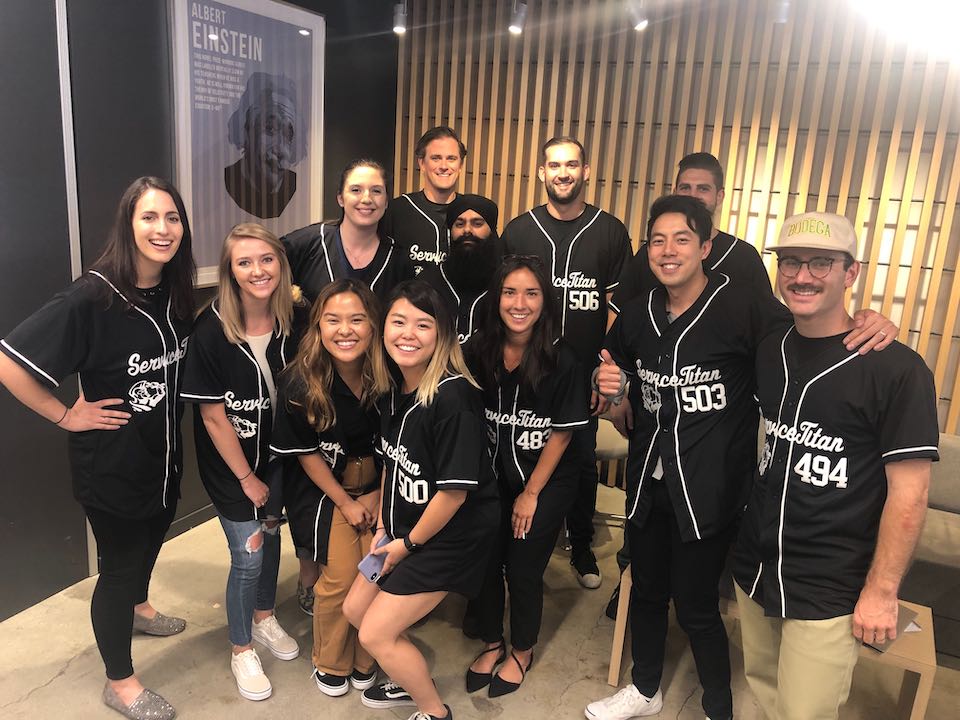 What they do: HVAC, plumbing, electrical — you name a company in just about any segment of the home services space and chances are ServiceTitan has them covered. Its cloud-based business management software helps companies streamline their operations, increase sales and deliver better customer service.
Their coolest perks: ServiceTitan recently implemented Bonusly, a platform where employees are given a monthly allowance of credits to gift to team members for being awesome. Credits can be traded in for gift cards, cash or used as charitable donations. Other awesome perks include workshops hosted by the company's in-house learning and development team and a soon-to-be-rolled-out leadership mentor program for budding leaders looking to build experience.
What's one thing about your company that would surprise a lot of people?
"I think what people find most surprising is how welcoming and accepting we are of bringing everyone into the Titan family," said Talent Acquisition Specialist Samantha Luu. "Everyone genuinely wants to get to know and spend time with one another inside and outside the office. A little secret is that the best — and quickest — way to bring all Titans together is with food. Did I also mention there's a lot of food in the office?"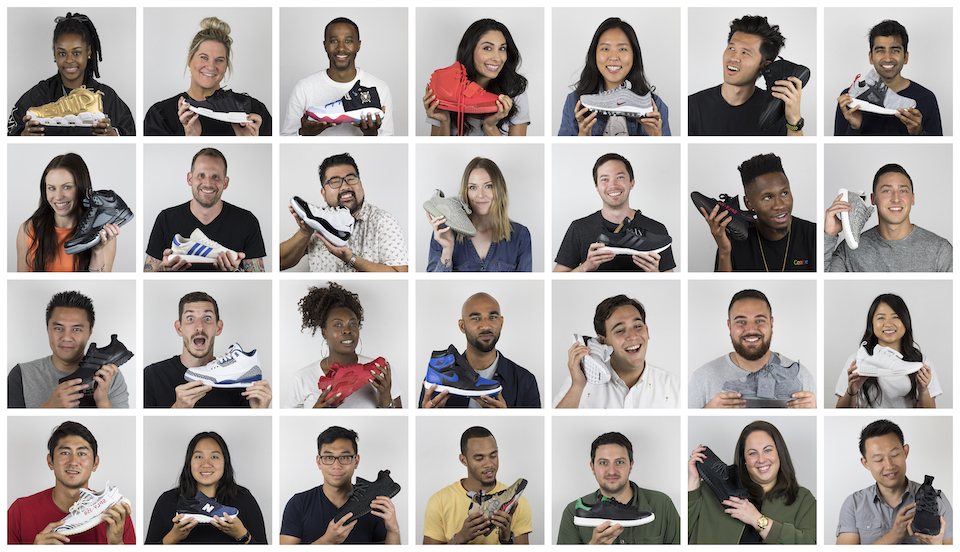 What they do: Sneakerheads know GOAT as the go-to place to buy and sell authentic sneakers, from widespread releases to one-of-a-kind rarities. 
Their coolest perks: GOAT holds an all-hands meeting once a quarter, and at the end of every one an In-N-Out food truck is brought onsite so that employees can celebrate their successes and bond over burgers, fries and shakes (vegetarian and vegan options are also available).
What's one thing about your company that would surprise a lot of people?
"Authenticity is one of GOAT's core cultural tenets," said Growth Marketing Strategist Kenneth Shih. "Not only does that manifest in the company encouraging everyone to bring their true self to work every day, but there's also a lightweight sneaker authentication training as a part of every employee's onboarding. During the session, they'll teach you how to sniff out a pair of fakes, down to the smell and stitching! We don't expect every employee to be a sneakerhead, but we do want everyone to understand the level of effort and detail that goes into delivering the best customer experience possible."