The best part of Halloween isn't the candy or the festive drinks — it's all the good boys and girls who jam themselves into punny costumes — sometimes unwillingly — for the amusement of all the humans. We checked in with five local companies to see how they (and more importantly, their puppers) celebrated the day.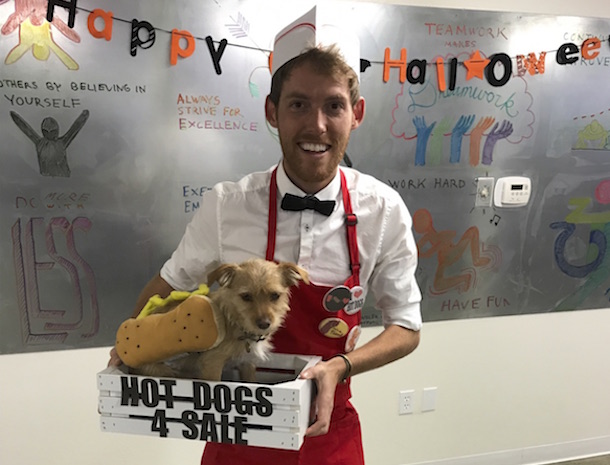 Name: Charlie (Charlton when bad) 
Human: Brian Bergerson, Office Manager
Age: Nine months 
Breed: Terrier/Chihuahua 
Costume: Hot Dog 
Costume inspiration: "I couldn't find a croissant costume for him (which he most resembles)," lamented Bergerson. 
Completely and totally impartial costume review: "Brian and Charlie were definitely best in show," said Samantha Smith, a marketing coordinator at TaskUs. "Who doesn't love a hot dog?"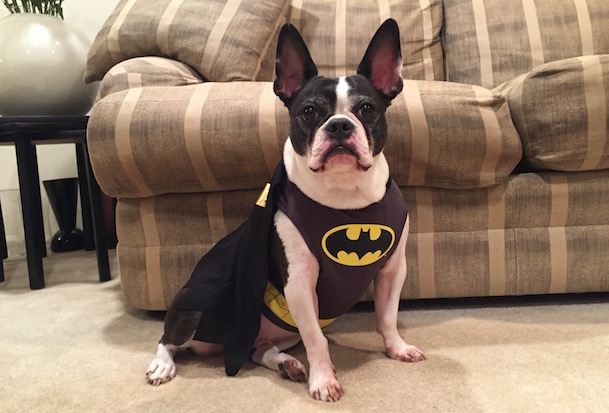 Name: Tucker
Human: Lauren Beatty, Account Director
Age: 8 years old
Breed: Frenchton
Costume: Batman
Costume inspiration: "Tucker is my no-so-silent guardian; and my fearless, little protector," said Beatty. "Plus he already has the black mask and bat ears!"
Completely and totally impartial costume review: "Tucker makes the perfect Batman. The costume reflects his noble character and top office dog status – and of course he looks so dapper in the cape," said content manager Kathy Sanders.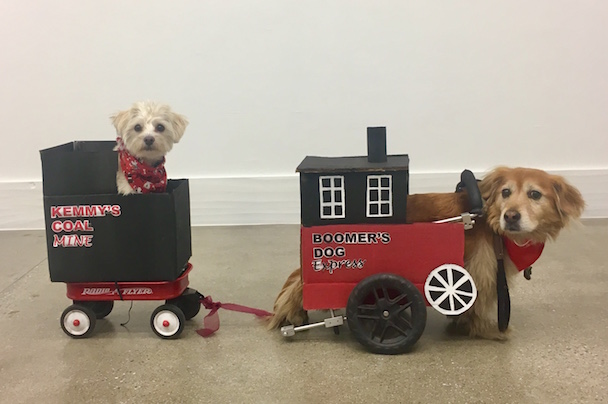 Names: Kemmy (left) and Boomer (right)
Human: Jo Khoo, People & Culture Coordinator
Age: 2 years and 9 years old respectively
Breed: Terrier/Maltese mix and Mini golden retriever/corgi/chow chow mix
Costume: A train
Costume inspiration: "Boomer is in a wheelchair and we wanted their costumes to go together," said Koo. "So we made them a train!"
Completely and totally impartial costume review: "Ugh, they are so cute," noted Katie Leneghan, talent acquisition partner. "This costume was so creative. They stole the show!"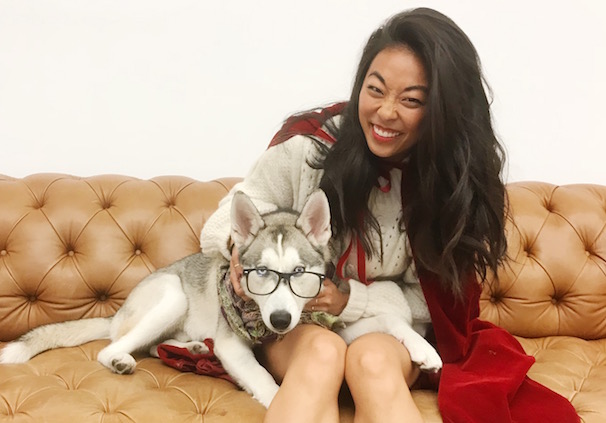 Name: Rookie 
Human: Kaci Yamanaka, Retail Field Manager 
Age: 7 months 
Breed: Husky
Costume: Little Red Riding Hood and the Big Bad Wolf (who is dressed up as the Grandma)
Costume inspiration: "Rookie already looks like a wolf so we thought we would make the perfect pair," said Yamanaka. 
Completely and totally impartial costume review: "Rookie definitely did not want to put up with his costume, but when he did, it was perfect," said Jessica Willison, Digital Merchandising Associate. "The two really look like Little Red and The Wolf!"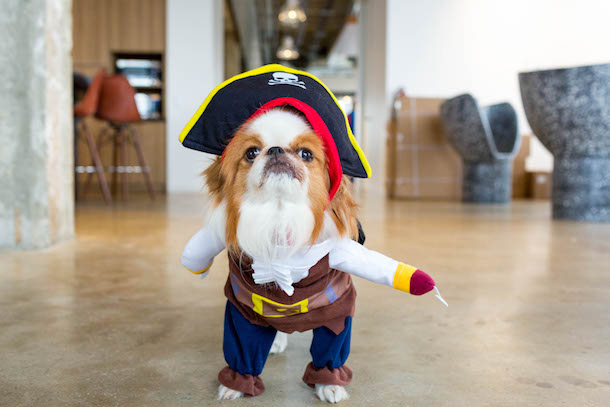 Dog name: Charlie Elephante Burns aka Chuck aka Charlie Bones aka Bonesy
Instagram Handle: @houseofchins
Human: Amy Vecsi, Sales Director
Age: 10
Breed: Japanese Chin
Costume: Pirate
Costume inspiration: "Charlie has always been a seafaring pup having spent most of his life cruising the seas of Hawaii," said Vecsi. "He loves to be on the water, especially when paddle boarding, surfing and, of course, boating on large ships. We felt keeping with the nautical theme was in line with his interests. Combined with his scowl and snaggletooth the pirate costume fits his mood and lifestyle perfectly." 
Completely and totally impartial costume review: "I LOVE this costume on Charlie," said Corie Kupferberg, senior agency relations strategist. "He totally owns it and his signature snaggle tooth adds to the authenticity of the pirate look. Charlie is also very well known around town as the surfing Japanese Chin so the pirate theme is perfect for his ocean-loving personality."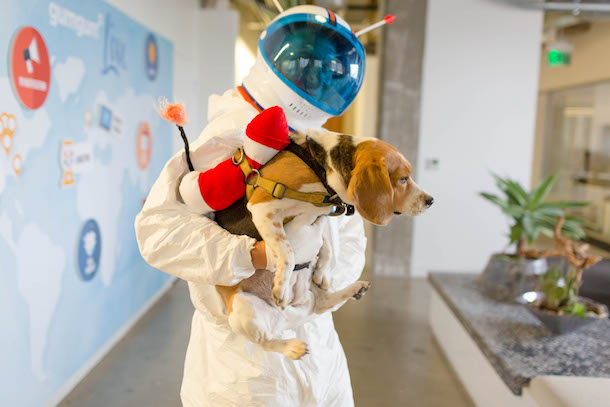 Name: Twittie, aka Madame Popeye
Human: Ben Plomion, CMO
Age: 5
Breed: Beagle
Costume: Rocket
Costume inspiration: "Every astronaut needs their rocket dog to keep them company," said Plomion. "Space is a lonely place." 
Completely and totally impartial costume review: "Twittie made a crash landing when she arrived in the office, blasting off in each and every direction, showing off her rocket speed and NASA-level science of scent," said Bryan Bartlett, Senior Creative Manager. "Her rocket costume was a big hit, alongside her astronaut owner, and provided a successful liftoff of entertainment."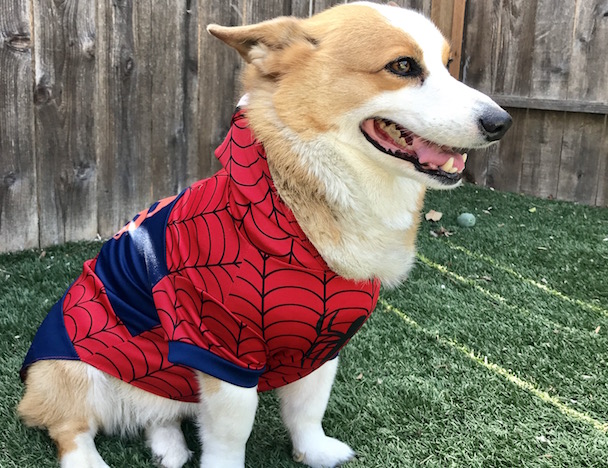 Name: Lexi
Human: Jake Tredo, Account Executive
Age: Six
Breed: Corgi
Costume: Spiderman aka The Amazing Spider-Corgi
Costume inspiration: "I'm a long-time fan of Spidey's charm and web-slinging abilities, and Lexi decided to dedicate this year's Halloween costume to Tom Holland," said Tredo. "Tony Stark didn't quite get her sizing right and the suit couldn't quite fit all of her Corgi curves, so she decided to be the unmasked Spiderman. 'With great cuteness comes great responsibility.'"
Completely and totally impartial costume review: "If I had to give Lexi a rating, I'd give her a 10/10," said Jenny Chao, Senior Account Executive. "Although hardly fitting into this XL-sized costume, Lexi wholeheartedly embodies the character of Spider-Man this Halloween. She may not be able to shoot webs, but her superpower consists of super dog speed and agility to run around and around the pool, where she loves belly flopping into the water."
Responses were edited for clarity and length. Images via featured companies. All dogs were presumably rewarded for their participation.
Have a news tip for us or know of a company that deserves coverage? Let us know and follow us on LinkedIn.