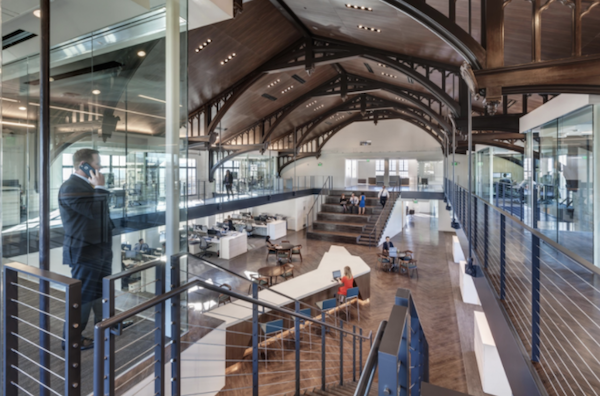 CBRE's office in Glendale, Calif., is located in a former masonic temple. The original trusses frame the open working space. Photo credit: RMA Photography
Every space tells a story about its occupants. Depending on its features and amenities, your office can be a powerful recruitment tool or a DEET-like talent repellant. It can foster or kill collaboration. It can tell your brand story — or some other unfortunate tale.
Commercial real estate services and investment firm CBRE helps clients rethink their approach to space to identify opportunities to reduce and/or reallocate their costs, more effectively manage their resources and improve employee engagement and decision making.
CBRE's own Workplace360 strategy, already implemented at more than 30 of its offices across the world, serves as an example for the broader business community and as a calling card for clients.
"We examine how people work from every angle," said Jeff Pion, a Vice Chairman with CBRE in LA. "By making deliberate choices about the features we include in an environment, we can translate a company's values into the three-dimensional world."  
Whether you're relocating, adding a feature wall or doing a gut rehab, try these strategies to make your workplace work for you:
PROCESS
Engage employees before you install a single wall
Gather ideas and concerns. In the planning phase, CBRE creates steering committees, surveys employees and holds one-on-ones to gather employees' ideas and opinions. Tear a page from that playbook and give all people a voice, including those people with concerns.
"If you want to earn employees' buy in, there's no better way than to give people a sense of ownership," said Brittany Dodd, CBRE's southwest region lead for workplace strategy. "We also make it a point to talk to both detractors and supporters, so that we can address their concerns effectively."   
Sweat the small stuff. There are big issues, like how space affects productivity — and then there are snacks. Yes, as in juice boxes and cookies. According to Dodd, no detail is too small if people say it's important. CBRE's workplace strategy team recently facilitated a "snack tasting" session (yes, please) at one CBRE office to help employees determine their kitchen's snack options.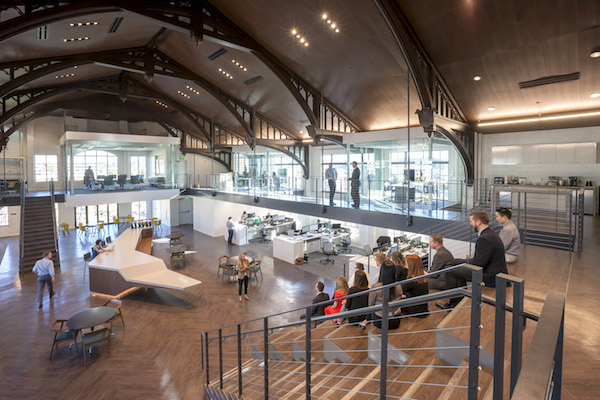 Stadium seating at CBRE's masonic temple office provides a unique way to hold client and employee meetings. Photo credit: RMA Photography
FEATURES
Build features around employees' needs and preferences
Create variety. Office design is no longer a choice between open layouts and corner offices.
"You need both types of spaces — and then some," said Pion. "The point is to give people the autonomy to select the space configuration that supports the task at hand."
Think low-paneled cubicles or adjustable-height desks, which allow people to shift from privacy to visibility. Open eating areas empower serendipitous collaboration. Conference and huddle rooms support groups, while heads-down rooms offer quiet for contemplative work. Make your space as varied as modern work itself.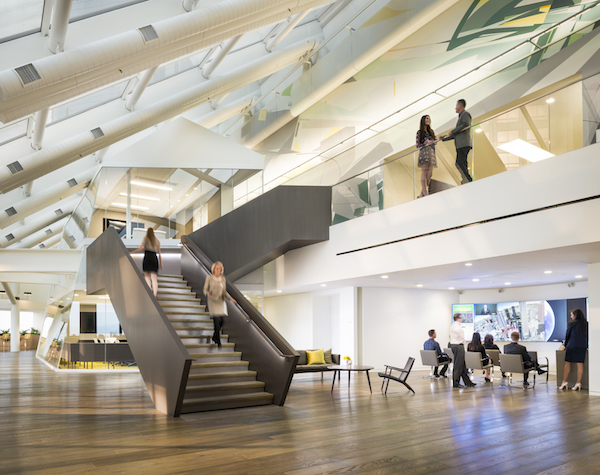 CBRE Headquarters space in downtown LA. Photo credit: Gensler
Devise meaningful amenities. "In the startup world, people work extremely long hours under intense deadlines and demands," said Pion. "Unless you give people the amenities they value and that support their productivity, it's hard to keep them happy and engaged."
In this case, too, Dodd recommends taking your cues from employees. Specifically, consider life stage. Rather than assume everyone will love a bike room, ask your population. If you have a lot of new moms and dads, they may see relocation near a daycare center as a boon. A workforce of younger people, on the other hand, might value a fully stocked bar.  
STORYTELLING
Communicate volumes without saying a word
Make a first impression. Your lobby can do more than take people from the outside in. If you make thoughtful decisions, it can make a powerful first impression. One CBRE client built a museum-like showcase of their product in various stages. Other companies make liberal use of media walls, playing videos about their history or mission.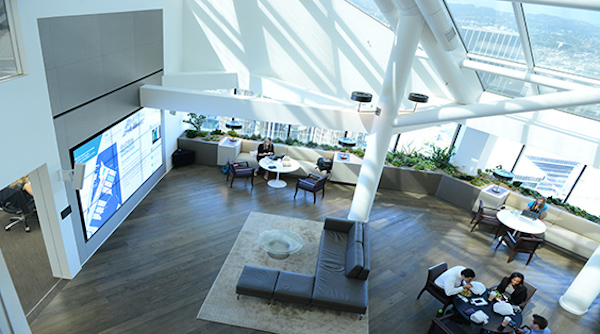 In CBRE's downtown LA headquarters, employees meet internally and with clients in this collaborative space. The media wall displays property listings and stories relevant to CBRE. Photo credit: Robert Downs Photography
Project the right image. Be deliberate about what clients see when they walk in and through your office. Align with the reputation you seek to uphold. If you hope to be seen as conservative, take down the ironic painting of clowns on black velvet. Consider seating more conservative departments, like HR or legal, up front.
The reverse is also true. If you want to be seen as creative mavericks, by all means, lead with the clowns.
CBRE, the world's largest commercial real estate services and investment firm, delivers industry-leading facilities and project management, transaction and portfolio services and consulting that drive bottom-line impact and streamlined workplaces. Learn more here.