Los Angeles is home to some of the coolest offices in tech. With stunning backdrops like the Pacific Ocean or the Santa Monica Mountains, offices in the area boast awesome amenities like catered lunches, beer taps and glorious outdoor workspaces. Here are five of the coolest offices in the LA tech community.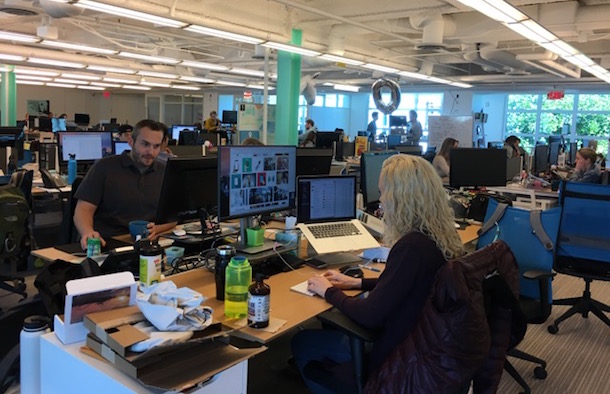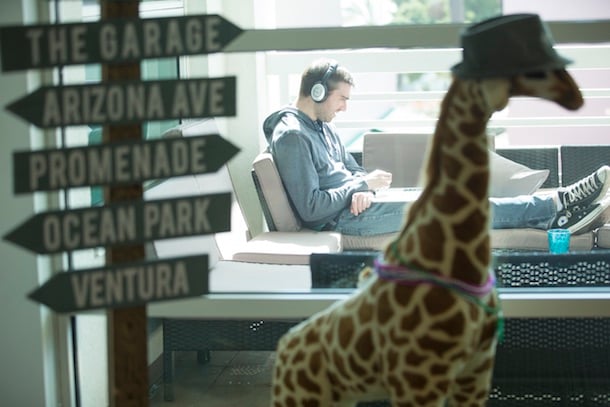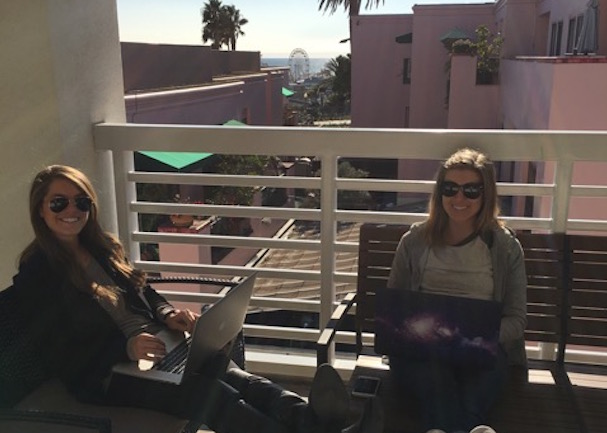 MomentFeed develops a marketing platform that allows global brands to launch mobile marketing campaigns. Their software allows brands to track and manage mobile customer experience for businesses with multiple locations. In February, the Santa Monica-based company announced a $16.3 million round of funding in order to grow its engineering team.
Move in Date: January 2017
Square Footage: 15,000 ft. 
Awesome amenities: Showers, TV lounge, outdoor patio with BBQ, north, south and west facing decks, a view of the Santa Monica pier/ across the street from the Santa Monica Place, a full kitchen with catered lunch on Thursdays.
"Two of my favorite things about the MomentFeed office space are the open work environment that allows us all to collaborate and have a fun time together, as well as the hammocks on the front porch that overlooks the Santa Monica pier" — Kate Shoemaker, Account Executive
"What I love most about working at MomentFeed is the people and the caliber of the work. It truly is a team with a very strong work ethic and everybody strives for excellence, always pushing themselves to see what they are capable of. It's a great environment." — Bentley Chang, Sales Operations
"We have a lot of outdoor spaces. My favorite patio overlooks the Santa Monica Ferris wheel and ocean. I love bringing my computer out there to work; nothing like fresh air and sunshine!" — Meghan Swindall, Client Success Manager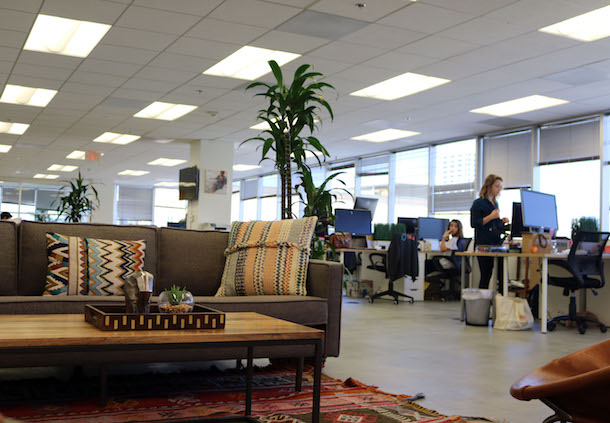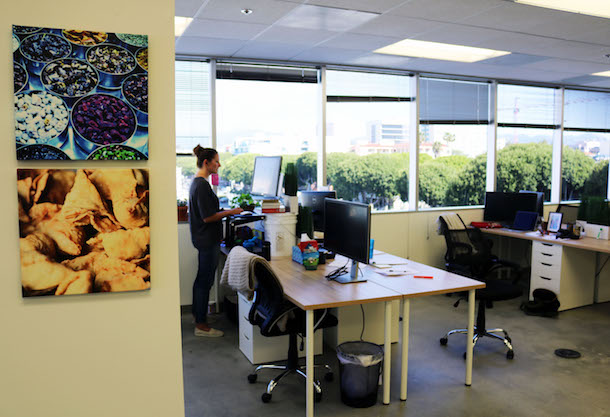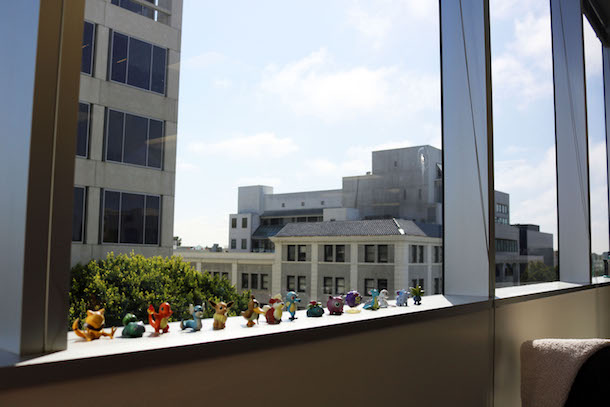 Tala is a startup that helps users in emerging economies to establish and grow their credit scores. With offices all over the world, the startup's headquarters is in Santa Monica. The company also added a big round of funding in February to grow its roster and expand to new markets.  
Move in Date: March 20th, 2017
Square footage: 7,770 ft.
Awesome amenities: Sparkling water tap, coffee, beer tap, stocked kitchen, ping pong, 24/7 security and onsite parking.
"I love coming to an office every day that has tons of natural light pouring in, it is awesome! I love the energy it brings. Plus, it reminds us we work in such and awesome location!" — Chris Deptula, Program Manager
"One of the best parts of our office might be what's right outside — the beach. Every day I take calls at the promenade overlooking the ocean. When I meet with colleagues in our office, I love that I can still look out at gorgeous views of the Santa Monica Mountains. It's an inspiring setting that motivates me to tackle our social mission alongside creative, thoughtful and fun-loving teammates." — Zach Marks, Director New Products and Partnerships (and Soccer Captain)
"We sit in cross-functional teams. Not only does this help us execute faster it is a great way to build connections across different departments. It fosters communication and a fun work environment. I love seeing the friendships!" — Sofi Hoysal,  People Operations Manager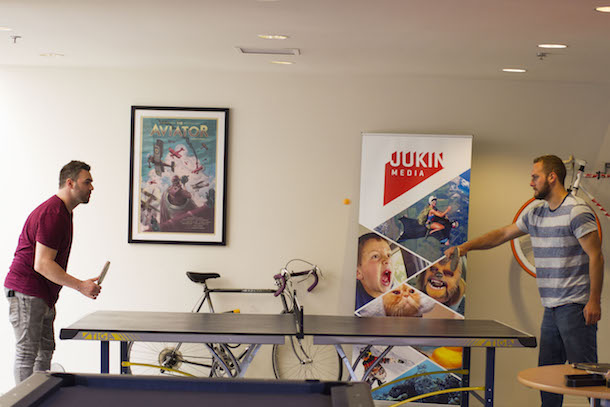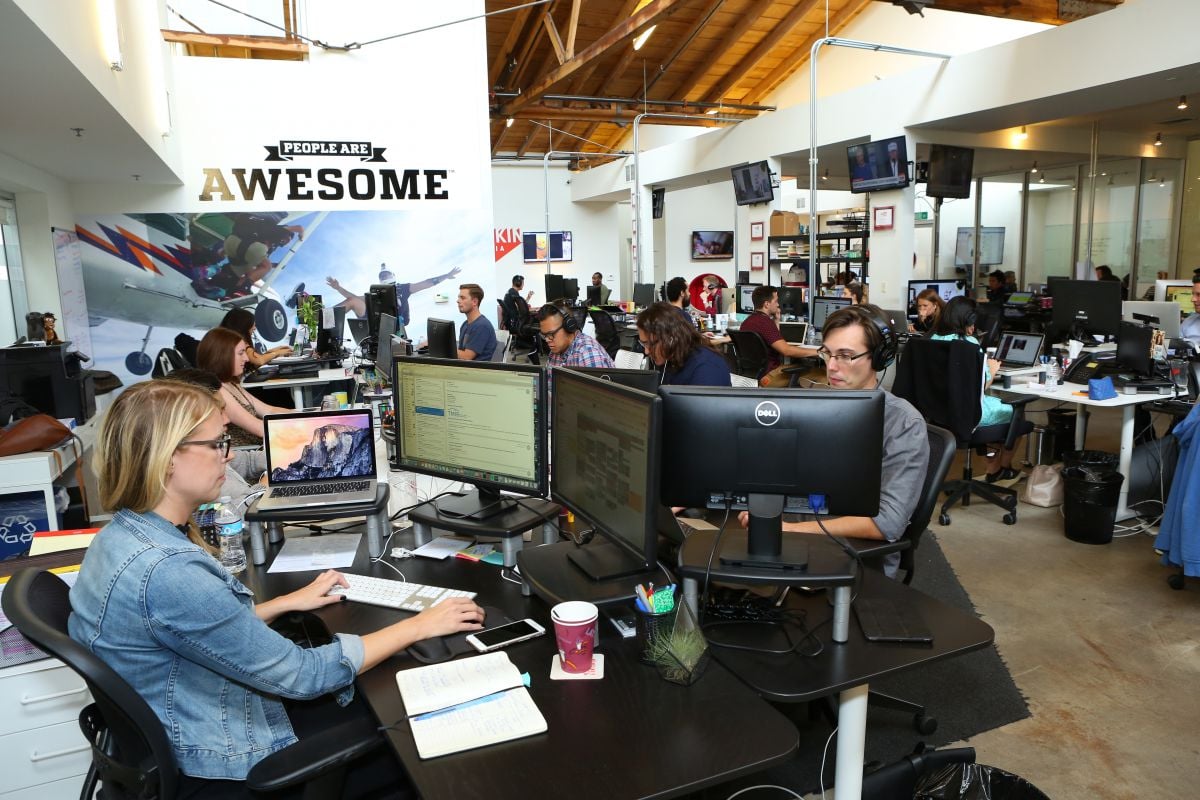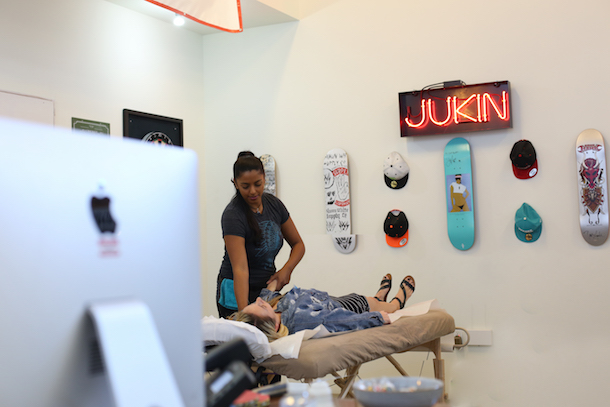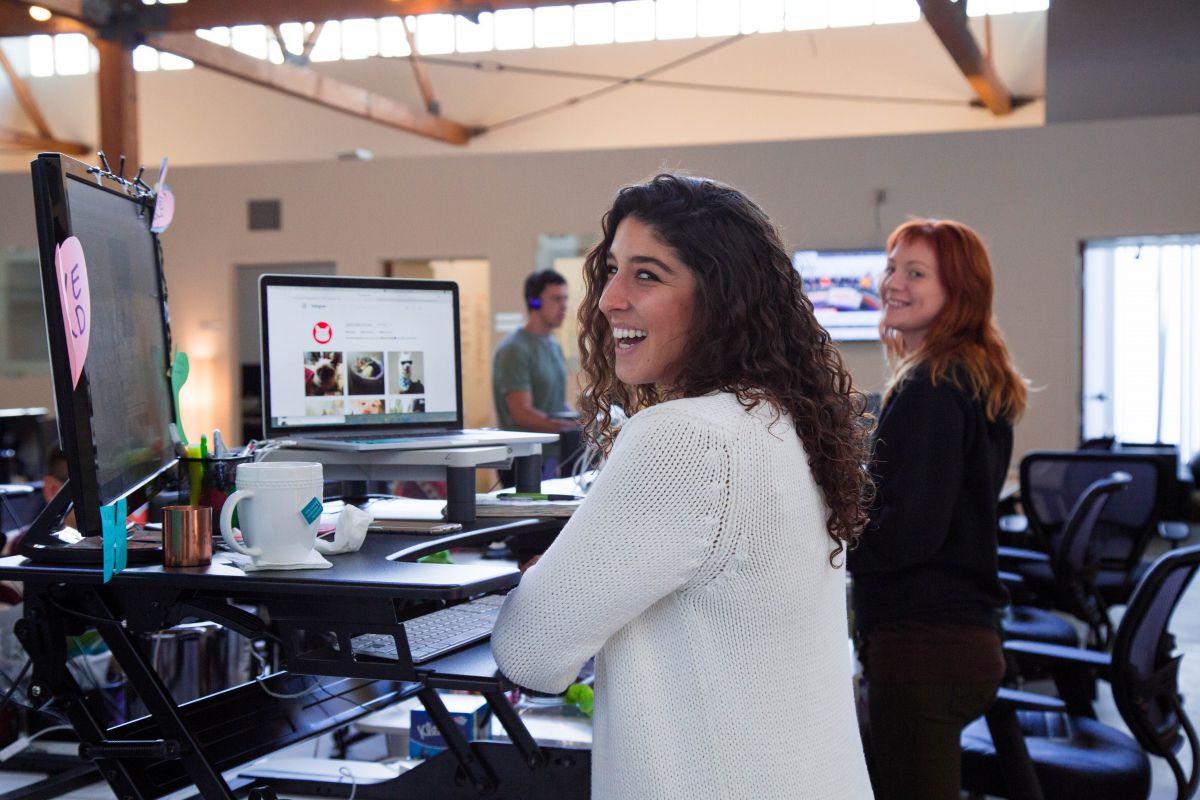 Global entertainment company Jukin Media is one of the internet's premier user generated content curators. On a monthly basis, the company receives more than 2.5 billion views across a number of channels.
Move in Date: Early-2014
Square footage: 16,000+ ft.
Awesome amenities: Free healthy snacks, free self-service breakfast and lunch, free coffee, soft drinks, Red Bull and beer.
"I've never experienced anything like the work environment at Jukin Media. Everyone works really hard, but we make sure to have fun too. I really like the ping pong table in the office. I'm not very good, but it gives a chance to take a break and have fun." — Alyssa San Agustin, Junior Content Management Coordinator
"Everyone at Jukin is really cool. It's got a young vibe, and there's a lot of creative freedom. I made a lot of good friends here, and I look forward to seeing them every morning! Some of us go for afternoon bike rides when the weather is nice." — Sara Bernardini, Audience Development Coordinator
"The team here at Jukin works extremely hard, and we are appreciated for it. We get catered lunches and participate in fun events. It's nice to know our hard work doesn't go unnoticed." — Vlad Kopman, Software Engineer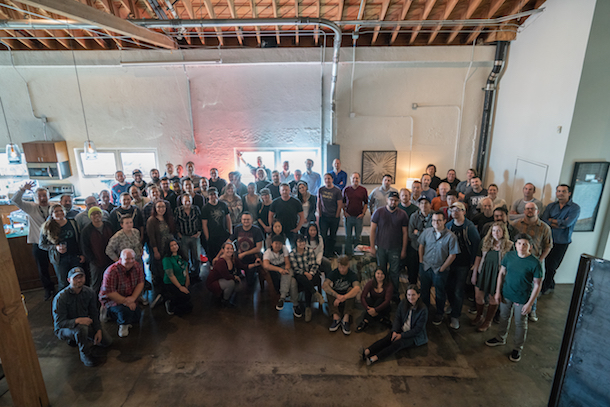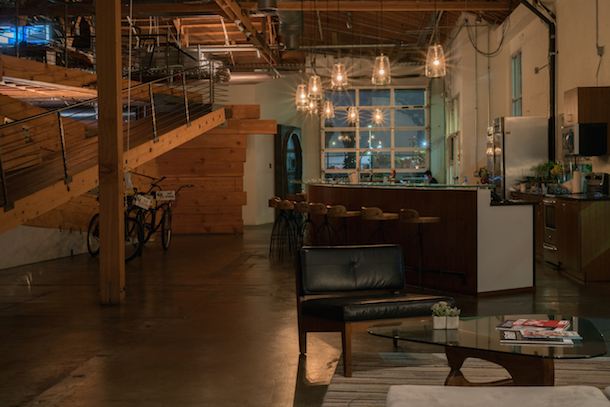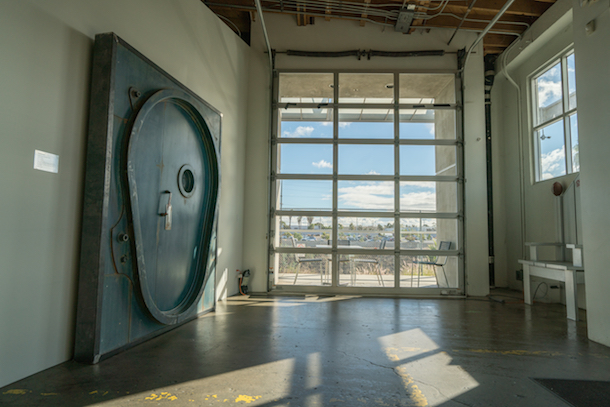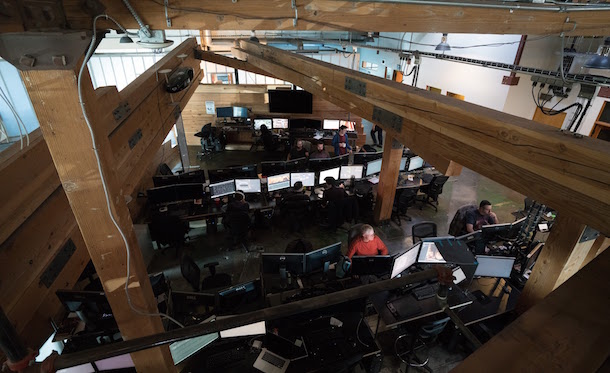 Zoic Studios is a technology firm that provides a suite of compositing and production management solutions for a number of media channels. Be it advertising, video games or commercials, the Culver City-based company delivers awesome content for its partners.
Move in Date: May 1, 2004
Square footage: 17,670 ft.
Awesome amenities: Awesome project memorabilia, including The Serenity door from FOX's "Firefly," custom designed sit/stand desks, a "crow's next" where clients and artists can view VR equipment for upcoming projects.
"I love architecture! The unique thing about Zoic is that when you walk through the front door, the architectural space feels creative and inspiring." — An Dang, Head of MCR 
"One of my favorite things about the office is that Zoic has five or so bicycles for company use. We use them to go to nearby lunch stops and food trucks on breaks." — Andrew Bardusk, 2D Sup
"Epic wooden beams supporting the roof over your head, an endless supply of spaceships, explosions, and bringing super powers to life, then topped with a steady supply of homemade Mexican. Zoic is the tree fort you always wanted." — Derek Johnson, producer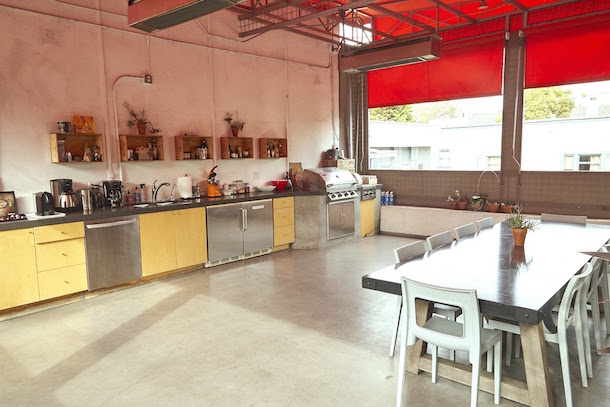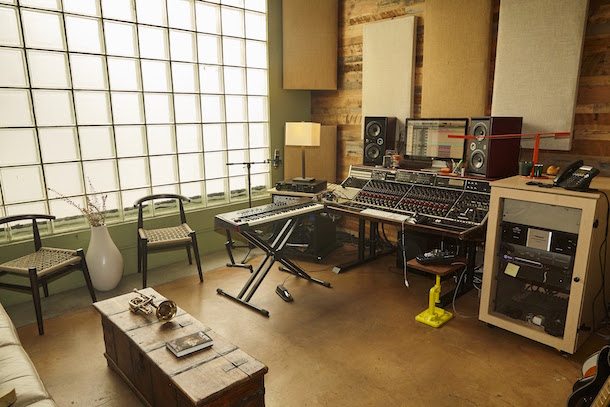 Originally founded in New York City, Butter Music and Sound West has operated out of its Venice location for more than three years now. The creative studio helps producers create awesome music and sound design for original video content. 
Move in Date: January 2014 
Square footage: 2,100 ft. office, 1,200 ft. terrace
Awesome amenities: A remodeled Venice Beach office, an awesome terrace patio space, optimal for midday breaks and gatherings.
"I love the outdoor patio — it's a great place to take a break and gain some perspective during a busy day. My dog does the same, she loves to take sun naps out there." — Annick Mayer, Executive Producer
"I personally love our live room; it's the only room where I can escape a computer screen." Max Schad — LA Creative Director
Some responses were edited for clarity and length. Images via participating companies.
Do you have a story you think we should tell? Share it here and follow us on Twitter.