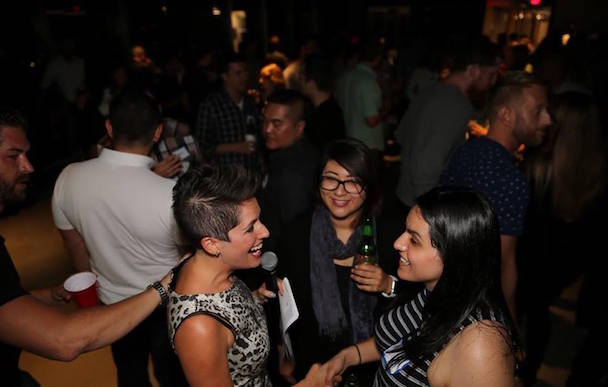 It's a brand new week, and it's time to remember how awesome it is to be involved with the LA tech community. Here are five events worth checking out.
Emotion & Motivation for Digital Behavior Change, Nov. 28 at 9 a.m.
As user experience becomes more nuanced, understanding human emotions can help companies create a website that resonates with visitors. This one day workshop will attendees understand users by learning the factors which shape their responses. The workshop will also take a look at interactive design and content strategies to avoid triggering negative user emotions. 
HackerNest Los Angeles November Tech Social, Nov. 29 at 5:30 p.m.
Looking to hang out with other members of the LA tech ecosystem without having to hear from a panel or listen to a startup pitch? HackerNest has you covered. The international nonprofit unites local tech communities with the ultimate goal of spurring innovation, but this Tuesday, they're just concerned about connecting like-minded individuals over a few cocktails.
Civic Hack Night @ LACI, Nov. 29 at 6 p.m.
Head down to the LA Cleantech Incubator for another round of civic hacking. The event is open to everyone, with the ultimate goal being to find technological solutions to civic problems facing Los Angeles currently. 
Los Angeles Pitch Bootcamp: Learn to Pitch Your Ideas Like a Pro!, Nov. 29 at 6:30 p.m.
Anyone who has ever worked at a startup knows the importance of having the company's pitch, no matter what role in the company you hold. For the founders out there, this is even more crucial. Whether it be an investor, a potential customer, a talented engineer or someone on the street, having a simple, all-encompassing pitch ready is one of the first steps to building a startup. This boot camp will attendees learn the ingredients to developing a successful pitch.
Everything You Wanted to Know About Snapchat, Nov. 29 at 6:30 p.m.
If you're anything like me, using Snapchat requires a degree in something I don't have. The problem is: everyone uses it, and the potential to harness its wonderous abilities can help a startup grow brand awareness and create an identity for itself. This week, the Social Media Club Los Angeles will hold a panel on Snapchat's best practices, and attendees will learn why influencers are so successful with their Snapchat accounts.
BONUS: TEDxLA:Imagine, Dec. 3 at 9:30 a.m.
If you're not familiar with TedxTalks, you're truly missing out on some of the most informative content on the internet today. This Saturday, Tedx comes to LA's Dolby Theatre on Hollywood Boulevard. Come here a stacked group of speakers discuss what their visions are for the "imagined future."
Have a great week, and be sure to check out our events calendar for more LA tech events!