The world may not know it but, Los Angeles has a growing cottage industry of messaging apps. From textPlus, Burner, TigerText, Whisper to Snapchat Los Angeles is redefining an application type that at first glance appears straightforward. We thought we'd introduce you to some of the novel features being developed by these messaging companies and the reasons they are so successful.
1. Anonymity and privacy are the next big thing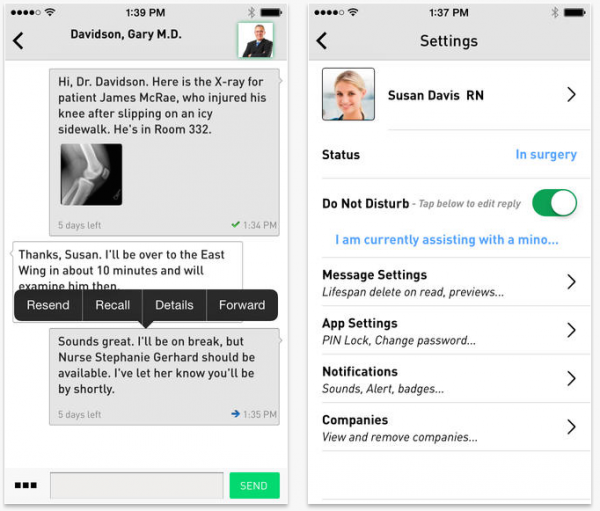 For the last 10 years, the tech world has been in a race to put everything online and make everything social. Those ambitions lately have run into a wall. Domestic spying exposed by Edward Snowden, the endless march of cybercrimes and Facebook's newsfeed manipulation is making the public suspicious of a world without privacy. In response to a world that is again realizing the value of privacy several Los Angeles companies are offering apps with different takes on private moments.
Often privacy is required, legally required. TigerText, a messaging service for the medical industry, has built a secure SMS platform for messaging about patients without violating strict patient privacy laws like HIPAA. In a previous interview, TigerText CEO Brad Brooks said "Employees are using SMS, but it is not secure." This is problematic, particularly within the medical industry where patient privacy law like HIPAA regulates communications.
The TigerText service allows users to set different rules around the messages they send, even self-destructing messages after time passes. Tip toeing around hospital regulations can be quite inefficient; TigerText allows medical professionals to talk about their work without the risk of lawsuits.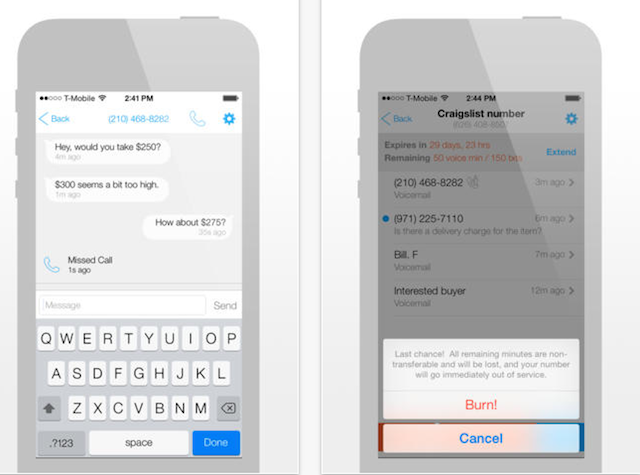 Unless you're a drug dealer or are addicted to The Wire, you probably haven't given much thought to a burner, a disposable phone number not registered to your name. While the initial concept is a bit dark Los Angeles-based startup
Burner
found that the use-cases for anonymous phone calls are near endless, surprising and legal. It turns out people love having a private number not connected to their name.
"Burner is used for everything from Craigslist, to filling in a web-form to dating. You want to communicate with people but you don't want to give out your phone number," said Greg Cohn, co-founder and CEO of Burner.
"Specifically, we see a lot of transactional stuff. A lot of Craigslist, that sort of thing.
People who have a lot of professional contacts with the public use it; we see a lot of police officers, attorney's, small business owners, teachers, a lot of sales people."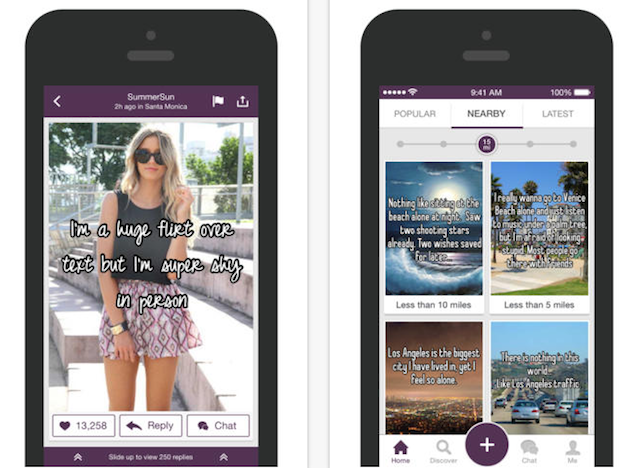 Another use for anonymity is to hide from the consequences of social judgement. Los Angeles-based
Whisper
, a company that actually was spun-off of TigerText, has tapped into the need to spill secret in the most releasing way, by creating an anonymous social network where people can share their secrets with the world, then message about it.
Part confession-meme platform, part anonymous messaging platform, Whisper is fulfilling a need for people to share without the judgement that typically comes with your online social network. Whisper's stated goals are to make the world more 'caring, empathetic, and tolerable.'
With its confessional images and private messages, Whisper has raised quite a few eyebrows and $54 million in funding.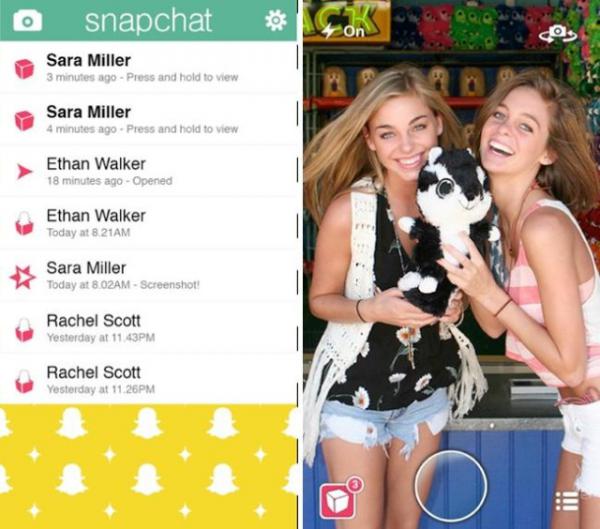 SnapChat
's disappearing photos are erasing the belief that a digital experience is a permanent experience, and that new concept appears to be worth a lot- $10 billion if the rumors are to be believed. SnapChat's disappearing photo service also shows that social experiences don't always have to be public experiences.
CEO Evan Spiegel has reportedly said he worries that the world is "locked in battle against the destruction of the individual." That people's overexposure has created a culture of groupthink and that a lot of value comes from "enjoying and learning from the intimacy" of things we share with others. SnapChat appears to, in part, be a response to over exposure on public social media.
"Every time we express ourselves online, we live with the knowledge that that expression could become public and could open us up to ridicule or critique," said Spiegel."My concern is that we've developed a generation of people who think that the best leaders are followers, and not free thinkers."
2) There are advantages to having a locally plugged in messaging service
An entrepreneur with global ambitions is certainly a cliché. But is an entrepreneur with local aims? Several Los Angeles companies are working hard to profit from local messaging by giving out local area codes. We mostly live locally, so having a messaging app that integrates with that reality is powerful.
textPlus
, a messaging platform gives users a real local area code, something it sees as its main advantage. For most of textPlus' users, "we're their primary phone company; an upwards of 60 percent of our users do this," said CEO Scott Lahman.
The textPlus app is mainly used on Wifi(can also be used on data), a use case that Lahman actually sees as an advantage because of the proliferation of wireless internet and the desire of many users to make calls and text without having to pay for a carrier. In fact, Lahman said some users load textPlus onto their iPods or disconnected Android devices, allowing them to create in effect a local phone with less of the expense.
Because of the local focus, textPlus is mainly active in the United States and Canada. But don't let its North American focus confuse you, textPlus has managed to capture over 65 million users and growing. When they expand abroad they plan on using the same local phone number strategy.
Burner CEO Greg Cohn also sees an advantage to thinking local about messaging. In fact many Burner users download the app to make appear like they are local. For instance job seekers from San Francisco applying for a position in Los Angeles may adopt a 310 area code, or a sales representative making sales calls may use a local number. We are often more comfortable with those who are local, so Burner's ability to help people assume a local identity is an advantage for users.
3. Not everything should be free. Charge for those messages
In the digital economy, it is assumed that everything is free, or ought to be. Unfortunately, there is no such thing as a free lunch and at some point you have to figure out how to extract value from what you're doing. Often, messaging companies have turned to advertising to make a profit. But advertising only works at volume, and sometimes not at all- as the advertising world's anxiety about banner ads is exposing. A number of Los Angeles companies have found that there is no problem conducting business the old fashion way, by charging for their products.
Because of Burner's practical uses, "the majority of users have a specific situation in mind when they download Burner. Related to that fact, we have a pretty high conversion rate to paid," said CEO Greg Cohn.
In fact, besides free trial credits, Burner is an entirely paid service. The app uses real phone numbers so it comes with real costs, meaning the initially bootstrapped company needed revenue upfront. Cohn said it took a little iteration to figure out the best way to charge for the app, but now that they have settled on a credit and subscription model the app continues to bring in strong revenue. The app's revenue generation usually ranks between first to third in the iPhone's utility category and between 10th to 15th on the equivalent Android category.
Though TigerText is free for individuals to use, the app becomes a paid service when a hospital wants to exert administrative control over a network of users. Because the app's main value is to enterprises this makes the most sense. Freemium users help TigerText get a foot in the door and once a hospital is convinced of the usefulness of the app they can fold individual users into their network. The network administrator can set rules around messaging and document transfers that best fit their requirements.
4. Free messaging is not a default, it's a strategy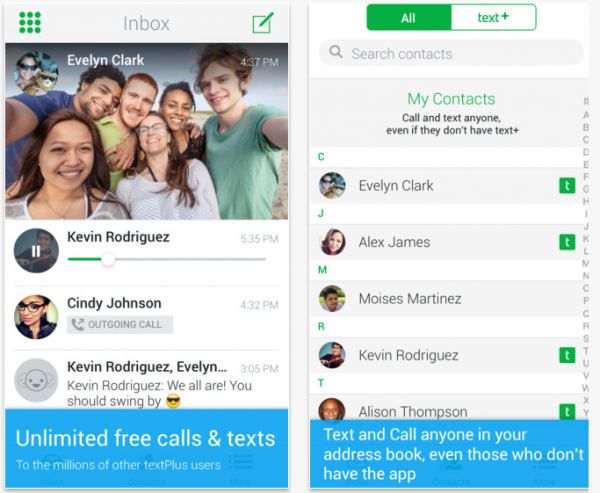 The free model fits all, is a dangerous mindset to take on. Most understand freemium as a strategy to collect a high volume of eyeballs that can someday monetized through advertising or small purchases. Yet, the freemium strategy doesn't work in all situations. A number of successful messaging apps in LA are charging for their services and doing quite well at it, others use free services to gain direct revenue.
textPlus users pay for calls to real phone lines but pay nothing for calls to each other or messaging. This gives the company the best of both worlds. All messaging is supported by advertising revenue and the company charges around 2 cents per minute for most phone calls. By pursuing this mixed model textPlus has been able to capture its 65 million userbase, without sacrificing direct revenue stream.
TigerText on the otherhand uses freemium messaging as a foot in the door to potential enterprise clients. The freemium version "helps drive more proliferation and adoption," allowing employees to use TigerText without their organizations formally implementing the service said CEO Brooks. This is part of the company's "bottom-up organic approach." Once, medical organizations decide they want to pay for the more feature rich version they can take control and administer the freemium network already organically adopted by their employees. Over time, Brooks said he imagines the classic top-down sales representative driven approach and organic bottoms up approach converging on customers and quickening the adoption of their service.
5. You should consider integrating with legacy platforms
Innovation is usually assumed to be about new things, but many successful messaging apps being developed in Los Angeles have done well to integrate with old devices and legacy phone systems, providing the very best of new with the network benefits of the old system.
textPlus can be used, and often is used, on iPods and on out of contract phones. Also, because the app operates like a normal phone number it naturally fits within a vast and popular network- the legacy telecommunications network. This has given textPlus a network effect most messaging apps could only dream of.
Burner also operates as a typical phone line and by doing so it's users get the innovative properties of anonymity while not sacrificing the most popular communication means. This allows the app to stand-in as a real phone number in many practical situations like buying a car off eBay.